Star Ratings
| | |
| --- | --- |
| | Amazing |
| | Well good |
| | Fun |
| | Meh |
| | Rubbish |
| | | |
| --- | --- | --- |
| London Film Festival Review: Silver Linings Playbook (Surprise Film) | | |
Written by Ivan Radford
Sunday, 21 October 2012 14:07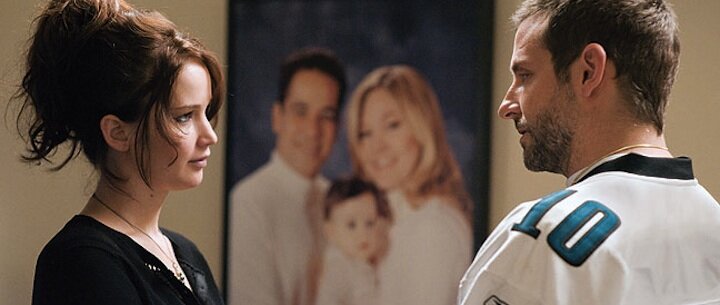 Director: David O'Russell
Cast: Bradley Cooper, Jennifer Lawrence, Robert de Niro, Jacki Weaver
It's rather ironic that after much rumour and speculation, this year's surprise film was as predictable as they come. The story of a man trying to get back with his wife after a stint in a mental institute, David O'Russell's film follows all the usual Hollywood conventions. The surprise? It's fantastic.
The film starts with Pat (Cooper) standing with his back to the camera. Inevitably, he's doing a voiceover. Then he turns around – and from that moment on, it's impossible to take your eyes off him.
Diagnosed with bipolar, Bradley Cooper swings from manic to angry with a volatile realism. One moment he's looking for a wedding video; the next he's shouting in his parents' bedroom at 4am. It's that delicate swing between frustration and abnormal behaviour that makes Silver Linings Playbook so engaging; the story may be trite, but Cooper is never anything less than believable. It's easily his best performance to date.
But why leave it there? Not content with just one crazy person, Silver Linings adds in another. And another. There's Tiffany (Lawrence), a widow struggling to move on with her life. There's Pat's friend Danny (a brilliantly restrained Chris Tucker), who repeatedly finds ways to break out of the mental home. And then there's Pat's dad (de Niro), a guy whose gambling superstitions verge on OCD – and frequently erupt into violence.
It's to O'Russell's credit that he lets his cast go all out without overshadowing each other. De Niro could steal every scene he's in, but he blends into the background with his worried wife (Jacki Weaver). Lawrence, meanwhile, is as breathlessly real as Cooper, feeling 16 and 40 at the same time, despite only being 21 years old; together, they manage to sell everything that happens, even a dancing sub-plot that builds up to a unexpectedly tense finale.
And that really is the great surprise of Silver Linings Playbook. It's a blindingly obvious Hollywood script, given unexpected life by an excellent indie director. O'Russell's camera rushes around constantly, cutting into first-person for intimate moments and forever circling his leads. It should be annoying. The story should be predictable. And a dance competition should not leave you on the edge of your seat. But somehow, it does.
Maybe it's the gentle music, which matches its characters' moods. Maybe it's the performances, which should earn Oscar nods for both its leads. Whatever it is, it works. And it's a great reminder of why film festivals exist: not to premiere a movie that's not out for six months, but to introduce audiences to excellent cinema. And in that sense, Silver Linings Playbook is the biggest surprise of the fest.