| | | |
| --- | --- | --- |
| 5 things I learned at the Quartet press conference | | |
Written by Ivan Radford
Saturday, 20 October 2012 13:45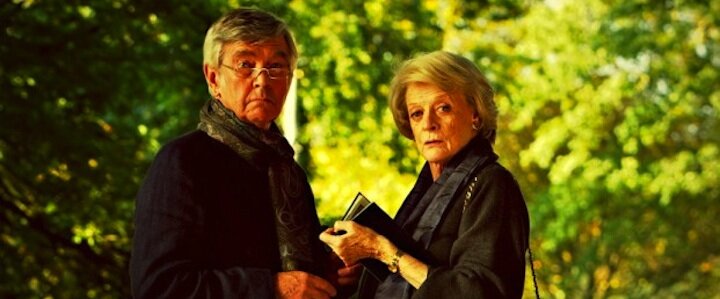 Quartet, a film about a home full of retired musicians putting on a show, is a landmark film. Not just because it continues the elderly-themed trend in modern cinema, or sees Billy Connolly swear like a sex-obsessed young person again, but because it's the first time Dustin Hoffman has directed a film.
Hoffman sat down with Maggie Smith, Tom Courtenay, Sheridan Smith, Pauline Collins and Billy Connolly to talk about keeping his OAP ensemble in tune.
Here are five things I learned at the Quartet press conference…
Maggie Smith has a sandwich named after her
"Maggie Smith - are you aware that has been a sandwich named after you?" asked one journalist. Maggie promptly replied: "Is it ham?"
Maggie Smith is enjoying the OAP trend in modern cinema
After The Best Exotic Marigold Hotel and Quartet, there seems to be a trend in cinema moving towards older people – and Maggie Smith liked it.
"I think it's because a lot of grown ups would like films for and about grown ups. There's this sort of change into what audiences want to see. I can only hope that's correct because there's an awful lot of people my age around now. Maybe that's why. There don't seem to be many made these days. It's nice to not have everyone treated like they're five years old."
Half the cast of Quartet were real musicians
"Something happened on this film that we didn't expect," explained Dustin. "We decided to cast everyone as real retired musicians - people who still have their chops and just haven't been asked to do anything for 30 years - and that in itself made it an extraordinary experience."
There are two types of director…
"If you see a director on the set mouthing all the words as the scene goes on, it's a bad thing," says Dustin. "He's already shot the film in his head and knows exactly what he wants. He may not even like working with actors. There are two types of directors; those who like to be surprised and those who don't."
Actors should never listen to the director
"We all direct when we act. Every single one. Every one who does this for years learns you have to protect yourself - because we're not allowed in the cutting room. The director says he wants it this way and you don't think it's right? They'll always pick the take they wanted. When acting is bad, don't blame the actors, blame the guys in the cutting room."