| | | |
| --- | --- | --- |
| On the Carpet: Everything Must Go | | |
Written by Ivan Radford
Sunday, 17 October 2010 19:25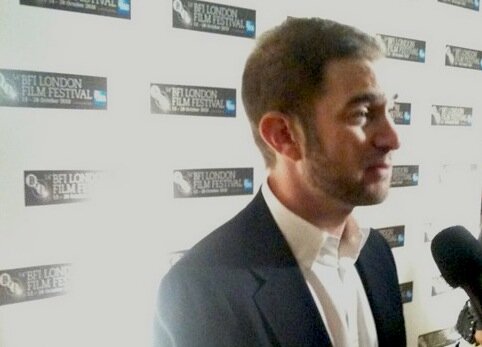 A moderate amount of fuss was made when people heard about Will Ferrell going serious in Everything Must Go. A gentle, funny and moving drama, it sees the hyperactive Anchorman star move into Truman Show territory. But more exciting than that, perhaps, is director Dan Rush, who makes his debut as both writer and director.

After his script was on the black list a few years ago, his adaptation of a Raymond Carver short story got catapulted into industry hit lists, finding itself a top name actor for a low level wage. We nabbed him on the carpet to see how he was handling the transition.
Are you excited to be here with your first feature film?
Not as excited as my wife and kids! (Laughs)
The dialogue in the film maintains that minimalist style that Raymond Carver has. How much was taken from the original text?
Well, the story is about 4 pages long - so not a big amount!
So it's a very short story!
Yes, a very very short story! So it's just that beginning image really - it's all my dialogue. But there's definitely that desire to respect the Carver minimalism.
And did you personally identify with the experience of getting fired and living on your front lawn? Or was it just the beginning image that stuck with you?
I came across it at University. It's mainly just the image but I've always loved that his characters seem very real. It's not about clear cut victory, it's about striving - the struggle to live and have happiness. And it's something that I've always been intrigued by, that reality isn't wrapped up perfectly with a little bow.
Did you find you had to keep Will Ferrell restrained? Was there much room for improvisation? 
We had a very tight schedule, but Will Ferrell is a very disciplined actor believe it or not! I know on a lot of his comedies they do thousands of takes to find the best material but we worked on a lot of stuff early on and if there were things that weren't working we changed them but it was very to the letter.
Did having such a tight schedule make the transition from adverts to feature film any smoother?
Well, instead of fighting one battle, you come back and it's whole other day and it doesn't get any easier! The thing that was so great was that in commercials you don't get a chance to work with actors and carry a character through. And that to me is the greatest part of film-making, to hear people say your words and hopefully they mean something.
Your script was on the black list a couple of years ago. How exciting was that for you? Or did you find that more of a studio thing?
The infamous black list! it's a great thing for independent movies, for people who want to get their movie made, because it does separate you out. That was great because you're kind of being judged by your peers. I've read a bunch of the scripts on there and they're really interesting. I think it's a great way to get independent movies some momentum. And in this day and age, they definitely need it.
What's next for you as a director or writer? Commercials? Another feature?
It's a good question! Definitely something with a bit more time, but still something that's character driven. I love the way characters drive stories. Something maybe a bit bigger, with a bugger budget...
A bigger lawn?
(Laughs) Yes, definitely! A bigger lawn. Maybe AstroTurf!