Star Ratings
| | |
| --- | --- |
| | Amazing |
| | Well good |
| | Fun |
| | Meh |
| | Rubbish |
| | | |
| --- | --- | --- |
| Film review: Smashed | | |
Written by Ivan Radford
Wednesday, 12 December 2012 07:47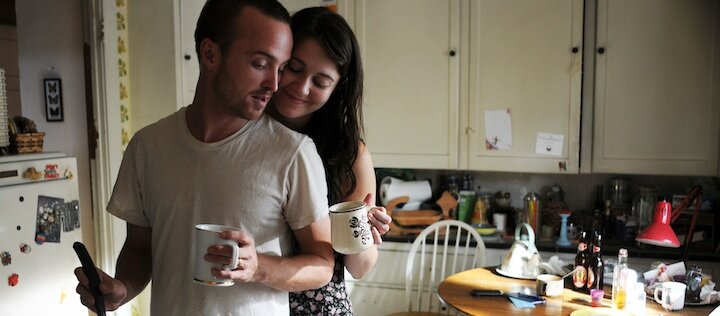 Director: James Ponsoldt
Cast: Mary Elizabeth Winstead, Aaron Paul, Nick Offerman, Megan Mullally
Certificate: 15
Trailer
RE: The worst teacher I have ever encountered




Dear Principal Barnes,




I'm writing once again to voice my concern about one of your teachers, Kate.




First, she vomited in front of her class, which (as you know) my daughter and I both found repulsive. Then, she told my daughter she was pregnant, which led to several conversations about babies – not the kind of dinner conversation one likes to have with a seven-year-old girl.




But now, despite my previous letters of warning, it turns out that she lied about her baby and that she was really just an alcoholic. In the light of these horrifying revelations, I have no choice but to demand her resignation.




 

As you pointed out in your last correspondence, I understand that she has been going through some difficulties with her marriage to Mr. Hannah, who I hear is just as much a drunkard as she is, but that is still no excuse for concocting such foul untruths and pouring them into young, innocent minds.

 




I admit that I met both Mrs. Hannah and her husband (who sounded like Aaron Paul off that TV show Breaking Bad) a few months ago and actually found them to be raw, genuine and highly engaging – a rare combination given all the unsympathetic boozehounds you see in these depressing movies about addiction.




In fact, I would go so far to say that I feel sorry for both of them and their marriage. She reminds me a bit of Mary Elizabeth Winstead, an actress who appeared in Scott Pilgrim vs the World, but considerably more mature. At least, so I thought until she lied to a classroom full of children. Some of the parents are saying she even smoked crack! Can you confirm this disgusting rumour?




As a bright, colourful presence who inspired a sort of motherly affection in me, I wish Mrs. Hannah nothing but the best. Other parents have told me that she is seeking help with the support of another of your staff, Mr. Davies, who is a lovely man, even if his attempts to talk to women are hilariously awkward.




But unless she is fired by the end of this week, I shall have no other option than to enroll my child in another school. This would be the third time my daughter has had to change school this year. First, in Denmark, we had to leave after allegations of child abuse. Then, it turned out that several pupils in her older sibling's new high school were undercover drug police. With this fake pregnancy topping it all off, I'm beginning to wonder what's wrong with our education system today.




Still, I would like to thank you for the brevity of your letter explaining the situation; others might have gone on for ages about it all. I also applaud the intimate way in which you have handled this situation.




Yours, incredibly moved, frustrated and sad all at the same time,




Mrs. F. Ictional-Parent.




Ps. Has anyone ever told you that you like Karen from Will & Grace? The likeness really is uncanny.