Blog
| | | |
| --- | --- | --- |
| Cars 2 Trailer Arrives | | |
Written by Ivan Radford
Wednesday, 17 November 2010 08:48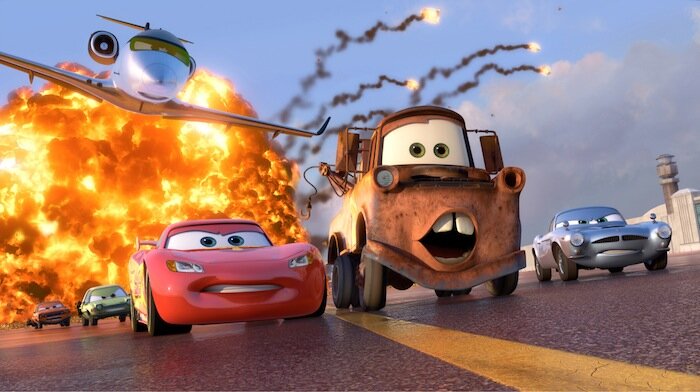 UPDATE: Hello to Jason Isaacs, Emily Mortimer, Joe Mantegna, Peter Jacobson and Thomas Kretschmann. They're all in the cast too.

"Finn McMissile, British Intelligence."

IT'S MICHAEL CAINE!

That's pretty much the reaction of everyone when they see the new teaser trailer for Cars 2. Yes, The Caine will be in Pixar's animated sequel, playing a missile-toting, handbrake-skidding secret agent. He's a car, of course.

Now that doesn't sound much like the original Cars, does it? That's because it isn't. Lightning McQueen (Owen Wilson) and Mater (Larry the Cable) head to Tokyo for the world's first World Gran Prix. And promptly enter a world of international espionage.

"What about Radiator Springs?" some children with shiny lunchboxes will cry. Screw Radiator Springs! I hated the first Cars, so thank God they're driving in a completely different direction. Pixar's 12th feature length film promises "secret agents, menacing villains and international racing". So it's basically Speed Racer. Which might not be a bad thing...

Cars 2 is revving up next year on Friday 22nd July. Read on for the trailer. And then sign our petition for Larry the Cable Guy to stop voicing imaginary pick-up trucks and start fixing my Virgin Media box.
Read more...
| | | |
| --- | --- | --- |
| Machete Has New Trailer | | |
Written by Ivan Radford
Tuesday, 16 November 2010 13:28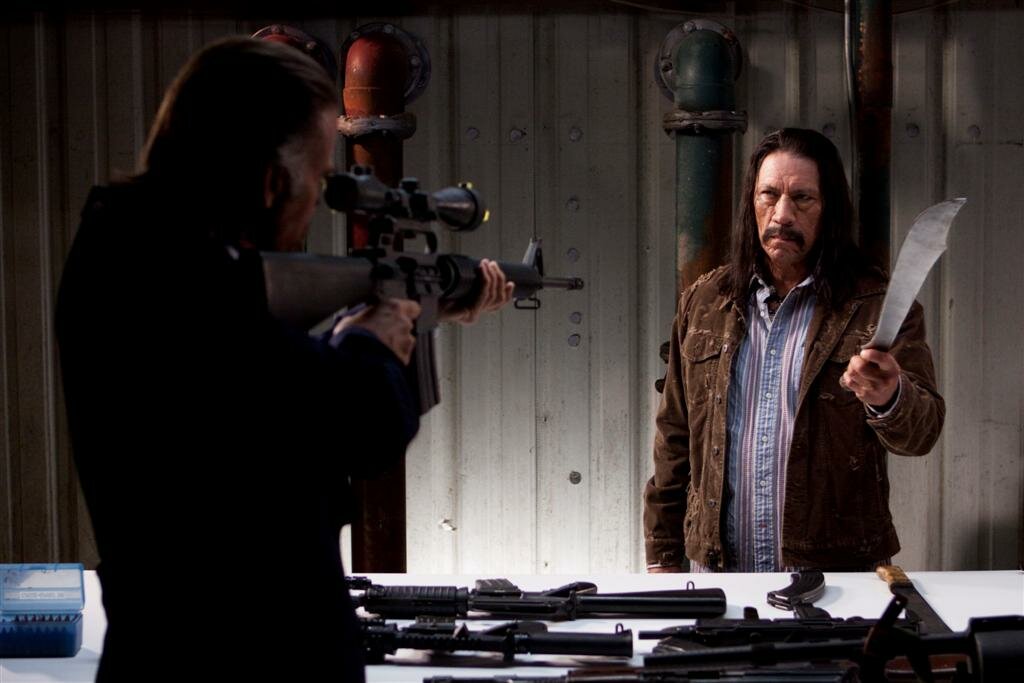 How many times can you hear Danny Trejo say his name and still get excited? It turns out quite a bit.


The king of shooting people, shagging people and scaring them with his big knife, Trejo is on fine third-person form in Robert Rodriguez's Grindhouse-inspired thriller.


"You could always text?" "Machete don't text."

(Machete sends text)

"I thought you didn't text!" "Machete improvises."


IS THERE NO END TO THIS B-MOVIE BRILLIANCE? He's like a Lolcat with a giant moustache.


Machete is out in the UK on Friday 26th November. Read on for the trailer - or head over to the official Machete Facebook page to make your own poster and win a PS3. And no, Machete don't play PS3. Machete has Wii.

Read more...
| | | |
| --- | --- | --- |
| Muppet Studios Closed For Business | | |
Written by Ivan Radford
Monday, 15 November 2010 08:48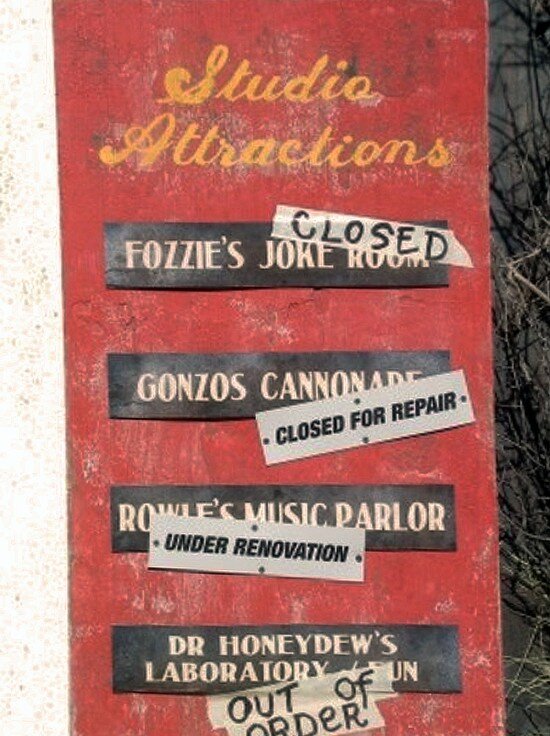 Oh no! The Muppet Studios is now a run-down old building that no-one's interested in anymore! If only Jason Segel was around to save it with a brand new movie starring Danny Trejo, Paul Rudd, Chris Cooper and Amy Adams. Oh wait, HE IS.

That thought alone makes this Monday morning bearable. Even if one of the muppets does have an iPhone. More photos over at /Film.
| | | |
| --- | --- | --- |
| Battle: Los Angeles International Trailer Invades Internet | | |
Written by Ivan Radford
Monday, 15 November 2010 08:07
Aliens attack earth. Again.

"We've lost communications with Tokyo... Rio... New York... We cannot lose Los Angeles."

Save us Aaron Eckhart! No real sign of Harvey Dent here to go on, but the buzz is that Battle: Los Angeles is way better than Skyline. Which may not surprise many of you. It's out on Friday 25th March next year. Which works well as a late birthday present for me (yes, I expect you to remember that).
| | | |
| --- | --- | --- |
| Harry Potter Premiere - Live! | | |
Written by Ivan Radford
Thursday, 11 November 2010 17:05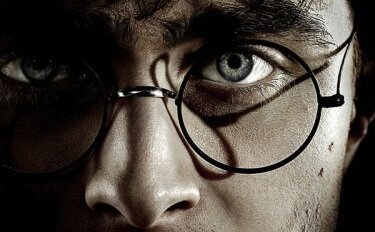 For those too clever to subject themselves to the wrath of Michael Fish, you can watch all the weather-beaten fun of the Deathly Hallows premiere live from the warmth of your own home.

Simply come back here at 5pm sharp...

Harry Potter and the Deathly Hallows Part 1 will be released on Friday 19th November.

Click here for the Deathly Hallows trailer. If you're not excited about this yet, you should be.
Read more...
| | | |
| --- | --- | --- |
| Blitz Trailer Turns Up | | |
Written by Ivan Radford
Thursday, 11 November 2010 15:44

So this trailer turned up in my inbox today. For a film called Blitz. Which apparently has Jason Statham, Aidan Gillen, Paddy Considine, Luke Evans and David Morrissey in it. And is out next summer.

The title looks a little something like that. But in case you want more details, never fear: there is an official synopsis to go with it. It reads as follows:

A tough cop is dispatched to take down a serial killer who has been targeting police officers.

There's also a likely tagline based on the trailer ("Where Law Ends... Justice Begins") but that's it. That's all you're getting. Which is why you should just jolly well read on and watch the trailer instead.
Read more...
| | | |
| --- | --- | --- |
| Dino De Laurentiis Dies, 91 | | |
Written by Ivan Radford
Thursday, 11 November 2010 12:52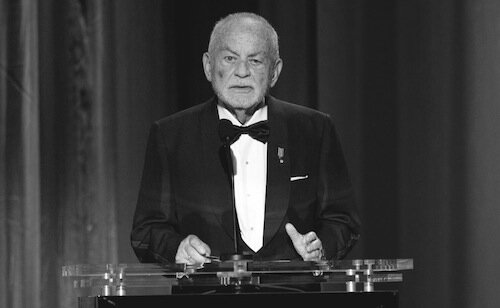 Dino De Laurentiis has passed away aged 91.

The legendary producer died in Los Angeles, Italian press reported today. De Laurentiis began his career in Italy, producing films like Nights of Cabiria in 1956 and La Strada. His collaboration with Fellini on the 1954 movie earned him and Carlo Ponti a Best Foreign Language Oscar in 1957.

Dino then went on to Hollywood, his work including the 1976 remake of King Kong and Serpico. Alongside other overblown projects, such as Flash Gordon, he was responsible for flops like Dune, but found success with Thomas Harris's Hannibal Lector.

Although not involved in 1991's The Silence of the Lambs, De Laurentiis produced Manhunter, Hannibal, Red Dragon and, most recently, Hannibal Rising in 2007.

In total, the producer's career brought 166 titles to the screen. He is survived by his wife Martha and five children. His daughter Raffaella and nephew Aurelio are also producers.
Start Prev 1 2

3

4 5 6 7 8 9 10 Next > End >>


Page 3 of 138