Star Ratings
| | |
| --- | --- |
| | Excellent    |
| | Very Good |
| | Good |
| | Average |
| | Terrible |
| | | |
| --- | --- | --- |
| Harry Potter and the Deathly Hallows Part 1 | | |
Written by Ivan Radford
Tuesday, 16 November 2010 09:29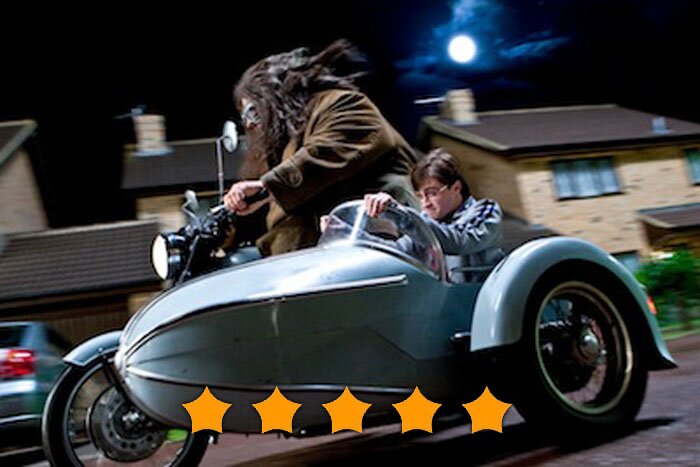 Director: David Yates
Cast: Daniel Radcliffe, Rupert Grint, Emma Watson, Alan Rickman, Ralph Fiennes, Jason Isaacs, Helena Bonham Carter
Trailers/Clips
Hands up who saw it coming. Not HP7 - that was harder to miss than Hagrid flying a motorbike into your mum - but the sheer quality of the whole thing. Or more accurately, half of it. The first part of the last part of the ever-darkening franchise, Deathly Hallows Part 1 is the best film of the lot. Yes, even better than The Columbus Years.

Bravely skipping any boring exposition, David Yates jumps right in with the serious stuff. We enter as our three wizardlings, Harry (Radcliffe), Ron (Grint) and Hermione (Watson), silently leave their families; it's a quiet opening that gives each of them a Binary Sunset moment and sets the dial firmly to Dark. Bill Nighy even pops up to tell us how dark it is. Sadly he disappears soon after.

There are a few new additions to the Potter ensemble – most notably Rhys Ifans as Luna Lovegood's dad and Peter Mullan's Death Eater Yaxley – but the focus is kept tightly on the familiar young trio. They continue their hunt for Horcruxes (see film 6) in the hope of stopping Voldemort (Fiennes) from taking over the world and doing his happy sex face. You can't blame them for trying.

Finally clicking with their characters, the three actors have matured enough to make it all believable. They're like real people now, with feelings and everything. So when Slytherin's locket (the movie's de facto Horcrux) turns Ron into Gollum, his jealousy and anger actually work. Even when they result in a bizarre naked vision of Harry and Hermione giving each other The Magic.

Like Grint, Radcliffe and Watson have also settled into the comic timing and dramatic chemistry needed. Dancing to an old radio in a sequence not found in Rowling's original novel, the pair are comfortable on-screen, a natural fit for the plot's basic quest formula. That's partly due to Steve Kloves' screenplay. From the blistering early chase sequence, you don't even notice that it lasts 142 minutes - everything is peppered with enough wand-flicking action and Imelda Staunton to keep the pace up. And that's without mentioning the ever-wonderful Bellatrix Lestrange (Bonham Carter), the conflicted Snape (Rickman) and the now broken Lucius Malfoy (Isaacs).

At the helm, Yates is more confident than ever. He swoops over gorgeous landscapes with an artistic eye honed over his last two Potters. Then he brings in the handhelds for a expertly tense set piece with a snake. And just when you think he can't do any better, out comes a beautiful, stylised shadow puppet animation. It's a flourish of brilliance that almost eclipses the stellar work everywhere else.

And this is a stellar piece of work. Boldly balancing the bleak and the funny, it's as credible as commercial mainstream gets. The story's split creates just enough pathos to counter the cliff-hanging final shot, and Dobby is miraculously transformed from Jar-Jar into a companion to rival Free Willy. The only thing missing is more Fred, George and Ginny. But we'll get to see them in Part 2. Along with a lot of explosions. If this is the talky half of the two-parter, Deathly Hallows Part Deux will be phenomenal.

VERDICT

An exciting action blockbuster set mostly in a tent. In the words of Ron Weasley: bloody brilliant.
Your rating
( 3 Votes )
Tags:
alan rickman
bellatrix lestrange
emma watson
harry potter review
helena bonham carter
jason isaacs
part 1
potterthon