Star Ratings
| | |
| --- | --- |
| | Excellent    |
| | Very Good |
| | Good |
| | Average |
| | Terrible |
| | | |
| --- | --- | --- |
| Despicable Me | | |
Written by Ivan Radford
Tuesday, 12 October 2010 12:53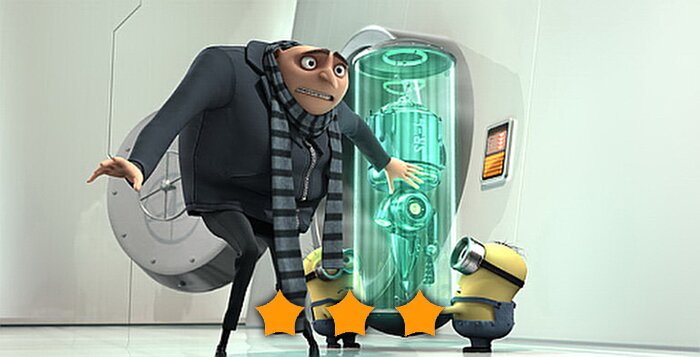 Director: Pierre Coffin, Chris Renaud
Cast: Steve Carell, Jason Segel, Will Arnett, Russell Brand
Certificate: PG
Villains are always claiming they're supervillains. To prove it, evil genius Gru (Carell) stole the Statue of Liberty. Well, the little one from Las Vegas. But in his bid to be the best worst human alive, he hits upon a truly dastardly scheme: exploit some orphans. So he signs up to an adopting scheme and nabs himself three little girls. Then uses them to help him steal the moon.

Inevitably, the loveable cuteness of Margo, Edith and Agnes melts his black, black heart. But until then, this off-beat animation is something of a pleasure, mostly thanks to the hyperactive vocals of Jason Segel and Steve Carell (who does mean very well) and some decent sight gags - Gru goes around crushing other people's cars, blowing up fairgrounds and popping kids' balloons with cruel abandon, and Segel's rival baddie Vector has an amusing range of rubbish weapons (including a squid gun).

Best of all, though, are Gru's army of tiny yellow minions. Voiced by French directors Chris Renaud and Pierre Coffin, they jumble around like giant neon Tic Tacs, given names like Dave and Tim. They're geared at a younger audience with their squeaky voices and cute cyclops expressions, but they're absolutely charming. It's just a shame the heartwarming ending leaves you feeling a bit cold.

With quality CGI and a witty line in nasty behaviour, Despicable Me dares to take on Pixar's best but doesn't quite meet its own ambitions. But that hardly matters when you have legions of manic Tic Tacs at your disposal. Impressively, the end credits sequence actually pulls off the 3D effect with a string of skillful slapstick sketches. Only a true supervillain would fail to laugh.

VERDICT

Likeable fun with a lazy conclusion, Despicable Me shoots for the moon, steals it, then lets it go again. Above average, but below Pixar.
Your rating
( 1 Vote )