| | | |
| --- | --- | --- |
| Spacey's Casino Jack Deals a Trailer | | |
Written by Ivan Radford
Friday, 17 September 2010 08:19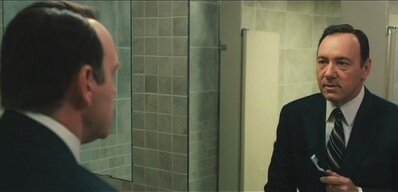 "It's all part of the bigger picture, Pam! Philanthropy. The academy. My foundation. The restaurants. The boats. The hotels..."

Jack Abramoff is an American legend. Not necessarily of the best kind. Charming the hell out of everyone he met, Abramof took money as a lobbyist from the country's biggest firms. And then pocketed it for himself. And now Kevin Spacey will bring that man to life. And you can see him in action in the new trailer for Casino Jack.

Directed by George Hickenlooper, Casino Jack follows on from a documentary about Abramoff (called Casino Jack and the United States of Money). So you can see how fascinating a figure Jack was. It helps, of course, that he and partner Michael Scanlon (Barry Pepper) ended up on the wrong side of the mafia before the Feds descended to investigate his dodgy dealings.

"Inspired by" Jack's story, the film will fictionalise the facts a tad, but only in honour of making it an entertaining movie. Which, let's face it, it already is. Oh, and in case you were wondering: yes, Casino Jack's now in prison.

The trailer's online over at Apple, but you can read on for the full video. 
Tags:
biopic
casino jack
casino jack and the united states of money
corruption
george hickenlooper
kevin spacey
lobbyist
video