Star Ratings
| | |
| --- | --- |
| | Excellent    |
| | Very Good |
| | Good |
| | Average |
| | Terrible |
| | | |
| --- | --- | --- |
| The Other Guys | | |
Written by Ivan Radford
Friday, 17 September 2010 08:41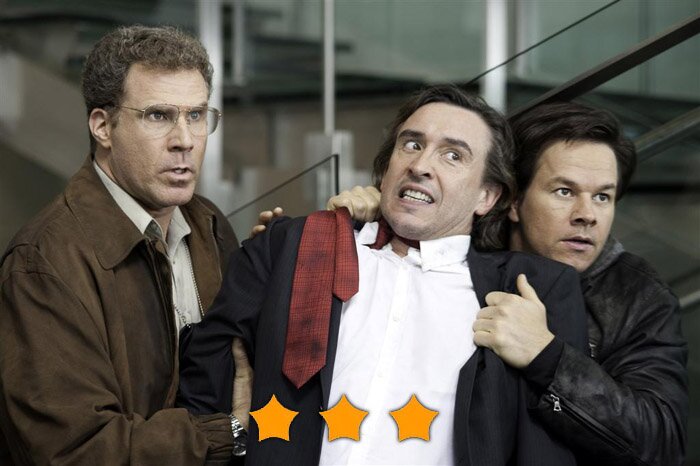 Director: Adam McKay
Cast: Will Ferrell, Mark Wahlberg, Michael Keaton, Steve Coogan, Eva Mendes
Certificate: 15
If you don't like Will, you won't like this - that's pretty much the standard maxim for all of Ferrell's comedies. When he comes up with turkeys like Land of the Lost, it throws that way off. Here, though, he's back with writer-director Adam McKay, the man responsible for Anchorman and the very amusing Talladega Nights. It's not quite on a par with the legend of Ron Burgundy, but The Other Guys still breaks out the hilarity in pretty constant doses.

The main reason for that is the choice of casting: putting Ferrell into straight-man shoes as Allen Gamble, a desk-based copper with a taste for paperwork, McKay looks to Mark Wahlberg's Terry Hoitz to tear up the place. And he frequently does, usually with good results.

It opens with a decent action spoof, with Samuel L Jackson and Dwayne Johnson playing the super-star cops who blow up the city and then take all the credit. But when the two detectives take themselves out of the picture, the focus shifts to the titular Other Guys, who annoy Captain Gene Mauch (Keaton) not because they're mavericks, but because they're simply annoying. Incompetent and enthusiastic, Allen is the kind of man who drives a Toyota Prius. He shoot holes in the office, carries a wooden gun, and spends his time arguing with Terry over who would win in a fight between a lion and a tuna.

It's completely by accident that they stumble onto slippery businessman David Ershon (a slightly wasted Steve Coogan), who has an endless supply of Broadway show tickets. Unsure whether to keep the plot complex or reduce it to a string of gags, The Other Guys ends up sloppy with its script - we don't what the Brit banker's crimes are, we just know that his financial dealings are Bad. Is it meant to be a satirical comment on corporate corruption? The completely out-of-place end credits make you suspect that McKay's still not sure.

Thank goodness, then, for the supporting cast, who deliver laughs for a fair percentage of the runtime. Some jokes are stale, but Michael Keaton's balding chief (also a part-timer in the local B&Q) is wonderfully world-weary. Eva Mendes, too, turns up as Allen's inexplicably hot wife and is admirably unafraid of nutty improv. But the best moments belong to Wahlberg, whose unhinged angry malcontent proves that I Heart Huckabees and The Departed really were the start of something special.

When Ferrell breaks out of his straight man persona, the partnership loses some of its chemistry, but Wahlberg covers the blips when Will won't restrain himself. If he and the director were more disciplined this could have been deliriously funny. Instead, The Other Guys remains mildly hilarious - which still puts it way above Kevin Smith's Cop Out. And Land of the Lost.

VERDICT

There are flashes of brilliance in this frantic Ferrell vehicle. The Other Guys never shoots to kill, but it frequently finds your funny bone.
Your rating 
( 1 Vote )
Tags:
adam mckay
anchor man
cop out
dwayne johnson
eva mendes
hot fuzz
i-flicks
kevin smith
land of the lost
mark wahlberg
michael keaton