| | | |
| --- | --- | --- |
| Vicky Cristina Barcelona | | |
Written by Ivan Radford
Friday, 06 February 2009 09:09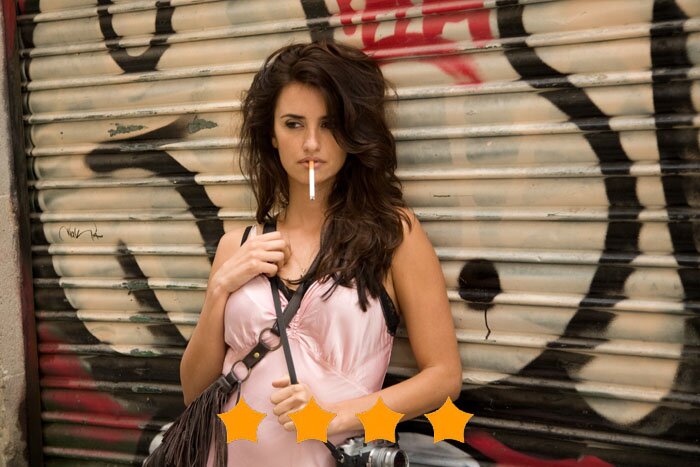 Director: Woody Allen
Cast: Rebecca Hall, Scarlet Johansson, Javier Bardem, Penelope Cruz
Certificate: 12A
Allen's European tour bus stops off in Spain for his latest outing. And with Catalonian culture throbbing through its pulse, Woody veers far off his recently beaten track into an invigorating tale of passion. Meet Vicky (Hall). She's about to be wed to straight-laced Doug, happy in the secure environment of routine and order. Meet Cristina (Johansson). She swims in the turbulent waters of emotion. Often with other men. So when the two embark on a holiday to Barça and come across sexy artist Juan Antonio (Bardem), it's no surprise which one takes the bait.
Add a comment
Last Updated on Sunday, 08 February 2009 02:24
Read more...
| | | |
| --- | --- | --- |
| Doubt | | |
Written by Laura Humphreys
Friday, 06 February 2009 00:00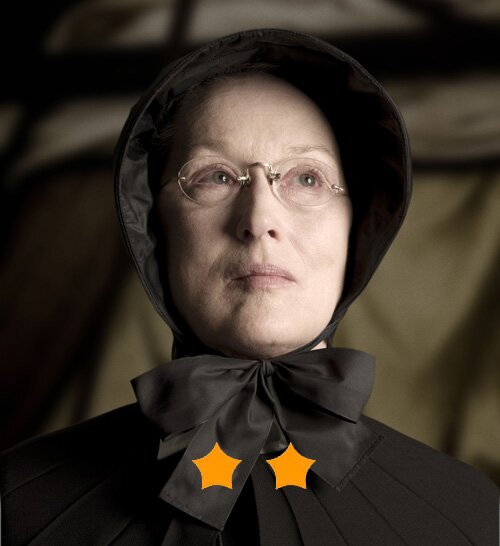 Director: John Patrick Shanley
Cast: Phillip Seymore Hoffman, Meryl Streep, Amy Adams
Certificate: 15
Priests fiddle kiddies, apparently. And Nuns know this. Nuns are eternally suspicious of said Priests and are eager to catch their perverted little mits in the communion wafer basket. But Nun-judgement is clouded by their status as second class citizens in the patriarchal Catholic Church. So can you trust the Nuns? Can you trust the priests? Is it right to act to save a child on suspicion alone? Is it wrong to favour one child over many if they are in need of your help?
Add a comment
Last Updated on Wednesday, 11 February 2009 11:15
Read more...
| | | |
| --- | --- | --- |
| Bale Rant Released Online | | |
Written by Ivan Radford
Wednesday, 04 February 2009 09:17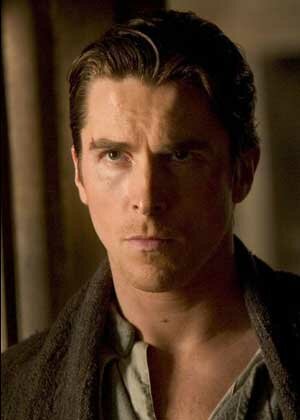 Audio of Christian Bale's on-set rant has been leaked onto the internet (thanks to TMZ.com).The tirade occured on the set of Terminator 4 back in July, after the director of photography, Shane Hurlbut, accidentally walked onto the set during a scene. The result? Well, listen to it yourself (contains explicit language):
But the anger doesn't stop there...
Add a comment
Last Updated on Wednesday, 04 February 2009 09:36
Read more...
| | | |
| --- | --- | --- |
| Pacino does Lear | | |
Written by Ivan Radford
Wednesday, 04 February 2009 09:00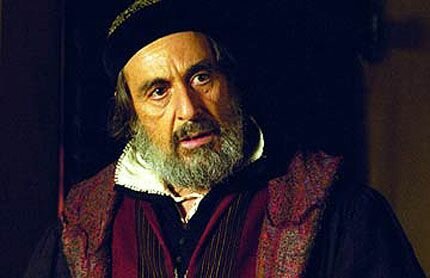 Al Pacino is set to star in another Shakespeare play (after 2004's Merchant of Venice). This time round, it's King Lear. He's turned down the part before now, but he's got the grey whiskers for it now. Directed by Michael Radford, the helmer of Pacino's Merchant, the film will be a faithful, period-set adaptation of the bard's tragedy about a King and the inheritance that will go to his three daughters. Two are evil, one's nice, but (of course) everything gets muddled up, goes horribly wrong, and Lear goes a bit barmy. And gets naked. One the greatest plays ever penned, this should be an absolute treat. If, by treat, you mean depressingly wonderful.
Add a comment
Last Updated on Wednesday, 04 February 2009 09:56
| | | |
| --- | --- | --- |
| Benjamin Button's Curious Lawsuit | | |
Written by Ivan Radford
Sunday, 01 February 2009 16:05
The makers of The Curious Case of Benjamin Button, currently nominated for 13 Academy Awards, are being sued for plagiarism. Italian writer Adriana Pichini has claimed that the film is based upon a story she wrote 15 years ago.

The film, still to be released by Warner Bros later this month, is supposedly inspired by F Scott Fitzgerald's short story about a man who ages in reverse. His acclaimed tale, of the same title, was published in 1921. Pichini's lawsuit, however, alleges that David Fincher's film is based upon her 1994 story, Il ritorno di Arthur all' innocenza (Arthur's Return to Innocence), which was registered with Italian authorities at the time. It was also sent to US publishers, but never published.

"At this point it's still a matter of principle," Pichini's lawyer, Gianni Massaro, told the Hollywood Reporter. "What happens next will depend on what the judge rules." No timetable has yet been set for the judge's viewing of the film.
Add a comment
Last Updated on Sunday, 01 February 2009 17:27
| | | |
| --- | --- | --- |
| Revolutionary Road | | |
Written by Ivan Radford
Friday, 30 January 2009 00:00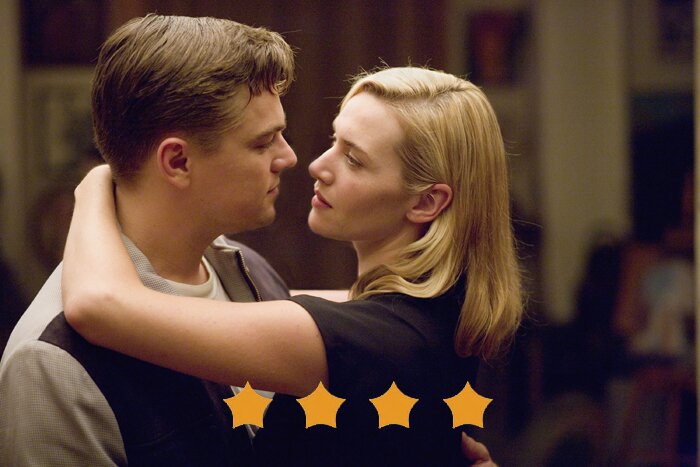 Director: Sam Mendes
Cast: Kate Winslet, Leonardo DiCaprio
Certificate: 15
Kate and Leo. Leo and Kate. Cinema's golden couple back together again. Now they're Frank and April Wheeler, a young married couple in the '50s. He has an office job, they have a house with two children; everything is in ship-shape. But there's trouble in suburbia. The boat is sinking.
Add a comment
Last Updated on Sunday, 01 February 2009 01:01
Read more...
| | | |
| --- | --- | --- |
| Valkyrie | | |
Written by Ivan Radford
Friday, 23 January 2009 09:34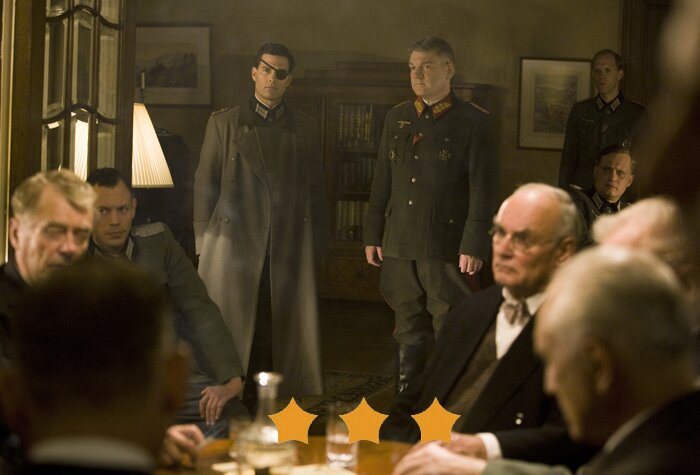 Director: Bryan Singer
Cast: Tom Cruise, Bill Nighy, Tom Wilkinson, Kenneth Branagh, Christian Berkel
Certificate: 12A
Ok, let's get this straight. Tom Cruise is not German. He does not look German. He does not sound German. He does, in fact, look and sound like Tom Cruise. So when Tom Cruise puts on his Nazi uniform (complete with eye patch and missing limb), the end result is this: Tom Cruise. In a Nazi uniform.
For convenience sake, though, let's not call him Tom Cruise. Let's call him Colonel von Stauffenberg.
Add a comment
Last Updated on Sunday, 25 January 2009 16:56
Read more...
| | | |
| --- | --- | --- |
| Oscar Nominations Announced | | |
Written by Ivan Radford
Thursday, 22 January 2009 13:41
Here we go! The 2009 Academy Award Nominations were announced on Thursday 22nd January by Forest Whitaker at 5.30am PT (1.30pm for us in old Blighty) in the Academy's Samuel Goldwyn Theatre.

Annoyingly, Benjamin Button's Curious Case aroused the Academy's interest the most, with 13 nominations. Right behind it is Slumdog Millionaire (well done the Brits) with 10. The Dark Knight got 8, the same as Milk, but (perhaps unsurprisingly) Batman is up for neither Film or Director. Technical noms ahoy - along with Heath's obligatory nod. At the bottom of the pool sits Frost/Nixon, The Reader, WALL-E and Doubt. They all have 5.

Any surprises? Well, Melissa Leo is up for Best Actress in indie film Frozen River, which did nicely at last year's LFF. Frozen River also skates into the screenplay arena, where it faces off with WALL-E and (in a lovely turn) the wonderful In Bruges. Brilliant to see Robert Downey Jr. up for Tropic Thunder (an acting award? For Robert? In a comedy role? It's about time!) and Brolin down for the twinkie-guzzler Dan in Milk. The only real surprise is Richard Jenkins for Lead Actor in The Visitor - the second feature from The Station Agent's director, Thomas McCarthy. The Winslet twins are now separated, however, leaving Anne Hathaway, Meryl and oh my god WHO'S THE OTHER ONE with slightly better odds...

Here's what we got:
Add a comment
Read more...
| | | |
| --- | --- | --- |
| Frost/Nixon | | |
Written by Ivan Radford
Tuesday, 20 January 2009 13:58
Director: Ron Howard
Cast: Michael Sheen, Frank Langella, Matthew MacFayden, Rebecca Hall, Toby Jones, Sam Rockwell, Kevin Bacon
Certificate: 15
Adapted by Peter Morgan from his own stage play, Frost/Nixon is a cinematic retelling of the television interviews between David Frost (Sheen) and ex-President Richard Nixon (Langella). The juxtaposition of mediums at first seems absurd; why not leave what is essentially a two-hander in the theatre, where its terse encounters can have the greatest impact?
Add a comment
Last Updated on Saturday, 24 January 2009 12:54
Read more...
| | | |
| --- | --- | --- |
| Milk | | |
Written by Laura Hanlon
Sunday, 18 January 2009 13:41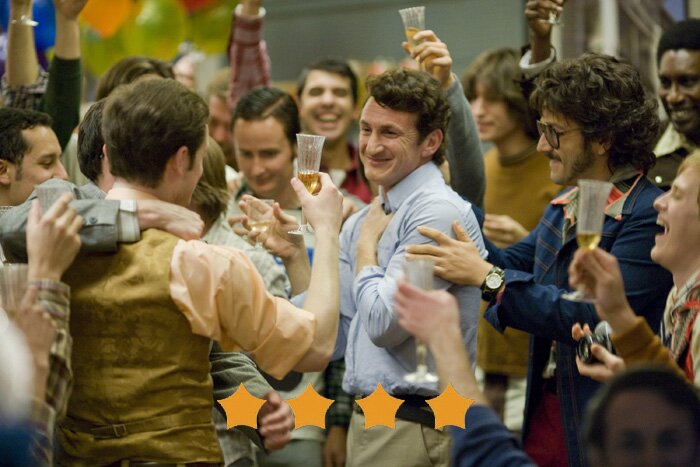 Director: Gus Van Sant
Cast: Sean Penn, Josh Brolin, James Franco, and Emile Hirsch
Cert: 15
Fresh from the Hollywood cow comes this creamy cinematic delight. It's not whole fat (that'd be overdoing it); and it isn't that horrible red-top that is so diluted it really doesn't resemble milk. No, Milk is a semi-skimmed glass of goodness that doesn't compromise on taste or your waist line. Which is great because I already scoff too many snacks at the cinema.
Add a comment
Last Updated on Friday, 20 February 2009 16:57
Read more...
| | | |
| --- | --- | --- |
| The Wrestler | | |
Written by Ameen Hojabr
Friday, 16 January 2009 00:00
Director: Darren Aronofsky
Cast: Mickey Rourke, Marisa Tomei, Evan Rachel Wood
Certificate: 12A
Remember that day when you were ten years old and you found out wrestling was fake? A spandex-fuelled sham? Well, Darren Aronofsky is about to hit your inner 10-year-old over the head with a chair; more than anything else, The Wrestler is definitely one thing: authentic. Add a comment
Last Updated on Tuesday, 15 September 2009 12:16
Read more...
<< Start < Prev 241 242 243 244 245 246

247

248 Next > End >>


Page 247 of 248