Star Ratings
| | |
| --- | --- |
| | Amazing |
| | Well good |
| | Fun |
| | Meh |
| | Rubbish |
| | | |
| --- | --- | --- |
| Revolutionary Road | | |
Written by Ivan Radford
Friday, 30 January 2009 00:00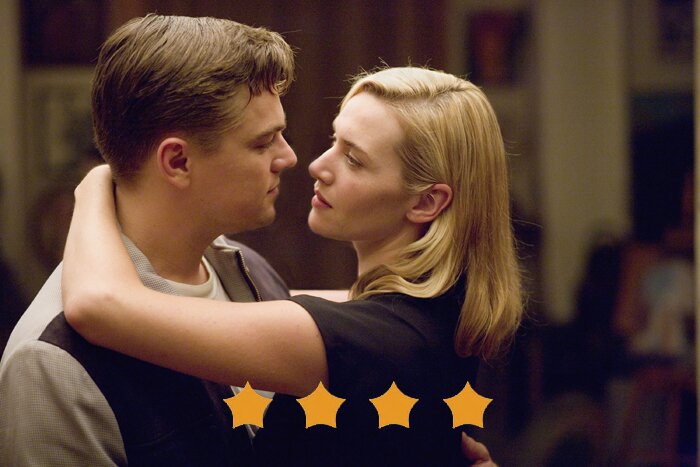 Director: Sam Mendes
Cast: Kate Winslet, Leonardo DiCaprio
Certificate: 15
Kate and Leo. Leo and Kate. Cinema's golden couple back together again. Now they're Frank and April Wheeler, a young married couple in the '50s. He has an office job, they have a house with two children; everything is in ship-shape. But there's trouble in suburbia. The boat is sinking.

April, fresh from a dreadful turn in an am-dram play, is unhappy. She wants more. Frank, sick of his brain-numbing work and distant wife, wishes they were happy. They think they are better than those around them, people in the daze of day-to-day living. April soon forms an idea: they could move to Paris, rekindle their young love, and rediscover their free spirits. That will solve all their problems. Those around the Wheelers greet their enthusiastic plans with bemusement – it just isn't the done thing in America.

Weighing up children, money, and a job promotion, Frank is soon weighed down by routine. It's soul-destroying, marriage-wrecking, even, but it's safe. Perhaps they can keep the white picket fence after all. At which point things go from tragic to heart-wrenching. They can't get no satisfaction, but that just makes them all the more ordinary. The Wheelers: the bright young couple from down the street, beacon of marital happiness, torn apart by the façade of the American Dream. Sam Mendes is back on home territory here. And he's rocking the suburbs.

Teasing out the natural chemistry that bonds his two outstanding leads, Mendes winds The Wheelers up and watches them spin out of control. Delicately restrained, beautifully framed, Roger Deakin's camera is the epitome of class – in a sea of grey flannel suits in hats, Frank stands alone with his unbuttoned jacket. Justin Haythe's screenplay (well adapted from Richard Yates' bleak novel) may not delve explicitly into the depths of its leads, but it really doesn't have to. Slowly zooming in on his husband and wife, Mendes picks out every facial movement, each unsaid barb; an exercise in extracting pity.

Throbbing with fraught tension, their house is an all-consuming icon of social trappings. And into it walks John (the excellent Michael Shannon), the son of their real estate agent. In a society of keeping up appearances, he's the one person to speak candidly about the truth that rots beneath the surface. He's been labeled insane. Swaggering into their dining room, swigging dry sherry, he demands a reason for the Wheelers' about-turn: "Hopeless emptiness? Now you've said it. Plenty of people are onto the emptiness, but it takes real guts to see the hopelessness." And with one fell swoop, Revolutionary Road hammers the final nail into the real beauty of America.

VERDICT

A distressing, depressing dissection of a marriage, which concedes nothing and bares all. You want to switch off and ignore it, but you can't avoid watching as everything falls to pieces. Handsome and devastating, Revolutionary Road is fantastically harsh to witness.