Star Ratings
| | |
| --- | --- |
| | Amazing |
| | Well good |
| | Fun |
| | Meh |
| | Rubbish |
| | | |
| --- | --- | --- |
| Valkyrie | | |
Written by Ivan Radford
Friday, 23 January 2009 09:34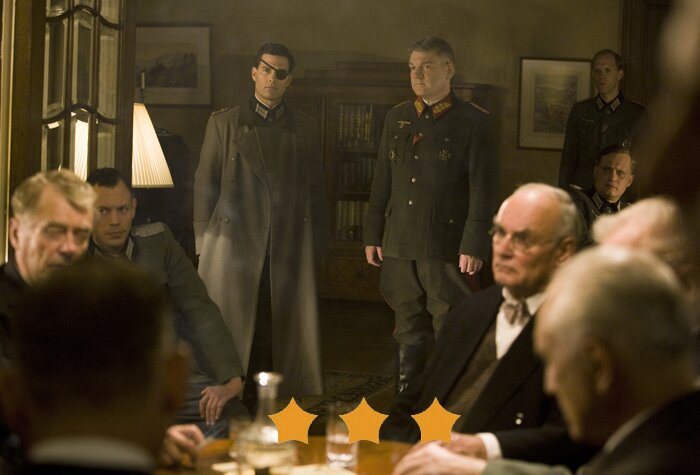 Director: Bryan Singer
Cast: Tom Cruise, Bill Nighy, Tom Wilkinson, Kenneth Branagh, Christian Berkel
Certificate: 12A
Ok, let's get this straight. Tom Cruise is not German. He does not look German. He does not sound German. He does, in fact, look and sound like Tom Cruise. So when Tom Cruise puts on his Nazi uniform (complete with eye patch and missing limb), the end result is this: Tom Cruise. In a Nazi uniform. 
For convenience sake, though, let's not call him Tom Cruise. Let's call him Colonel von Stauffenberg. And let's say, hypothetically, he happens to be a good German who doesn't like Hitler. In fact, what the hell, let's go the whole hog and watch him lead the 20th July plot to assassinate the Fuhrer (note for the clueless: it didn't work).
So in steps Bryan Singer, shacked up with Usual Suspects scribe Christopher McQuarrie, to do justice to the botched attempt to bump off Adolf. It opens with a lovely shot of a swastika, with a horde of German voices chanting an oath to the Reich. This is followed by Tom Cruise speaking in German. Then, as if by magic, everything changes. The title, Walkure, Tom Cruise's voice; all of it transforms into English.
And events continue in this manner. A whole host of Brits turn up – all in Nazi uniforms, of course. We see the conspiracy take form, as Stauffenberg is brought aboard by Generals Olbricht (Nighy) and von Tresckow (Branagh). They lead him to Terence Stamp (who, for argument's sake, we shall call General Beck). And all of this is taking place behind Tom Wilkinson's back (or, to his friends, General Fromm). Even Eddie Izzard is in on it. The supporting cast is a strong bunch, but all of these Nazis speaking our good old mother tongue? These days it's ridiculous. The only authentic Kraut appears halfway through (Berkel, as an explosives expert Colonel von Quirnheim). And David Bamber as Hitler? That's almost as incongruous as casting Ken Stott in Uncle Adolf.
The result is a serviceable enough thriller; it's reasonably well paced, slow-burning up to an exciting last act (is he dead? Isn't he? Reminder for the unaware: he isn't). But despite their best efforts, Valkyrie remains Hollywood-hollow. There are stand-out bits – a shot where the camera speeds round to reveal the title of Wagner's record is beautifully exuberant – but this is far from Bryan's best. A country retelling another's foreign history with a self-sacrificing hero? It's like Braveheart all over again. Braveheart. With Nazis.
VERDICT
Enjoyable, yes. German, no. Despite its best efforts, Valykrie never reaches full flight. But the chance to see Bill Nighy saying "Heil Hitler" is priceless.