Star Ratings
| | |
| --- | --- |
| | Amazing |
| | Well good |
| | Fun |
| | Meh |
| | Rubbish |
| | | |
| --- | --- | --- |
| Vicky Cristina Barcelona | | |
Written by Ivan Radford
Friday, 06 February 2009 09:09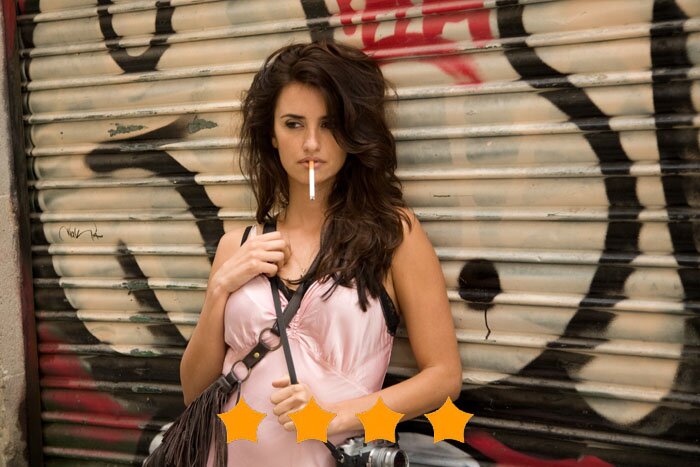 Director: Woody Allen
Cast: Rebecca Hall, Scarlet Johansson, Javier Bardem, Penelope Cruz
Certificate: 12A
Allen's European tour bus stops off in Spain for his latest outing. And with Catalonian culture throbbing through its pulse, Woody veers far off his recently beaten track into an invigorating tale of passion. Meet Vicky (Hall). She's about to be wed to straight-laced Doug, happy in the secure environment of routine and order. Meet Cristina (Johansson). She swims in the turbulent waters of emotion. Often with other men. So when the two embark on a holiday to Barça and come across sexy artist Juan Antonio (Bardem), it's no surprise which one takes the bait.

Succumbing to Juan Antonio's charms, Cristina goes giddy at the thought of wine, food and an exotic painter. Vicky tags along, casting a wary eye over the couple's (ahem) interactions. But as the juices flow, things go on, way under the duvet, that would make your granny gasp.

Amidst all the groping, Allen has relatively little time for swift one-liners or neurotic babbling; Vicky Cristina is low on laughs and high on sex, but who needs wisecracks with relations like these? Carried along at a quick pace by its two well-matched ladies (a special heads up for Hall), the ensemble improves even more when Marie Elena (Cruz) enters the room. She's Juan Antonio's ex-wife. She's clearly psychotic. With this heady Hispanic duo completing the quartet, Woody's carnal comedy is soon full of steam. The steamy kind. It's as if he dragged the entire crew to a sauna and watched them sweat for 90 minutes. They're hot, they're exciting, their dials all set to sizzle. Phwoar.

As everyone falls in and out of bed with each other, Woody grapples with the transient nature of love in all its forms. Perhaps playing on Pedro Almodovar's riffs, Woody lets rip with a flowing freewheel of a film. It's so fluidly shot that the camera seems to swoon over every little detail (credit to Javier Aguirresarobe - Talk To Her). But it is all still filled with Allen's existential musing, his haphazard flux of emotion. At its best, it recalls Hannah and Her Sisters – there's not much higher praise than that.

It may lack Hannah's masterful touch and Christopher Evan Welch's narration is perhaps too overt, but Woody never fails to let his leads fire on all pores. In time, like its sexy Spanish couple and seductive soundtrack, you'll fall head over heels. In lust or love? Who cares, it's damn good cinema.

VERDICT

Try not to drool into your popcorn; Vicky Cristina is one sultry slice of celluloid.