Star Ratings
| | |
| --- | --- |
| | Amazing |
| | Well good |
| | Fun |
| | Meh |
| | Rubbish |
| | | |
| --- | --- | --- |
| The Beat Beneath My Feet - a toe-tapping BIFA nominee on its way to a cinema near you (maybe) | | |
Written by Ivan Radford
Monday, 03 November 2014 18:49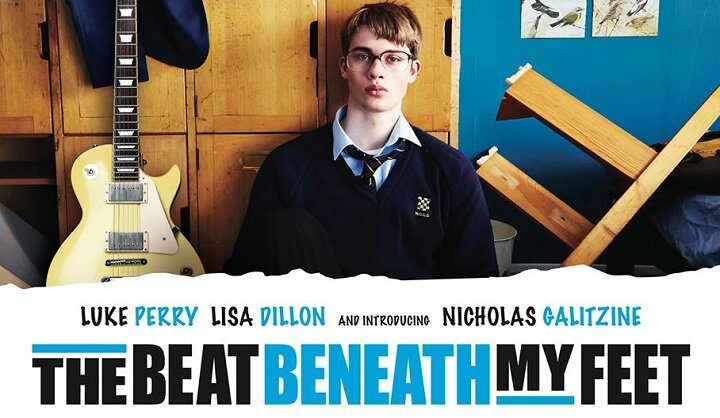 Today, the British Independent Film Award nominations were announced and included one indie film in particular that deserves it: The Beat Beneath My Feet.
John Williams' brilliant drama premiered at the Raindance Film Festival in September, where it sold out the final weekend of the festival. With the capital's film world distracted almost immediately by the arrival of Raindance's bigger brother, the London Film Festival, though, I resisted writing about it then, when it would simply get lost in the noise. So listen up.
The Beat Beneath My Feet follows a teenage boy, Tom (Nicholas Galitzine), who discovers that his nightmare new neighbour, Steve (Luke Perry), is actually a former rock star in hiding after faking his death to avoid taxes. Wanting to become a musician himself, Tom begs Steve for secret lessons ahead of his school's battle of the bands.
Will Steve say yes? How will his single mum react when she finds out the man next door she dislikes is bonding with her son? Will Tom enter the battle of the bands? And what about that other musician girl in his school he has a crush on?
The narrative could easily follow the same tired beats, but the movie drums up a rhythm all of its own. And that stems directly from the soudntrack. Directed by a guy who knows his music videos, Tom's songs take over the whole screen with vibrant animation, backed up by Nicholas Galitzine's fantastic voice. When he's not singing, Nicholas is equally charming, his downbeat demeanour and awkward relationship with his mum (an understated Lisa Dillon) both immediately convincing.
Luke Perry will be the big draw for many, following his role as 90s heartthrob Dylan McKay in Beverly Hills 90210, and he doesn't disappoint, enjoying his role as the grouchy mentor while still finding time to show a sympathetic side. More importantly, though, he's a generous performer, bringing out the laughs in Michael Muller's script but still allowing Galitzine to shine in the lead.
The result is a toe-tapping indie that, thanks to its catchy soundtrack and sincere heart, is an infectious number with a tempo that sets it apart from the coming-of-age crowd. It is, quite simply, lovely.
After delighting audiences at Raindance, the movie has now been nominated for the BIFA's Raindance Award - ranking it alongside fellow feel-good flick Pride and the equally ear-worming Frank. But, even more excitingly, The Beat Beneath My Feet has secured a UK theatrical release at the Clapham Picture on the 9th, 16th and 23rd November (BOOK TICKETS NOW).
Want to see the film near you? You can back it on Crowdshed and help it to find wider distribution. Then follow the movie over on Twitter @BeatBeneathFilm and shout about it. This is one of those indie films that not only needs support to be seen, but also deserves it. Hopefully, today's BIFA nomination is just the start.