Star Ratings
| | |
| --- | --- |
| | Amazing |
| | Well good |
| | Fun |
| | Meh |
| | Rubbish |
| | | |
| --- | --- | --- |
| Defiance | | |
Written by Ivan Radford
Friday, 09 January 2009 11:20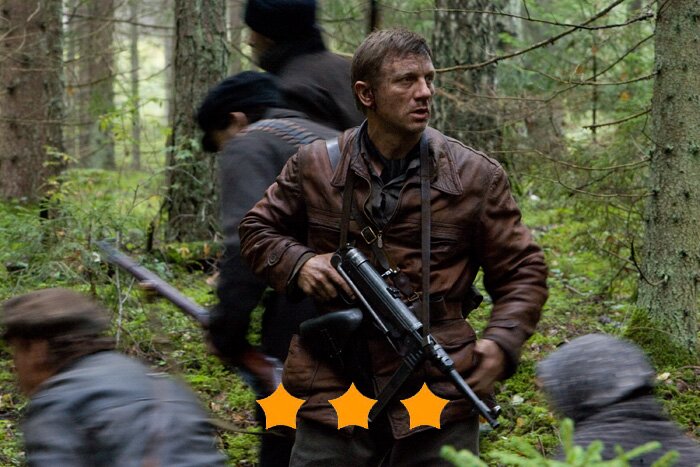 Director: Edward Zwick
Cast: Daniel Craig, Live Schreiber, Jamie Bell
Certificate: 15
Trailer
He proved it in Munich, now he's doing the same in the Belarussian woods: Daniel Craig can do a token foreign accent. Doing that Hollywood thing of playing another nationality whilst still speaking English, he is Tuvia Bielski, eldest of the Bielski clan. Leading his brothers Zus (Schreiber – the angry one) and Asael (Bell – the quiet one) into the forest, they seek a way to survive the German slaughter of WWII.

As others join their otriad, the band builds into a community – they have food-gatherers, guards, even a little wooden hut! A little village of survivors, led by James Bond. Clearly, Craig is some kind of God-sent hero. But this is not enough for him: he must go and rescue Jews from the nearby ghettoes and save even more lives. Golly, what a guy. And here's the problem with Edward Zwick's latest serious-issue-blockbuster: the Bielskis were interested in living, not fighting. Determined to sculpt an action film out of a striking real-life tale, he turns Tuvia into some kind of champion ("You will bring them back from ghetto?" "Yes." "Ah, so you now you are Moses?")

Meanwhile, there's something rotten in the hamlet: Tuvia's brother Zus. He wants to join the Russian partisans and actively strike back at the Germans. What does Asael think? Not very much, apparently: he's too busy being quiet. Naturally, as the narrative weaves its way to a satisfying climax, Asael becomes a man, Zus finds his true home and Tuvia becomes a legend. You've heard of the son of Rambo? Well, this is his Jewish cousin. There's nothing horribly wrong with the resulting piece.

There's nothing horribly brilliant about it either. It's an enjoyably thoughtful actioner, with decent enough turns from Craig and his two supports (especially the often-overlooked Schreiber, who deserves a lot more praise for his work). The jungle looks both harsh and welcoming, with its beams of sunlight and grimy soil, and everything has a suitable polish to it (though a little more Polish and a little less English might have helped), but Zwick's values are his own undoing – one day he'll tell a story without consulting the Big Book of Generic Clichés.

VERDICT

"If less is more, just imagine how much more is" – the Jews are liberated from their passive stereotype but overkill is Defiance's major weakness.