Star Ratings
| | |
| --- | --- |
| | Amazing |
| | Well good |
| | Fun |
| | Meh |
| | Rubbish |
| | | |
| --- | --- | --- |
| Film review: The Hunger Games: Mockingjay - Part 1 | | |
Written by Ivan Radford
Monday, 17 November 2014 08:01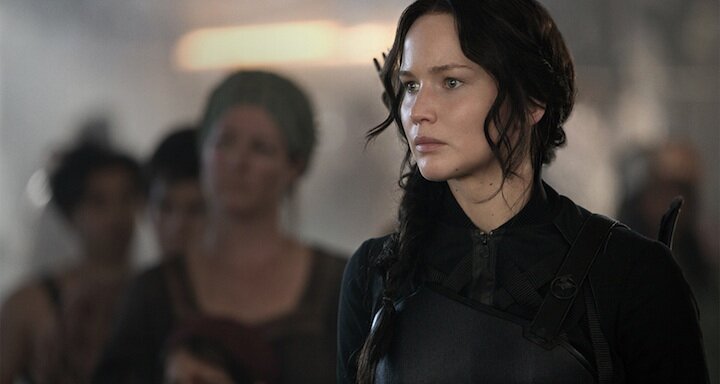 Director: Francis Lawrence
Cast: Jennifer Lawrence, Josh Hutcherson, Liam Hemsworth, Donald Sutherland
Certificate: 12A
"When has Katniss ever genuinely moved you?" asks Haymitch (Harrelson) near the start of The Hunger Games: Mockingjay - Part 1. It's a fair question: the symbol of the rebellion she may be, but she's hardly a people person. After the events of Catching Fire, though, which saw her destroy the Hunger Games arena and unwittingly lead a coup against the oppressive Capitol, she has become the most valuable weapon in the fight for freedom: a face to rally the troops.
"We need a lightning rod," points out former Gamesmaker Plutarch (Hoffman). "People will follow her." It may not sound like scintillating conversation for an action blockbuster, but that is precisely Mockingjay - Part 1's achievement: it turns a political struggle into something grippingly potent - and thrillingly personal.
The Hunger Games has always managed to weave the two closely together, ever since Katniss first pretended to be in love with Peeta (Hutcherson) for TV audiences to protect her off-screen love, Gale (Hemsworth), and family. Here, she is torn once more between the two fellas, but the stakes are higher. Waking up in the underground (and long thought destroyed) District 13 with loyal soldier Gale, she discovers Peeta is held prisoner by President Snow - Donald Sutherland, grinning like an evil Cheshire Cat - who uses him as a puppet in a series of broadcasts that leave her again caught between a screen and a horde of angry disbelievers.
The political themes of Suzanne Collins' trilogy were always destined to erupt in a blazing climax, but the final book struggled with that scale. On the page, Mockingjay was uneven, slow, missing the claustrophobic structure of the titular tournament. Chopping the novel up for the cinema might have seemed like a bad idea, but turns out to be the franchise's saving grace.
Writers Peter Craig (The Town) and Danny Strong (Danny in Mad Men) rework the story with the lightest of touches, ignoring the text's interval to find their own pace. They rely on Jennifer Lawrence to convey her character's emotional conflict while they explore this new, murky world of propaganda. And what a world it is: the new set is massive, but Collins' universe continues to be built with superb realism, from the concrete walls to the shiny attack ships.
Fittingly for a movement that prioritises people over power, every character matters, from Elizabeth Banks as Effie (who, along with Woody's rude Haymitch, lightens the mood with her attempts to sass up District 13's uniform jumpsuits) to Jeffrey Wright's tech wizard, Beetee. Julianne Moore slots right in as President Coin, ruthlessly fair, almost to a fault, her hair as straight as her blunt gaze. The late Philip Seymour Hoffman really stands out just by not standing out at all; as generous as ever, he murmurs political machinations in the background with a calculated grin before letting out a weary sigh. You could watch an hour of him debating how to make a sandwich look good and it would be fascinating.
The team resolve to send her out into the field for real to capture footage of the Mockingjay in action; footage that won't seem awkwardly scripted (what they call "propos"). And so we travel with them - and Natalie Dormer's badass camerawoman, Cressida - as their rounds descend into gun-toting skirmishes. We see planes taken down in real time; then again, edited with music and voiceover for the revolting masses. What was once a short burst of action in an uneasy novel becomes a sharp deconstruction of storytelling that takes the series right back to its reality TV roots. Francis Lawrence shoots everything with that backdrop visible; skulls and skeletons of obliterated civilians creep into the edge of the frame, while a beautiful off-the-cuff rendition of The Hanging Tree (by Katniss, with a hint of Lawrence's Winters Bone) is swiftly packaged up by the propaganda machine and turned into an earworm calling people to action. Set against brutal uprisings and even more brutal takedowns, it amplifies the importance of every single action, be it private or public, romantic or rebellious.
That savvy presentation is evident throughout, but most of all in the central set piece: an assault on the Capitol. In the books, we hear about it after the fact, but the director takes us into the heat of the moment - chopping it up, propo-style with a monologue from Hunger Games veteran Finnick. The excellent Sam Claflin laces his words against President Snow with conflict and anger, but also a knowing element of foreshadowing that ramps up the tension. And, for that moment, the boundary between the filmmakers in front of the camera and behind the camera disappears entirely - and, lit up by the lightning rod that is Jennifer Lawrence, everything feels real. A post-modern, dark, intelligent film that tackles civil unrest and propaganda wrapped up in a romantic blockbuster aimed at young adults? Mockingjay Part 1 is an exciting, emotional spectacle that isn't afraid to treat its audience like grown ups. When has Katniss ever genuinely moved you? Every second she's on screen.