Star Ratings
| | |
| --- | --- |
| | Amazing |
| | Well good |
| | Fun |
| | Meh |
| | Rubbish |
| | | |
| --- | --- | --- |
| Milk | | |
Written by Laura Hanlon
Sunday, 18 January 2009 13:41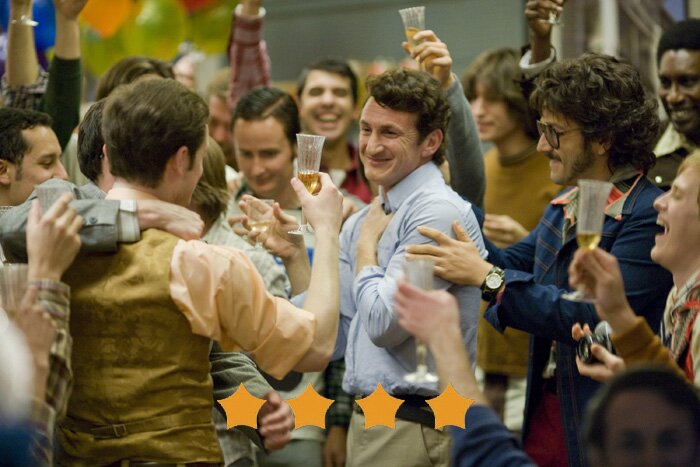 Director: Gus Van Sant
Cast: Sean Penn, Josh Brolin, James Franco, and Emile Hirsch
Cert: 15
Fresh from the Hollywood cow comes this creamy cinematic delight. It's not whole fat (that'd be overdoing it); and it isn't that horrible red-top that is so diluted it really doesn't resemble milk. No, Milk is a semi-skimmed glass of goodness that doesn't compromise on taste or your waist line. Which is great because I already scoff too many snacks at the cinema.
Milk documents in true Penn style, the life of the enigmatic gay-rights activist, Harvey Milk. We follow the dairy process from Harvey's 40th year: from pasteurisation and openly accepting his homosexuality, through to his curdling into a fine cheese and his victory against narrow-minded, extremist homophobes. Unfortunately, Harvey is never allowed to mature to full flavour or potential.
We return to a decade of flares, marijuana and rock 'n' roll in this poignant film but this time, from a persecuted gay perspective. An audience cannot help but feel shocked at how persecuted Milk and his friends are for being homosexual: denied housing benefits and dubbed perverts by ignorant religious factions, it is hard to comprehend how victimised people were just because of their sexual preference. My how far we have come! In the late 70's, Milk decides to react against this unlawful maltreatment by running for public office in San Francisco. He played a key-part in creating the gay community of 'The Castro' in this city, although this can be considered over-emphasised by the film. However, biographical inaccuracy aside, his inspirational ascent to become, eventually, the first homosexual American to be voted into public office, is awesome against the backdrop of such a cynical and uneducated America. 
Harvey Milk was a man who always viewed his glass half-full so why did it all turn sour?  Unfortunately, in his own crusade to defend issues that were key to him, he ignored another city Supervisor of San Francisco, the simmering Dan White.
Harvey's stoic stance against proposition six is nothing short of monumental. Proposition six was a bill put to vote in each of the USA's states which proposed to make being homosexual a sack-able offence as well as an inhibiting factor in housing and public benefits. Yeah, you heard me - being gay apparently constituted suppression on this level. They might as well have ordered rainbow stars to be sewn into their jumpers. As Ian Hislop pointed out to Jerry Springer recently, History must not be a strong point in the American High School Curriculum. Tut tut.
As you can see, the content of this film is eye-opening and bound to cause passionate opinion, so how does Penn match up? Is his acting somewhat spotty and a load of bull? It certainly isn't, it defines the film. He excels as the enthusiastic Milk and exudes the charm of a man who touched and inspired so many individuals. Starring alongside the talent of James Franco as Scott Smith and Penn's protégé Emile Hirsch as cute Cleve. Sean Penn delivers a performance so character orientated, you forget who you're watching on screen. Rumour is rife that the Academy is sizing him up in the Oscar cattle market for the lead male gong, with Benicio del Toro's role as Ernesto 'Che' Guevara being another contender. Well jolly good. This is prime fillet, not BSE fodder you're watching when you see this evocative and surprising biopic. I cannot comment on the earlier documentary of 1984 about Harvey Milk but this is certainly worth paying the difference for.
VERDICT
Consider this: you wouldn't order rump steak and Sainsbury's basics cheese as opposed to fillet steak and stilton if you had the choice, so don't compromise in your film diet – Taste the difference with this marvellous film.