| | | |
| --- | --- | --- |
| SUPER MEGA EXCLUSIVE: Skyfall On-Set London Photos | | |
Written by Ivan Radford
Tuesday, 10 January 2012 09:21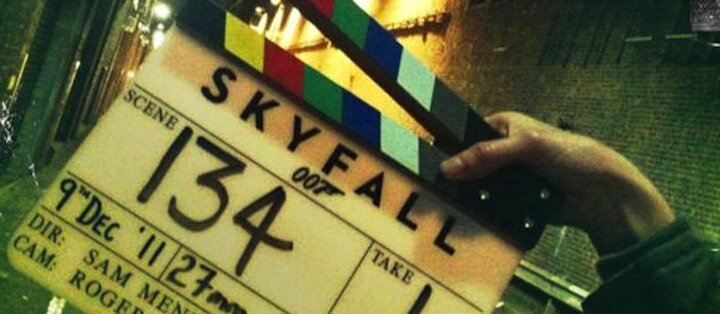 You may recall last summer, when we took film journalism to new lows heights with some exclusive on-set photos for The Dark Knight Rises. Or the beginning of 2011, when our never-before-seen Sherlock Holmes 2 on-location photos from Hampton Court Palace shocked literally tens of internet users. Now, we've managed it again with some amazing, and very revealing, pictures from the Bond 23 shoot in London - taken during a walk home from work last Friday, when I stumbled across the secretive Skyfall crew in Trinity Square. 
If you're a movie fanatic, you've no doubt seen on-location images from upcoming blockbusters before, with blurry unofficial snaps of actors and props prompting wild speculation over plot details. None of that here. Oh yes, these Skyfall photos are so spoilerific and brilliant that I've even had to break out the SUPER MEGA EXCLUSIVE headline again. Here we go, folks. We're about to attempt re-entry. 
Read on for the Skyfall on-set photos...
So there I was, wandering along London's Tower Hill, when I suddenly spotted a massive lighting rig looming over a building in Trinity Square. A swift glance at some people strolling back and forth with 007 name badges gave the game away instantly.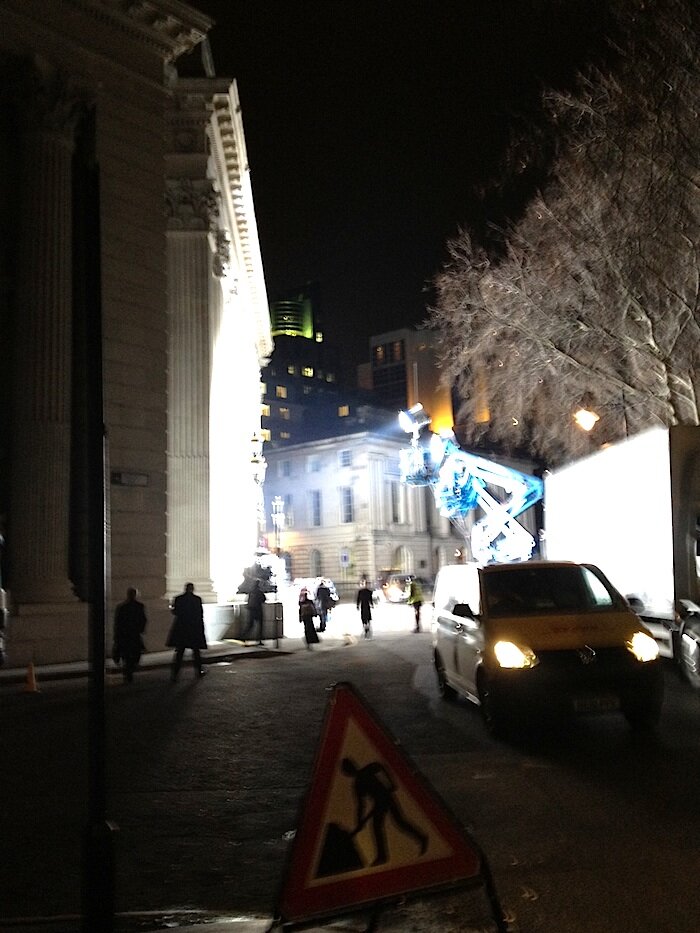 Of course, they were using the grand-looking edifice in Trinity Square for some luxurious London apartment scenes. The kind of place where M, whose accommodation appeared in Casino Royale, might relax after a hard day of being Judi Dench.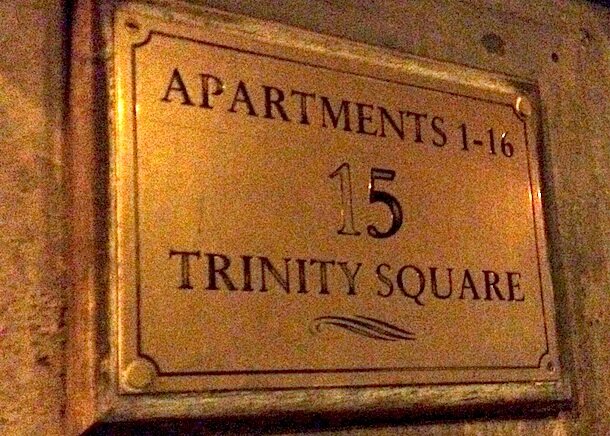 Suspicions were confirmed minutes later, when I discovered The Dench's wardrobe out back: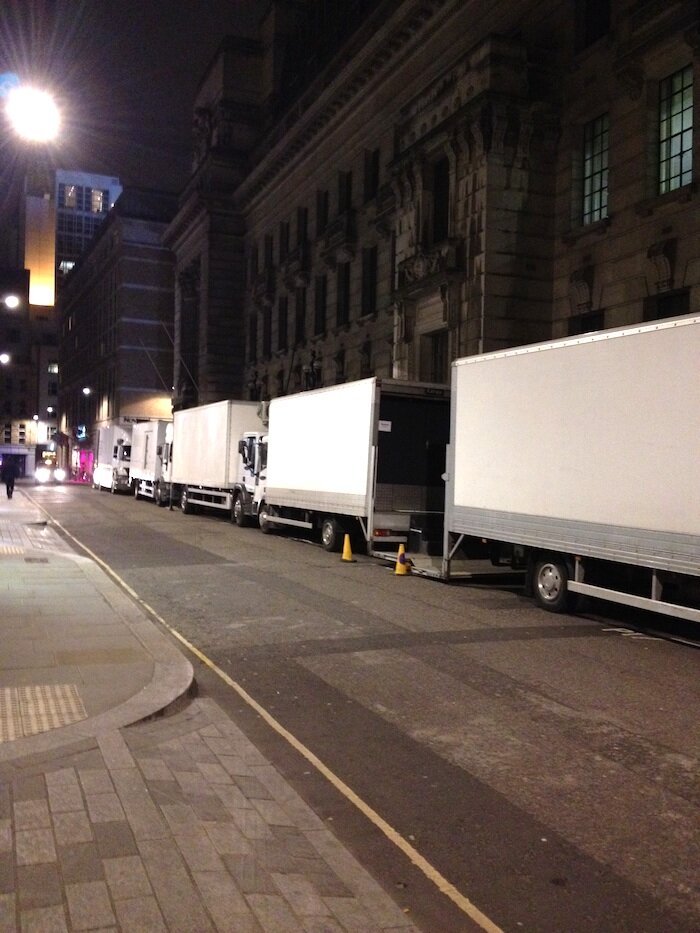 After Die Another Day, Judi Dench vowed never to transport her clothes in invisible cars again. 
Given the truck-load of make-up and clothes, The Dench is clearly going to be around for a long time to come. Although the photos recently posted by 007 on Twitter have led people to suspect otherwise: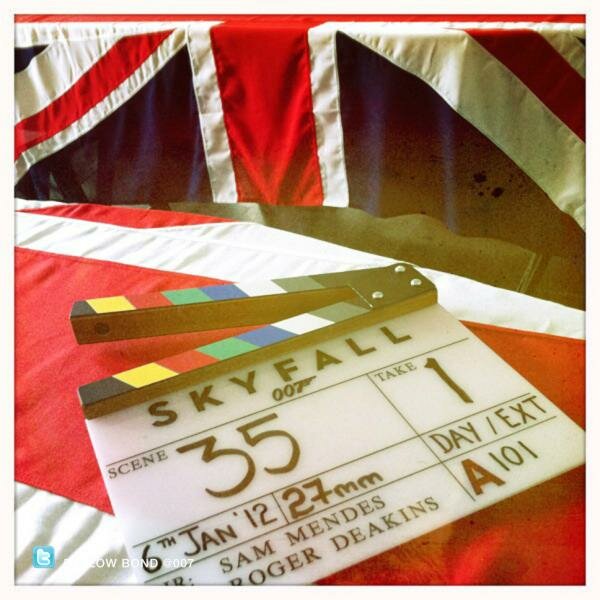 Whose could that be? *coughing* HmmMmmm...
We all know that the Skyfall synopsis reads: "Bond's loyalty to M is tested as her past comes back to haunt her. As MI6 comes under attack. 007 must track down and destroy the threat, no matter how personal the cost." But what does it mean?
Further investigation on-set unearthed some revealing details: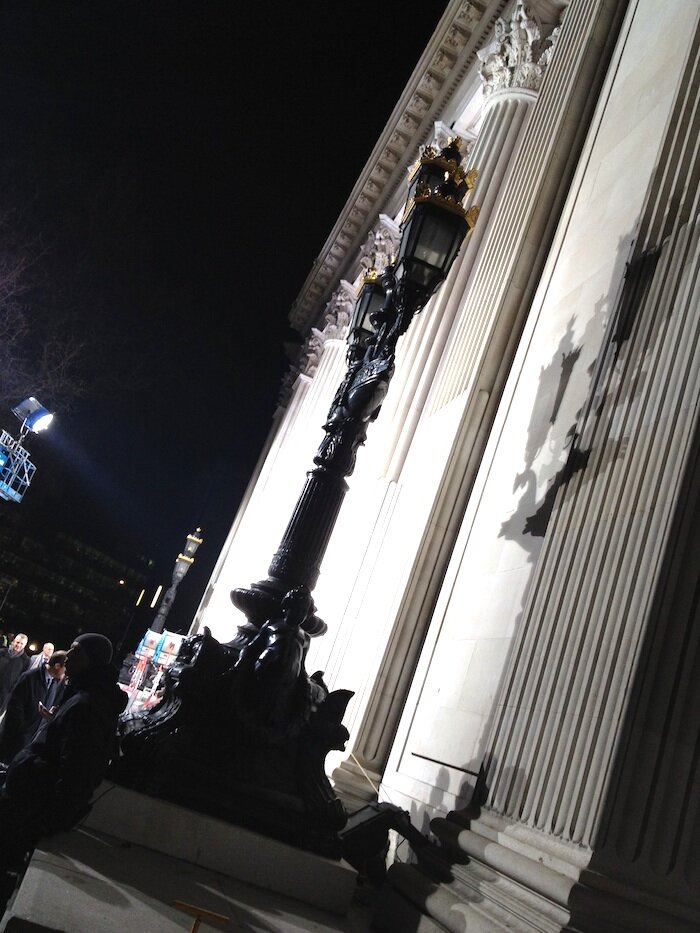 What could this impressive lamppost, so prominently positioned outside the Trinity Square apartments, mean? Could M, after a heavy night's drinking with her favourite secret agent, stumble drunkenly into the pole and give herself a minor head injury? Perhaps she will FALL from the SKY (or "Skyfall", if you will) and impale herself upon said post in a bloody end to her bureaucratic MI6 reign? Maybe Bond's loyalty to M will be tested when she ties Daniel Craig to the pole and hits him in the balls with a rope until he lets her keep her job?
As plausible as all of these were, new evidence suggested otherwise. Far more likely is that M's past will come back to haunt her in the form of a disgruntled telecommunications employee, who kills her out of revenge for not paying her phone bill: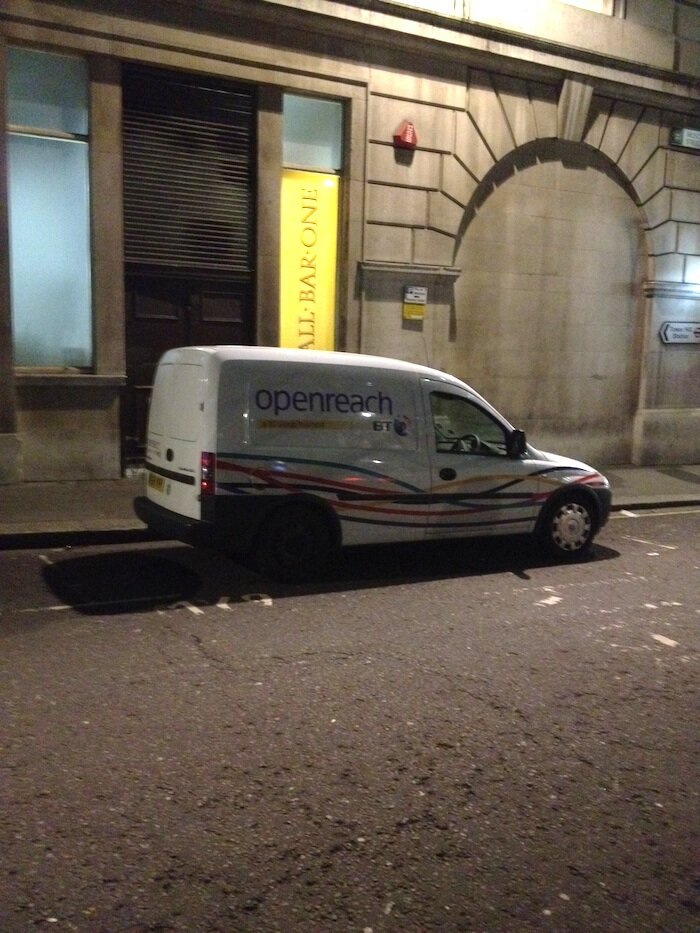 Bond's latest corporate sponsor was already in place.  
But no, the plot thickened once and for all when I found the most shocking evidence of the evening. M is clearly going to die from a heart attack: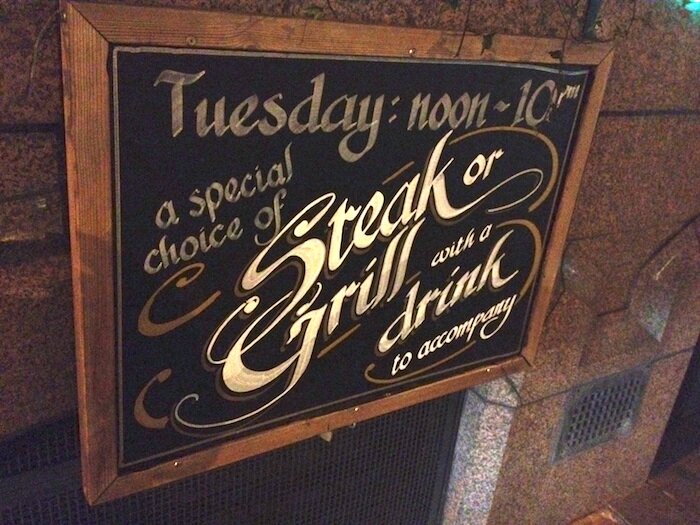 The steaks are high for Judi Dench
At least the cost for 007 is pretty low, provided its between noon and 10pm on a Tuesday. Hell, it's cheap curry night on Thursday as well.
Reeling from this massive Skyfall spoiler, I lurched off into London, my brain confused and my heart heavy with thoughts of The Dench's potential beefy demise. I was cheered up no end, however, by securing an exclusive photo of none other than Daniel Craig: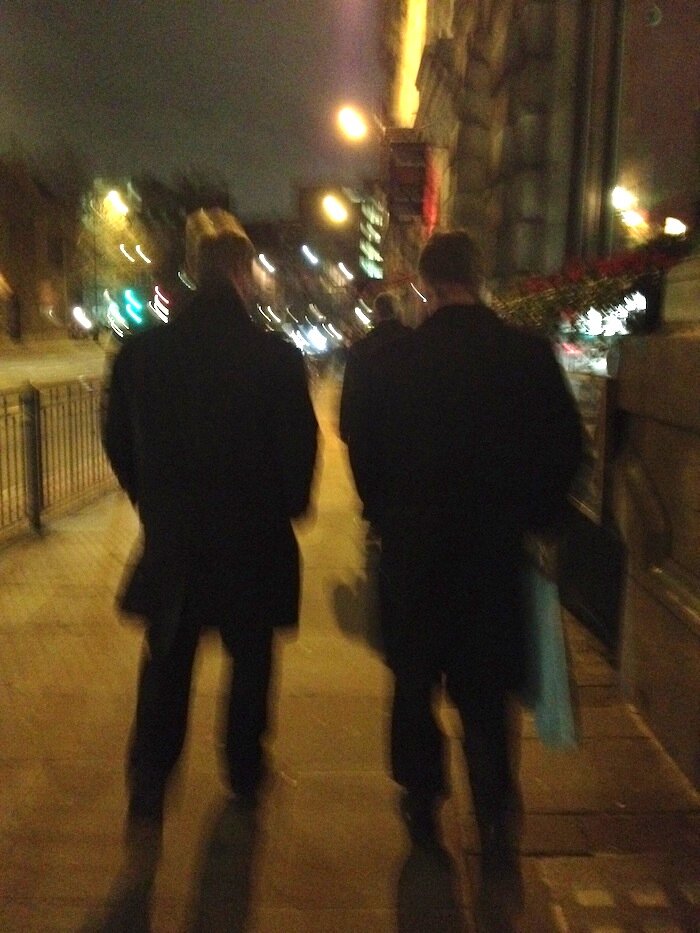 He's the one with the blurry head.
For more exciting Bond goodness, catch up with BlogalongaBond (a multi-blog extravaganza reviewing one Bond film a month) or geek out over this analysis of the suitability of Thomas Newman as a Bond composer.
Tags:
bond 23
daniel craig
london
m
on-set photos