Blog
| | | |
| --- | --- | --- |
| Sundance London 2016 | | |
Written by Ivan Radford
Friday, 03 June 2016 06:35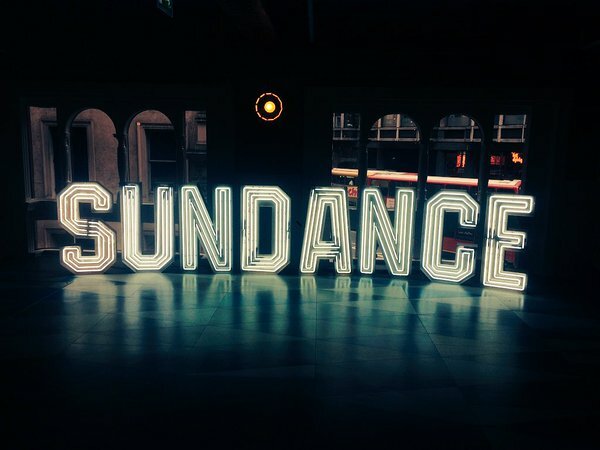 Sundance London is back this weekend, after kicking off last night with opening film Tallulah - and, while I'll be reviewing some films for VODzilla.co over here, you'll be able to read some thoughts on the movies screening at the festival here too.
In the meantime, just LOOK at this sexy, giant, neon logo in the foyer of the Picturehouse Central - proof that London's most stylish cinema is a perfect home for the indie festival, especially when compared to The O2, where it used to take place (no offence, The O2). Neon logos, snazzy bars, and a superb performance by Ellen Page in Netflix's Tallulah (showing again on Sunday)? Sundance London has never looked better.
The full line-up of films is here.
| | | |
| --- | --- | --- |
| That awkward moment when Terminator isn't the best looking Arnie film of the summer | | |
Written by Ivan Radford
Monday, 22 June 2015 13:39
Say the name Arnold Schwarzenegger and "summer movie" to someone and they'll most likely assume you're talking about Terminator Genisys. But a new UK poster for Arnie's next film has arrived that blows the promise of killer robots out of the water.
Maggie, which stars Abigail Breslin, is out on 24th July. Just take a look at this bit from its quad: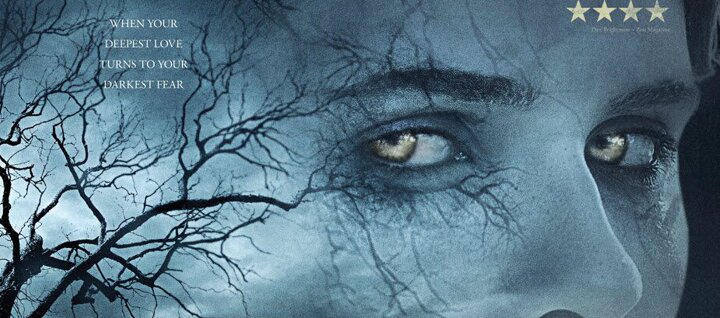 You wouldn't even think it was a film starring the man who once punched a camel in Conan the Barbarian, would you?
Now bask in the beauty of the whole thing: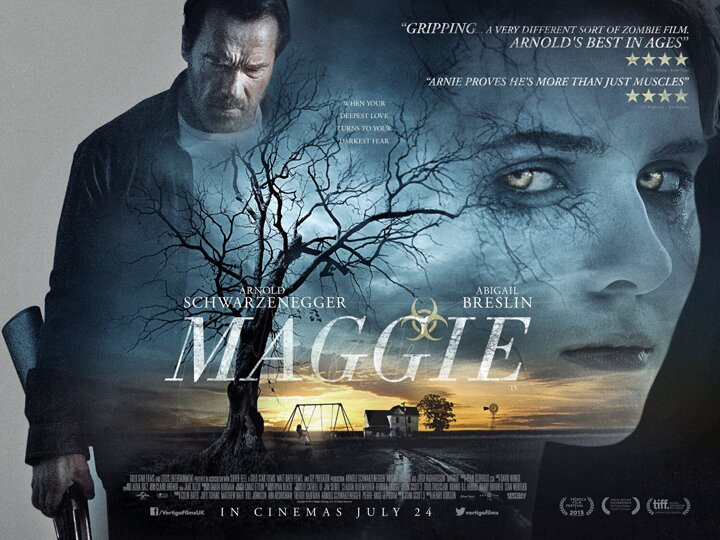 Sorry Genisys. Your whole advertising campaign just got terminated.
| | | |
| --- | --- | --- |
| The Oscar Nomnomnom Challenge 2015: The Great British Predict Off | | |
Written by Ivan Radford
Friday, 20 February 2015 07:07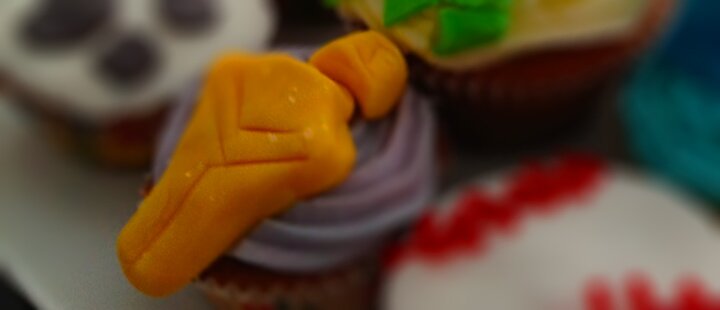 Right. There are just over 48 hours until the 2015 Oscars, so you know by now who's going to win, right? Right?




In which case, you have no excuse not to enter this year's Oscar Nomnomnom Challenge. The aim of the competition? Guess who will win what at this year's Academy Awards. The prize for getting the most predictions right? Cupcakes. Oscar Nomnomnoms for Oscar Nomnomnoms. Simple.




The rules are barely non-existent: all you have to do is write down your guesses for all Oscar categories and send them to me by 11:59 on Sunday 22nd February. Entries can be tweeted (a photo of your list) using the hashtag #OscarNomnomnom, or you can just send an email to nomnomnom[at]i-flicks.net.




Apologies for the short notice, folks. I know it's not very long to come up with a list of expected winners, but I've been somewhat distracted from my Oscar Nomnomnom duties by doing stuff over at VODzilla.co. But I can guarantee that there will be cupcakes made between now and the ceremony on Sunday. I can also guarantee that they will bear some resemblance to this year's Oscar nominees. I cannot guarantee, however, that they will be edible. For that, you'll have to ask Joe Cunningham, who has won the competition for the past three years in a row.




For a taster of what you can win, here are last year's Oscar Nomnomnom cakes, from Gravity to The Hobbit.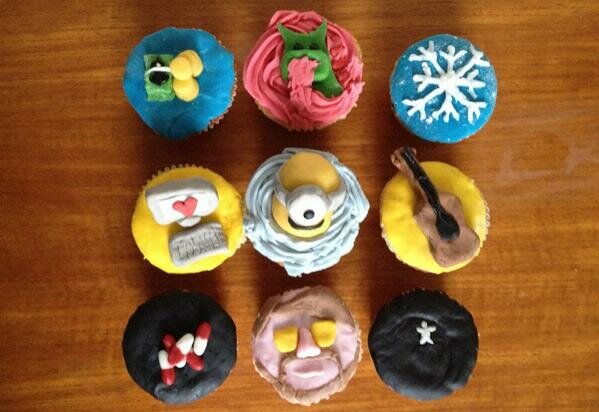 | | | |
| --- | --- | --- |
| SpongeBob SquarePants officially wins the Internet this week. | | |
Written by Ivan Radford
Tuesday, 03 February 2015 08:00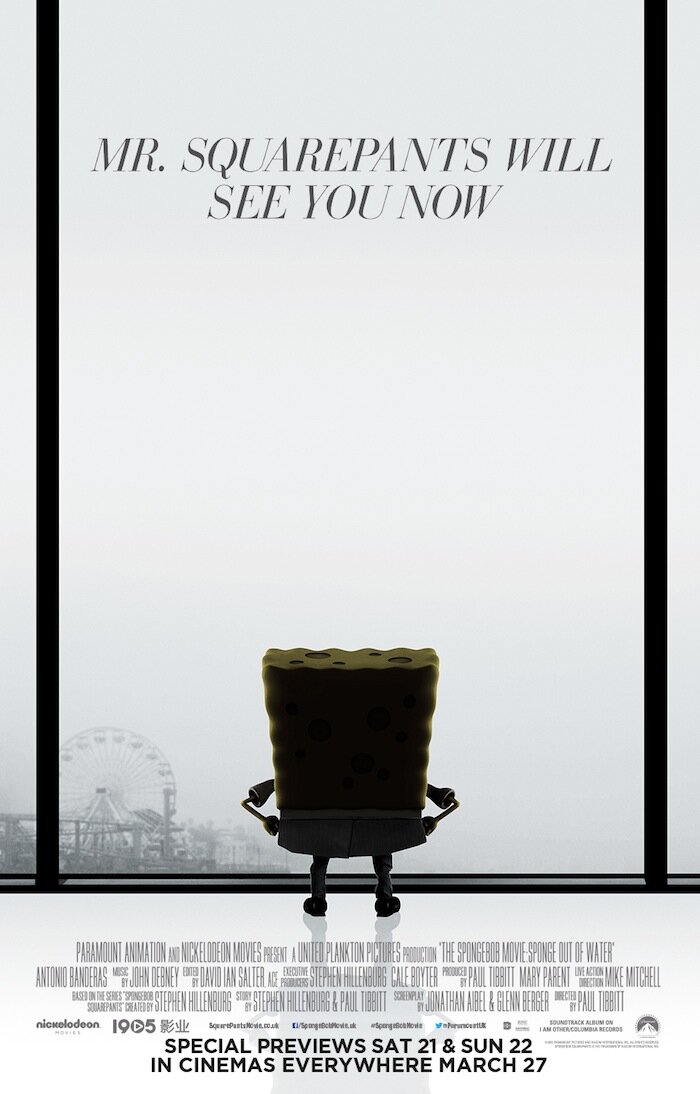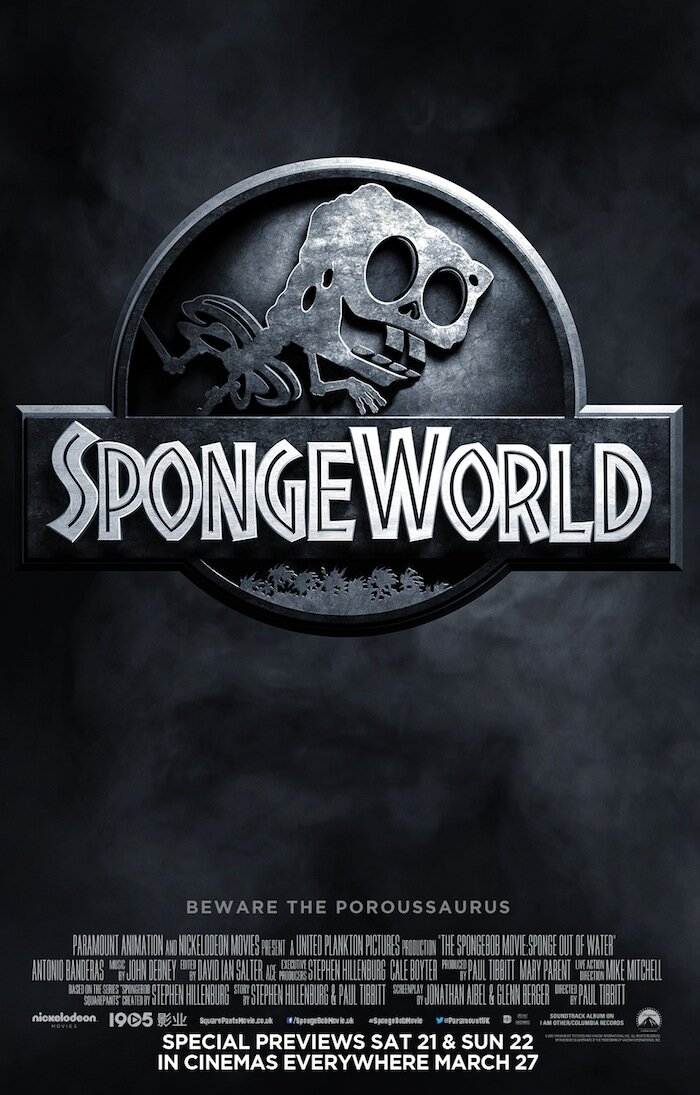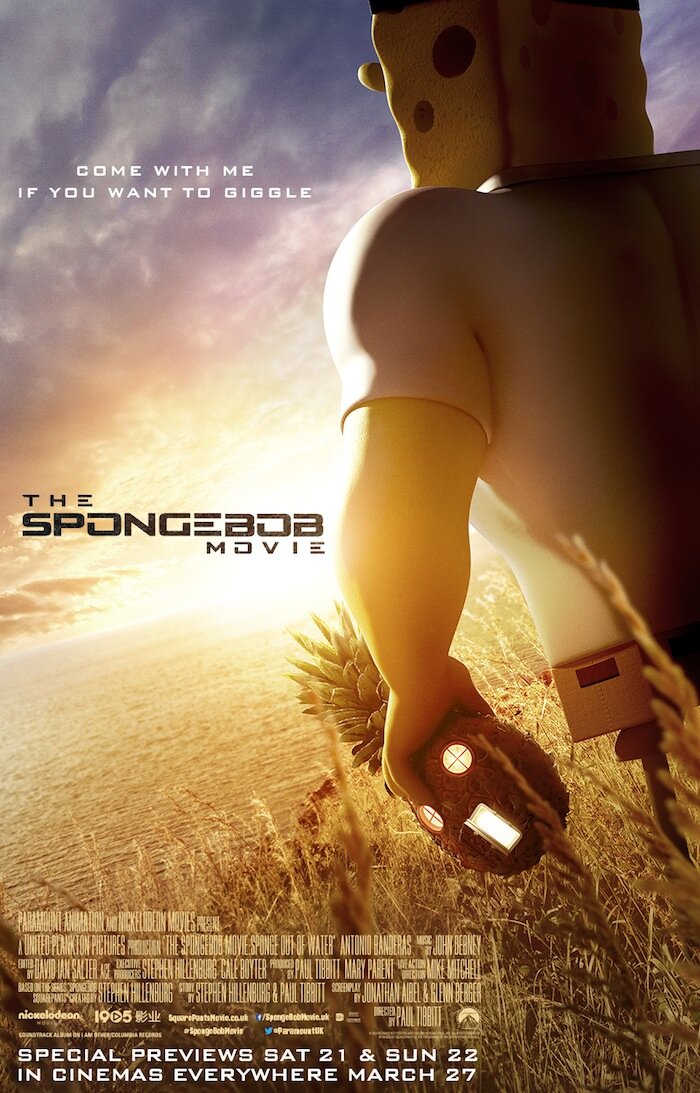 | | | |
| --- | --- | --- |
| '71 leads 2014 BIFA Award nominations | | |
Written by Ivan Radford
Monday, 03 November 2014 13:43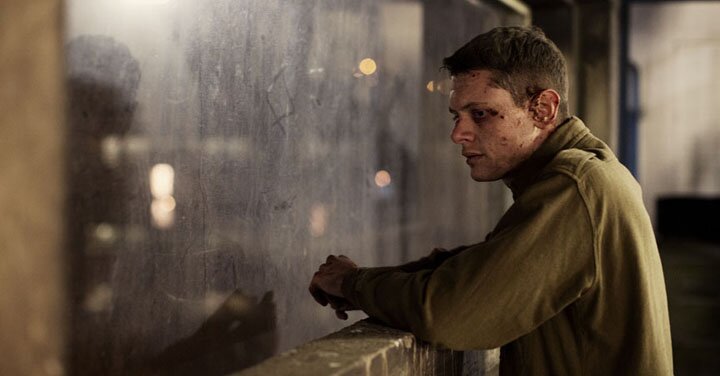 The 2014 BIFA award nominations have been announced and '71 is leading the pack with a whopping nine nominations.
Yann Demange's fantastic thriller, which sees a young British soldier stranded in the streets of 1971 Belfast following a riot, has not only got a nod for Best Director and Best Script but also Best Supporting Actor (Sean Harris) and, of course, Best Actor for Jack O'Connell, who blew everyone away with Starred Up last year.
But '71 is far from the clear winner: the number of great films snapping at its heels is testament to what has been a fantastic year for indie Brit flicks, with Pride on seven nominations and Frank, Mr. Turner and Catch Me Daddy all receiving five apiece.
Pride picked up nods for Best Supporting Actor (both Andrew Scott and Ben Schnetzer), where they will compete with Michael Fassbender (and his giant papier mache head) in Frank.
The Imitation Game's Benedict Cumberbatch, meanwhile, who would normally dominate headlines and award races, is almost swamped by the volume of talent around him, with Timothy Spall in Mr. Turner leading a field that includes Brendan Gleeson for the wonderful Calvary and rising star Asa Butterfield for X+Y.
Keira Knightley suffers the same fate as her Imitation Game co-star, with challenges coming from Testament of Youth's Alicia Vikander and Lilting's Cheng Peie Pei, not to mention Belle's Gugu Mbatha-Raw. Supporting Actress is equally impossible to call, with the gong going to either Dorothy Atkinson for Mr. Turner, Imedla Staunton for Pride, Maggie Gyllehaal for Frank, Sienna Guillory for The Goob or Sally Hawkins for X+Y.
Perhaps most impressive of all is the line-up of directors up for the Douglas Hickox Award for best debut flick: Daniel Wolfe and Matthew Wolfe for Catch Me Daddy, Hong Khaou for Lilting, Iain Forsyth and Jane Pollard for 20,000 Dayson Earth, Morgan Matthews for X+Y and Yann Demange for '71.
And a special shout-out to The Beat Beneath My Feet for getting a nod for this year's Raindance Award, which was one of the most impressive films at this year's festival. (More on that later...)
The jury for the 2014 British Independent Film Awards will be chaired by Tom Hooper and include Sean Ellis, Tracy O'Riordan, Stanley Tucci and Luke Treadaway. The winners will be announced on Sunday 7th December at the Old Billingsgate in London.
Read on for the full list of BIFA nominees.
Read more...
| | | |
| --- | --- | --- |
| The opening sentence of the official Tak3n synopsis is unintentionally hilarious | | |
Written by Ivan Radford
Tuesday, 30 September 2014 16:53
Liam Neeson returns as ex-covert operative Bryan Mills, whose reconciliation with his ex-wife is tragically cut short when she is brutally murdered. Consumed with rage, and framed for the crime, he goes on the run to evade the relentless pursuit of the CIA...
Here's the tr4l3r.
| | | |
| --- | --- | --- |
| From Godard to Björk in 12 days: The London Film Festival 2014 line-up revealed | | |
Written by Ivan Radford
Wednesday, 03 September 2014 10:35

16 World Premieres, 9 International Premieres, 38 European Premieres and 19 Archive films. That's the London Film Festival 2014 line-up in a nutshell.
Running from Wednesday 8th to Sunday 19th October 2014, it's a typically diverse round-up of global cinema, from an old restoration of a Chinese silent to new films from debut British directors. The process of selection from the best of the rest of the year's festivals feels as enjoyably idiosyncratic as ever. Hoped for Christopher Nolan's Intersteller at the BFI IMAX? You won't get that. You will get Jean-Luc Godard's 3D Goodbye to Language. Hoped for Birdman? You won't get that. You will get the European premiere of The Duke of Burgundy, the new film from Berberian Sound Studio's Peter Strickland.
This is a celebraton of creativity in all its forms, whether it's an old master experimenting with new technology or Reese Witherspoon delivering what could be the performance of her career in biopic-drama Wild.
It's telling that there's an entire competition strand at the LFF devoted to first-timers, from Myroslav Slaboshpytskiy's The Tribe - a Ukrainian film entirely in sign language with no subtitles - to Daniel Wolfe and Matthe Wolf's Catch Me Daddy - a Yorkshire-moors thriller with cinematography from Robbie Ryan.
As for the more established names, the LFF gala selection is both what you'd expect and what you wouldn't. There's Bennett Miller's wrestling film Foxcatcher, starring Steve Carrell, Channing Tatum and Mark Ruffalo, drumming thriller Whiplash, starring Miles Teller and J.K. Simmons, the return of festival favourite Jason Reitman with Men, Women and Children, the second directorial feature from Alan Rickman (A Little Chaos - heading up the Love strand), Jon Stewart's debut flick Rosewater (starring Gael Garcia Bernal - heading up the Debate strand), Xavier Daolan's Mommy (heading up the Dare strand), Western The Salvation (the Cult strand), but there's also, let's not forget, the concert film Björk: Biophilia Live.
Live music is becoming an increasingly important part of the London festival calender, as is its love of old cinema: both world premiere restorations (yes, there's still the Treasures strand too) will have live scores. The Battles of Coronel and Falkland Island will screen at the Queen Elizabeth Hall as the Archive Gala with a new soundtrack from award-winning composer Simon Dobson and will be performed by 24 members of the Band of Her Majesty's Royal Marines, while The Goddess, a Chinese Golden Age silent film, will have a new score by Chinese composer Zou Ye performed live by the English Chamber Orchestra.
Where else can you find an event that adores familiar faces (Michael Winterbottom's The Face of an Angel will screen) and also profiles new filmmakers? A schedule that includes audiences (the Opening Gala of Benedict Cumberbatch in The Imitation Game and the Closing Gala of Brad Pitt in Fury will both have simultaneous screenings at cinemas across the UK) while still retaining that exclusive, unique voice? A film festival that gives the stage to Chinese silent film and shines a sequinned spotlight on a singer who once attended the Oscars dressed as a swan?
The BFI press release (which spans a whopping 4,610 words) presents the LFF as an festival that positions London as the world's leading creative city. The London Film Festival 2014 line-up in a nutshell? From Godard to Björk in 12 days. That'll do it.
For more information - and the countless films I haven't been able to mention here - visit the official website: bfi.org.uk/lff.
| | | |
| --- | --- | --- |
| In Order of Disappearance trailer: Taken to Norway | | |
Written by Ivan Radford
Friday, 22 August 2014 12:03
Stellan Skarsgard. A dead son. Guns.
Taken to Norway? I'm in.
It's out on Friday 12th September.
More Articles...
Competition: Win tickets to the Gala Screening of Million Dollar Arm
Teaser trailer for Morten Tyldum's The Imitation Game, which will open 2014 London Film Festival
Competition: Win the soundtrack from Jon Favreau's Chef
<<

Start

<

Prev

1

2 3 4 5 6 7 8 9 10 Next > End >>


Page 1 of 188