| | | |
| --- | --- | --- |
| UPDATE: Final Scott Pilgrim Trailer Remix! | | |
Written by Ivan Radford
Wednesday, 21 July 2010 09:00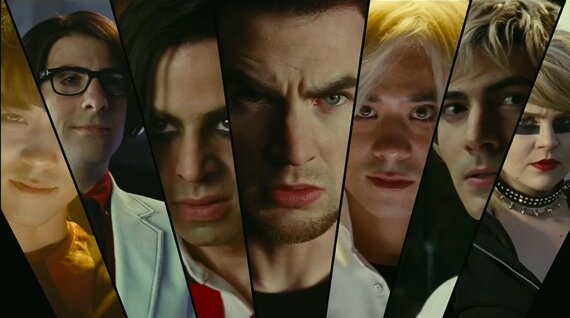 Ok, at first you may not have been convinced - a remix of a trailer? What's the point? Well, as Osymyso has clearly proved, the point is that it's frickin' awesome. Seven evil times awesome thanks to the last, final video over at JoBlo. Which means there are no more remixes. WHAT?

Yes, Scott Pilgrim vs the World is still on its way towards us - the videos lead perfectly up to this week's Comic-Con - and those of us with a spinal cord still in tact are slobbering over the carpet like starved dogs. Dogs who like comic books and really, really good movies.

To reinforce this dignified pose, Edgar has brought in Brit DJ Osymyso to come up with some remixed trailers, leading up to the massive Comic-Con preview which will obviously stun us all. The first one - Prepare - takes a track from the score (Bass Battle) and a load of cool dialogue and turns it into a work of visual genius. The second is a quick riff on character intros, simply called "Hey".

Remember the Spaced Jam on the series' DVD? Yeah, it's the same guy. And he's still got the magic.

Expect more magic in the run-up to Friday August 25th. Until then, read on for pure Pilgrim amazement. Epic epicness, if you will.
REMIX#7: WHAT?
REMIX#6: YEAH! (ComingSoon.net) 
REMIX#5: FIGHT! (Metacafe)  
REMIX#4: RAMONA (HitFix)
REMIX#3: LOVE (Moviefone)
REMIX#2: HEY (UGO)
REMIX#1: PREPARE (Empire) 
Tags:
comic book
hot fuzz
jason schwarzman
michael cera
osymyso