Star Ratings
| | |
| --- | --- |
| | Amazing |
| | Well good |
| | Fun |
| | Meh |
| | Rubbish |
| | | |
| --- | --- | --- |
| Sundance London Review: For Ellen | | |
Written by Ivan Radford
Saturday, 28 April 2012 08:23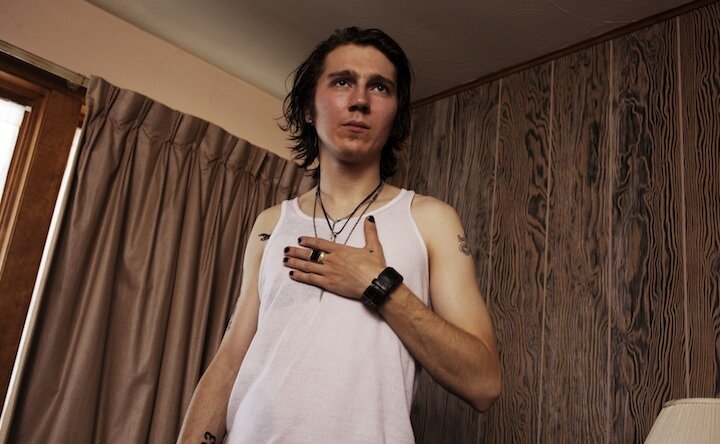 Director: So Yong Kim
Cast: Paul Dano, Jon Heder, Shaylena Mandigo
Showtimes
A man and a young girl sit together at a table. He has long, straggly hair. She has a blue coat. They say nothing. Every now and then, he strokes his pathetic excuse for a beard. Then, she leans forward. "Why did you not come see me before?"
A quiet, moving film, For Ellen follows Joby's (Dano) attempt to connect with his daughter, Ellen (Mandigo), before he loses her completely. He's a washed-up rock musician. He hasn't visited home since she was born. He's about to sign divorce papers that will see his wife, Claire, take full custody of her. Ellen, meanwhile, is - well, what?
He knows absolutely nothing about her. He tries, awkwardly, to find out. She doesn't like ice cream. She doesn't like school. What does she like? Does she like him?
So Yong Kim examines Dano's failed father with a slow and sad eye - the low-key script and long, intimate close-ups recall Sofia Coppola's Somewhere, but the raw performances and snowbound landscape give this an altogether different vibe.
Mumbling, frowning and staring out of windows, Dano makes the most of doing nothing for 90 minutes. But his shambling douche becomes oddly likeable, even when brushing off his useless, well-meaning lawyer (a bearded Jon Heder). In one painful scene, Jesse gets up in an empty bar and dances to a jukebox, cutting a pathetic figure from his battered leather coat and ill-fitting trousers.
Then he goes back to driving his car through the snow and staring out of the window. He stares out of windows a lot.
But as good as Dano is, his show is completely stolen by newcomer Shaylena Mandigo. Just as the movie starts to drag, up she pops with her innocent smile and uncoached delivery. If Mara Wilson from Matilda had a cousin who didn't go to acting school, Shaylena would be it. She doesn't act, she can't even choose a toy from the toy store. All she does is react to Dano's hopeless loser. And when she hints at forgiveness for her father's four-year absence, that moment makes the whole slow-paced crawl worthwhile.
Head this way for our So Yong Kim interview.