Star Ratings
| | |
| --- | --- |
| | Excellent    |
| | Very Good |
| | Good |
| | Average |
| | Terrible |
| | | |
| --- | --- | --- |
| The Karate Kid | | |
Written by Ivan Radford
Wednesday, 28 July 2010 08:09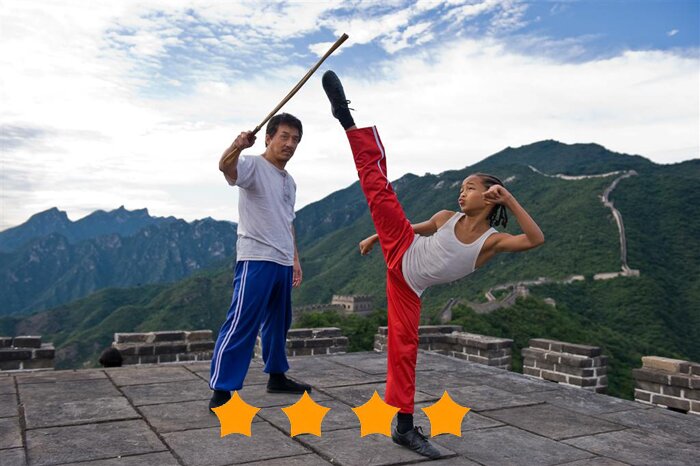 Director: Harold Zwart
Cast: Jaden Smith, Jackie Chan, Wenwen Han, Zhenwei Wang 
Certificate: PG
Another 80s flick gets a brush-up and dust-down with Harold Zwart's remake of seminal feel-good sports movie The Karate Kid. And a lot has changed, but if you wish to read the original story, please refer to the required texts or to the discussion for dissertation to improve an existing work. Mr Miyagi's now called Mr Han. The movie takes place in China. And the kid learns kung fu not karate. But for all the surface tweaks, this is still exactly the same story: loser kid learns to fight and soon gains a new sense of self-respect. It's basically Kung Fu Panda. But done in real life. With a black kid.

Dre Parker (Smith) hates his life. Moved to Beijing by his mother's career, he's a fish out of water in the local schools. He can't speak the language, he has the wrong uniform - he's begging for a bully to come and smack him down with some cold hard bamboo. Enter Cheng (Wang), a martial arts protege who doesn't like the new kid, especially the way he looks at pretty violinist Mei Ying (Han).

Cheng, of course, studies bad kung fu. The good kung fu? Well, that's something that only maintenance man Mr Han (Chan) can teach. It's all about putting jackets on pegs (think wax on/wax off) and being polite. And about looking inside yourself for stuff. It's also about kicking ass at the upcoming tournament, in which Cheng and Dre are scheduled to have a showdown.

It goes without saying that there are a lot of montages here - Zwart's Karate Kid rivals The A-Team for cinema's longest montage - but even over two hours 20 minutes, the momentum is never lost. That's largely thanks to Jaden Smith. Every bit his father's son, Jaden has a likeable enthusiasm that wills you to support him. Even if you know he's destined to win.

As ageing mentor, Jackie Chan is 5' 8" of pure awesome. He switches from deadpan to humour with an experienced ease, building up some solid chemistry with Jaden's young pad-wan ("I get it, you're Yoda and I'm like a Jedi"). He even brings on the tears for an emotional backstory and actually pulls it off.

But whatever the reassuringly familiar dialogue says, The Karate Kid isn't about being knocked down and getting back up again. It's about fighting. And the stuff on show is very decent. Well choreographed despite the cast's young age, the kids throw punches with die-hard relish, and Jaden limbers up nicely to give credibility to his stunt double. Jackie Chan sadly doesn't see a lot of the action, except for one excellent battle, which sees him fend off six school bullies at once.

Nothing original or unpredictable, then, for Zwart's modern-day Karate Kid. But when you have a talented child actor, a kung-fu legend and a classic underdog formula, there's not much to miss: The Karate Kid may have changed sports, but it's as feel-good as ever.

VERDICT

The Karate Kid is a family friendly blend of good acting and good action. Heart-warming stuff. Especially the bit where Jackie Chan beats up a load of school kids.
Your rating
( 1 Vote )
Tags:
beijing
harold zwart
jackie chan
jaden smith
karate kid
kung fu
miyagi
remake