Star Ratings
| | |
| --- | --- |
| | Excellent    |
| | Very Good |
| | Good |
| | Average |
| | Terrible |
| | | |
| --- | --- | --- |
| Toy Story 3 | | |
Written by Ivan Radford
Monday, 19 July 2010 16:25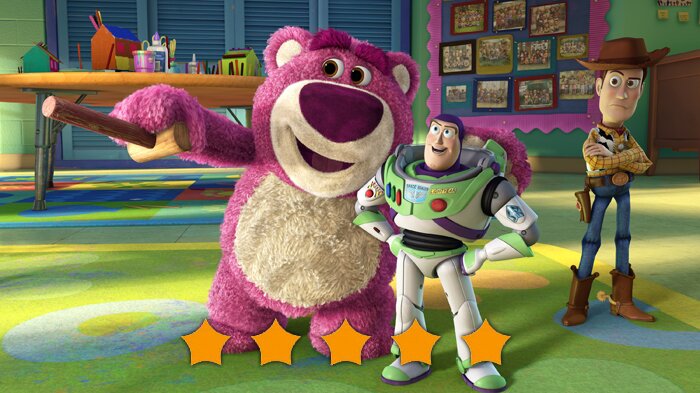 Director: Lee Unkrich
Cast: Tom Hanks, Tim Allen, Joan Cusack, Wallace Shawn, Don Rickles, John Ratzenberger, Ned Beatty
Certificate: U
It took Pixar four years to come up with a flawless sequel to an instant classic - Toy Story established an entirely new genre back in 1995, its technical innovation easily matched by the excellent Toy Story 2. But now Lee Unkrich faces the challenge of continuing that warmth and humour into the third of the trilogy. Is 11 years enough time to give Woody and Buzz a proper final outing? You bet it is.

It's clear enough from the opening that Pixar are playing their solid A-Game: an exciting rush down a Western railroad, complete with Sheriff Woody (Hanks) and Buzz Lightyear (Allen) fighting to stop evil Dr Porkchops (Ratzenberger's Hamm). It's as good as anything Pixar have ever done, and that's without mentioning the back-references already at work from the first shot of that blue sky with those cute painted clouds.

That's certainly a big part of the Toy Story appeal - the emotional investment that everyone has in the now-familiar cast of characters. After a decade of dealing with neurotic Rex (Shawn) and that needy lead cowboy, it's hard not to feel the pain as the toys face rejection once again: Andy's all grown up now and heading off to college. Will the toys end up boxed in the attic? Thrown out with the trash? Perhaps even taken along for the ride? It's a theme that kids and adults alike can identify with, which is why Toy Story worked in the first place. It has heart.

Andy's playthings soon end up at Sunnyside daycare centre - a place where they'll be loved and played with for ever. They'll have everything they ever wanted. Several sessions of rough-and-tumble later and the toys soon begin to realise that Sunnyside is far from their perfect home: instead, it's a horrible place, run by an evil teddy bear that smells of strawberries.

The seemingly lovely Lots-O' Huggin' Bear (Beatty) is one of several new additions to the cast (spot the Ghibli reference). Pink, fuzzy, old and nasty, he's essentially the Prospector Pete of the film, which soon becomes a Great Escape-style heist adventure. We see Lots-O's sad backstory, just as we did Jessie's. But where derivative notes could fall flat, Unkrich keeps everything taut and snappy, throwing in visual and verbal gags that consistently make you laugh out loud: Timothy Dalton's thespy hedgehog, Mr Pricklepants; an overly metrosexual Michael Keaton as Ken; Buzz Lightyear entering Spanish mode. Toy Story 3 might actually be one of Pixar's funniest films.

The balance of humour and pathos is excellently judged, trumping the tired jokes they tried in Up. Unkrich even chucks in some fear to boot - Lots-O's henchman, Big Baby, is creepy as hell, only topped by the hilarious (but traumatic) sight of a demented monkey clapping its cymbals together. Things escalate to an incredibly morbid set piece at the dump, which shoves mortality right in the face of little children. Even without the pointless 3-D, it's a dark place to go, and Pixar don't pull away from it. Their skill lies in taking audiences to mature ground without ever losing sight of the overall target: to move and entertain.

The final pay-off is, of course, as emotional as they come. A nostalgic whiff of playtimes past and an optimistic look to the future, which will reduce even the most hardened man to big floppy wet tears. It's a wonderful reward for sticking with these toys for 15 odd years and, with Pixar having produced perhaps the greatest trilogy in movie history, you'll be sticking with them for many years to come. Even if that does mean another decade of listening to Randy Newman.

VERDICT

Pixar provide a note-perfect end to a phenomenal trilogy. Toy Story 3 is a triumph of modern animation.
Your rating
( 1 Vote )
Tags:
3-d
barbie
buzz lightyear
disney
hamm
joan cusack
john lasseter
ken
lee unkrich
michael keaton
pixar
Comments (2)
Add your comment