Star Ratings
| | |
| --- | --- |
| | Excellent    |
| | Very Good |
| | Good |
| | Average |
| | Terrible |
| | | |
| --- | --- | --- |
| Black Death | | |
Written by Ivan Radford
Friday, 11 June 2010 12:21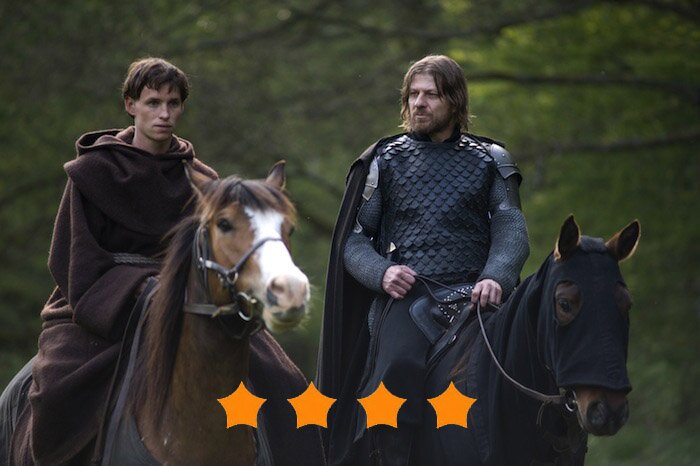 Director: Christopher Smith
Cast: Sean Bean, Carice van Houten, Eddie Redmayne, Tim McInnerny 
Certificate: 15
"Be on your guard. God has slipped off the horizon." So spake Sean Bean. And he looked upon the world of Christopher Smith's murky Middle Ages. And he saw that it was black. Black, black, black. Like, pitch dark black. It's called Black Death and it's a fair title: death don't come much blacker than this.

Ulrich (Bean) is an envoy for the Bishop in dark times. The plague has torn apart civilization everywhere. Except for one village, where black magic is rumoured to keep death at bay. Tasked with bringing an end to such heresy, Ulrich takes Osmund (Redmayne), a monk from a disease-struck monastery, to guide him through the foggy woodlands to this secluded safe haven.

Osmund is young, naive, sheltered by his beliefs. Climbing on his horse surrounded by brutal killers and mercenaries alike, he's every bit the hobbit to Sean Bean's bloodthirsty Boromir. And boy is Bean on top form: wielding his sword, defending the faith, slaughtering the weak, he was born to play such a role.

But things aren't all swords and sorcery. In fact, they get a lot stranger when Ulrich arrives at his destination. Headed up by the smilingly pleasant Hobb (an eerily well-cast Tim McInnerny) and his all-too-pale partner, Langiva (van Houten), the peaceful community is not all it seems. It is, in fact, Christopher Smith's chance to dissect notions of God, punishment, death, and faith.

By the time Osmund is wandering, lost, waist-high in thick rows of reeds, Black Death has transformed completely; what started out all Solomon Kane as a grimy piece of period action ends up a horror movie closer to Aguirre: Wrath of God, with more than a whiff of The Wicker Man. Are the villagers bringing people back from the dead? Can renouncing God really stop the relentless, blind march of the plague?

Dario Poloni's screenplay asks questions in riddles, throwing murky water at us instead of answers. Pushing on from a possible ending to a truly harrowing epilogue, its gloomy conclusion wrings every last drop out of Redmayne's young talent; with such a committed and convincing cast, Smith's mud-smeared medieval tale never irritates in its ambiguity. Quite the opposite.

VERDICT

A provocative and well-made medieval horror. Unexpectedly intelligent and consistently dark, Black Death doesn't fail to leave its mark.
Your rating
( 1 Vote )