Star Ratings
| | |
| --- | --- |
| | Excellent    |
| | Very Good |
| | Good |
| | Average |
| | Terrible |
| | | |
| --- | --- | --- |
| Prince of Persia: Sands of Time | | |
Written by Chris Keane
Friday, 21 May 2010 23:31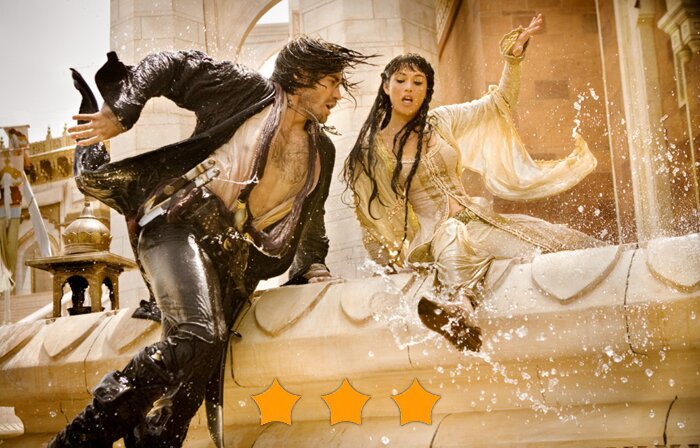 Director: Mike Newell
Cast: Jake Gyllenhaal, Gemma Arterton, Alfred Molina
Certificate: 12A
Tired of video game adaptations? Well, Mike Newell is on a mission to change the stigma attached to this market with this adaptation of Prince of Persia: Sands of Time. Having not played the games, I didn't know what to expect. My only preconception was that it was going to be another half-arsed game-to-film money machine. It was a nice surprise to be proved wrong.

That's right: Prince of Persia is actually a non-stop, fun thrill-ride. But while the action is exciting, Prince of Persia is a bit like watching the opening scene of Casino Royale for two hours - it lacks a little in the story department. Yes, there's Prince Dastan (Gyllenhaal) fighting against the evil Nizam (Sir Ben Kingsley) to use the Sands of Time sword to save the world. Plus a bit of sexy Gemma Arterton. But it would have been nice to slow things down now and then, shove in a bit more substance and develop some of the relationships further. Instead, we get lots of shots of the buffed up Jake Gyllenhaal.

His accent wavers to begin with but it's generally consistent. The only gripe lies with the character Sheik Amar (Molina), who is unfunny throughout; he's pretty much styled around Jack Sparrow (I'm looking at you, Jerry Bruckheimer and evil Disney executives). Nonetheless, Prince of Persia is a decent, enjoyable computer game movie. Resident Evil this is not.

VERDICT

Newell's newest skimps on plot but delivers what matters: frenetic, fast-paced action.
Your rating
( 1 Vote )