| | | |
| --- | --- | --- |
| Dawn Treader Trailer Sails Online | | |
Written by Ivan Radford
Friday, 18 June 2010 13:34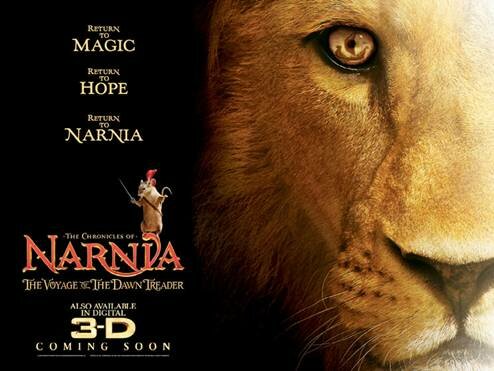 "I love it when a plan comes together!" growls Aslan as he spies Edmund and Lucy crashing a helicopter into the mast of the noble ship the Dawn Treader. Ok, so maybe he didn't say that. And maybe they didn't do that.

But Liam Neeson is back, along with the two Pevensie kids, in what is now the third Narnia outing for our cinema screens. Michael Apted's movie finds Lucy and Edmund aboard the titular vessel alongside their annoying cousin Eustace (Will Poulter) and the now King Caspian (Ben Barnes, wearing his best "I'm young and hot" face). Why? To voyage their way to the end of the world, of course.

What lies there? Well, dragons and riches, if the book is anything go by. Judging by this latest look at the franchise, with Walden Media having been made to walk the plank, we also get Tilda Swinton back for some reason. And Bill Nighy as Reepicheep - sadly replacing the hyperactive vocals of Eddie Izzard.

With an all-new (lower) budget and a 3-D makeover, The Voyage of the Dawn Treader is Disney's flagship (ha ha - pun) Christmas release. But even with Australia's glamorous locales, and the gloriously big boat, can Dawn Treader set sail on Friday 10th December after Prince Caspian's average box office performance?

Sink or swim: decide for yourself. Check out the trailer in our videos section, or read on for the full (admittedly pretty) video. And yes, in case you were wondering, Michael Apted is the very same man who directed Tomorrow Never Dies.