| | | |
| --- | --- | --- |
| Sorcerer's Apprentice: New Videos and Banners Online! | | |
Written by Ivan Radford
Tuesday, 06 July 2010 11:48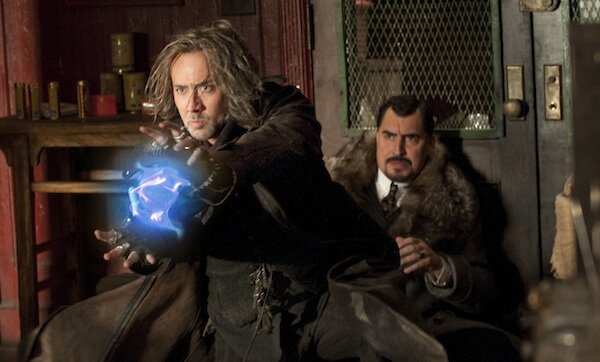 What with all the other summer movies sounding off over the past weeks, you were probably wondering: "where's the love for Nicolas Cage?" Well, with only a month to go before The Sorcerer's Apprentice hits UK cinemas, the love for The Cage has fully returned with this brand new clip from Bruckheimer's wizard-filled blockbuster.

Do you love Nicolas Cage? Do you love hats? Then you'll love Balthazar Blake, a modern-day sorcerer with crazy, dishevelled hair. But let's not forget Fantasia and that classic Mickey moment with the magical mops. That's what the original Sorcerer's Apprentice is all about - and Disney have gone for a live-action take on the legendary scenario.

So out goes Mickey, in comes Jay Baruchel, fighting with the animated objects as a familiar musical theme trumps along in the background. It's not quite the same as the old-school favourite, but it's probably better to include it than ignore it completely. It's just a shame The Cage doesn't turn up at the end and burn them all to heck. Whilst wearing a hat.

The Sorcerer's Apprentice is released on Wednesday 11th August. For more Cage goodness, check out the new trailer over in the videos section. Or read on for the clip, plus some shiny character banners.
Character Banners
Comments (1)
Add your comment