| | | |
| --- | --- | --- |
| Wimbledon: The Hollywood Years | | |
Written by Ivan Radford
Friday, 02 July 2010 10:56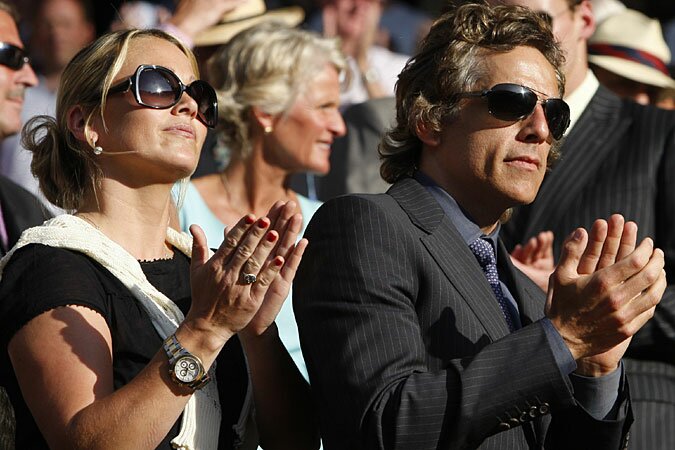 Sunshine, strawberries, cream, Sue Barker - it's tennis time for Britain as Wimbledon fever sweeps the nation. Filled with the athletes of today and the stars of yesteryear, it's a glamorous event for both Brits and Americans; gone are the days of Cliff Richard singing. Now we get people like Michael Caine and Ben Stiller sitting in Centre Court's Royal Box.

But is SW19 really ready for such showbiz glitz? In a world where tennis players and movie actors look so alike, can Hollywood and Wimbledon really match up? In a film called Wimbledon (if such a crazy idea were ever to exist) who would play whom? Well, just hang on to that second serve there, Tim, and take a ganders at the following - you might just be surprised.
Roger Federer - Quentin Tarantino
Ok, this is the freebie - we've all noted the similarity between Roger Federer's face and Quentin Tarantino's chin. But just in case you doubt the Swiss magician's qualities as a true Hollywood biopic star, I invite you once again to compare the filmmaker's visage with that of the tennis champ. Roger's far from Death Proof but he's certainly an Inglourious Basterd (yes, I realise that sentence doesn't make sense).
John McEnroe - Serial Killer Tom Hanks
Everyone thinks he's such a nice guy, wandering around comparing life to boxes of chocolate, but get Tom Hanks in a bad mood - like, serial killer bad - and you'll be surprised at his transformation. His face wrinkles up, his hairline recedes, his mouth starts to open... A day stranded on a desert island and he'll soon turn from Mr Nice Guy to John McEnroe in the blink of an eye. "You cannot be serious!" You better be, or he'll cut your face off. Or at least blow up that airport terminal he's always hanging around. 
Rafael Nadal - Josh Hartnett
Gorgeous, sexy, sporty to boot, Josh Hartnett just doesn't compare to Rafa Nadal. He's older, he's rubbish at tennis, and the nearest he's got to being Spanish is playing an American in Pearl Harbour. Still, if you need a heartthrob to replace the fiery male, Hartnett's not a bad way to go. 
Tim Henman - David Milliband
Everyone's favourite Brit, Tim Henman's never considered a career in politics, let alone Hollywood. But grow a moustache and stop taking bribes from Robinsons and he could easily slip into the shadow cabinet without anyone noticing. Except for brother, Ed, of course. But then that's why sports scientists created Tim's robotic clone, Novak Djokovic. To make the government takeover even easier.
Greg Rusedski - Ben Affleck
Wooden, loudly spoken, slightly annoying, Greg Rusedski is in every way the tennis equivalent of Ben Affleck. Get one playing the other and you wouldn't even need to worry about the great tennis skills, or getting the Canadian accent right - Pearl Harbour sucked. And so did Greg. Even David Milliband was better than him. Except for that serve, I suppose. That was pretty damn impressive.
Andy Roddick - Stifler from American Pie
"Met the Queen of England today... she said she loved me in the American Pie movies." Even Roddick himself made this joke on Twitter. He's American, he (probably) likes pie. It's a fair shot to make. Whether Stifler could handle the pressure of Centre Court is another matter, but he'd more than make up for it with that boyish drunken charm. Your mum jokes in front of the Queen are always a big hit.
Andy Murray - Predator
This is, admittedly, a little harsh. You could have Jesse Eisenberg in Andy's shoes, or Napoleon Dynamite, heck even Ben Stiller does a passable Murray impression (seriously - compare this with the photo above). But when the Scot serves up an ace and starts shouting at the Centre Court crowd, you can't help but notice the similarity. A formidable challenger for the Wimbledon title, and no surprise, Andy's a real Predator on court - you only stand a chance against him if you're Arnold Schwarzenegger.
Sue Barker - Matt Damon
It's a mean thing to say, but then all true things are. Versatile as ever, with a variety of accents and haircuts, it's hardly a stretch for Matt Damon to play Sue Barker. Sure, he would only be able to say "MATT DAMON!" in response to every question asked, but let's be honest: no-one would notice the difference