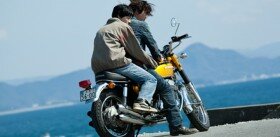 Director: Tetsuhiko Nono
Cast: Hirofumi Arai, Jun Murakami, Niinobu Ryomei
Showtimes
You know the drill. Lonely motorbike mechanic used to be professional killer. Tries to move on with his life. Ends up killing people anyway. Just your average Japanese thriller.
Why does Ken (Hirofumi Arai) want to quit his old profession? Who is Yoko, the older woman he lives with? And what exactly did his father do to get himself killed?