Star Ratings
| | |
| --- | --- |
| | Amazing |
| | Well good |
| | Fun |
| | Meh |
| | Rubbish |
| | | |
| --- | --- | --- |
| Raindance Review: Montevideo - Taste of a Dream | | |
Written by Selina Pearson
Friday, 30 September 2011 17:31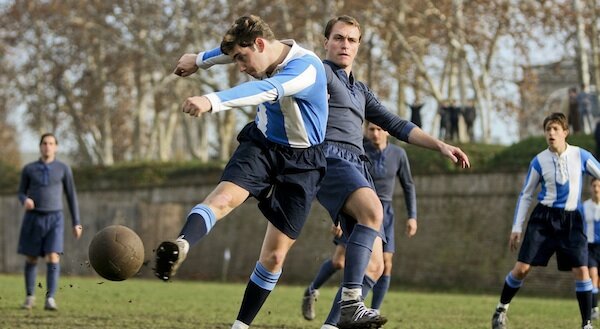 Montevideo is the romanticised whimsical tale of the first Yugoslav national football team and their journey from the streets of Belgrade to the first World Cup in Uraguay. The film has done incredibly well in its homeland of Serbia, and is their foreign language entry for the Academy Awards - it's also rather brilliant.
The tale is told through the eyes of Stanoje, a kid who hero worships his older friend 'Tirke' Tirnanić - he has skills and fantastic hair. Enter 'Mosha' "He was great, even when football was small" Marjanović, the talented rich kid everyone fawns over. He comes with a cart load of trouble, living the footballer lifestyle long before Best or Ronaldo.
The Croats are incensed when their football federation head office is relocated Serbia, and so boycott the national team, leaving the Yugoslav football federation a massive mountain to climb if they are to get to Montevideo; no team, no head coach and no money. The Serbian players must overcome local rivalries and personal differences through the medium of bar fights and football if they are to respond to Jules Rimet's invite to Uraguay.
Director Dragan Bjelogrlic shoots everything with a nostalgic feel, mostly achieved by using lots of hats and filters, and though it has a whimsical - almost Amelie-esque feel - it doesn't downplay the political turmoil in the background. And as an underdog story, it has a kinship with Cool Runnings. Its only problem is that at 2 hours and 20 minutes, it's a little too long. Montivideo is a lovingly made nostalgia piece from a time when men were men, leather balls had laces and FIFA President wasn't an insult.