| | | |
| --- | --- | --- |
| Raindance Interview: Dana Lustig (A Thousand Kisses Deep) | | |
Written by Ivan Radford
Friday, 30 September 2011 07:52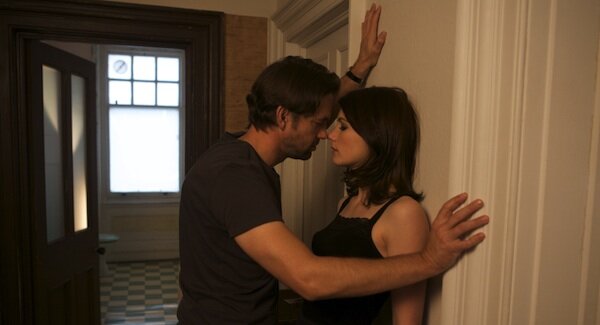 Standing near the entrance of the lovely Apollo Cinema West End, people keep pushing past to get to the world premiere of A Thousand Kisses Deep. But as the foyer fills up, I'm busy talking about jazz and time travel - as you do, if you're chatting to Dana Lustig, director of tonight's intriguing romantic drama.
The interview was equally interesting, even if it was conducted amid a gaggle of visitors walking between us right near the top of a stairwell. And, to make matters more chaotic, old friends kept popping up to say hello. (Her friends, I should add - I'm not that popular.)
But Dana stayed to chat, sharing her passion for London, music and Dougray Scott. And then Dougray himself arrived and hijacked the whole thing. As you do, if you're Dougray Scott.
Here's what happened:
It's a very interesting script by Alex Kustanovich and Vadim Moldovan - how did you get involved with it?
Well, one of the writers is a very old friend of mine from my American Film Institute days and he gave me the script and I absolutely loved it and identified with it, and thought the characters were amazing. We kept developing it together, because as a director, you have to make it your own – change it from the writer's medium to the director's medium. His partner's amazing too. One of them is a film-maker and the other is a  psychotherapist, so it was very interesting. Deep conversations were had about what the movie was about as well as the characters. Then I started showing it to different producers until I found Ofir (Kedar), who also fell in love with it.
Was it always called A Thousand Kisses Deep?
No. It was originally called The Veil of Maya, but my daughter is called Maya...
(Maya pops up. I smile and say hello. She waves back.)
... so we changed the name to Mia. But people said the title didn't mean anything, so we changed it to Harmony, because of the music element and the idea of having harmony between yourself and your past and your future, but nobody got that either! So the producers came up with the idea of A Thousand Kisses Deep, and adding the poem at the beginning and end.
It works really well. Were you familiar with the Leonard Cohen poem?
Actually, I wasn't. But it was wow, it was beautiful and great. But it was a post-production thing.
You've got a great cast, with Jodie Whittaker and Dougray Scott. Both are at very different stages in their careers - how did you get Dougray on board?
It was amazing. I met Dougray in L.A. – he was living there at the time – and the moment I saw him, I knew he was the guy. I wouldn't compromise. And I think he felt the same. He had a really deep connection and really got the character. We did a lot of prep work in L.A. and took Chet Baker as an inspiration, watched his movies and read his books and went on YouTube, and built his character from there.
And he couldn't play the trumpet?
No, he couldn't! I got him Arturo, a great trumpet player in L.A., and he taught him how to play. And then in London when we were filming, he was getting a lot of private lessons. Dougray's very musical - he's got very interesting phrasing when he sings the song in the movie. We chose the song together, and I think it totally --
(A woman arrives)
Hi! This is my best friend from Israel! I'll just go and say hi…
(She runs off to say hello. A few minutes later, she's back.)
Jodie's excellent in the film. Were you familiar with her work?
I was familiar with Venus, and she did a brilliant performance in that. She came to the auditions for Mia and she stood out from everybody. Because the character plays herself at different times, I got young actresses to read against whoever was auditioning and do different scenes. But Jodie just started to read both parts. She looked one way to read one side of a conversation, then looked the other way to read the other.
And, of course, there's David Warner...
Yes! The legendary David Warner. He's very important to the film - he's the device for Mia going back into her past.
Do you see that journey as a psychoanalytical exploration more than straight-forward time travel?
Yes, I think that travelling through time is the external manifestation of the psychological journey she goes through - to understand her past she has to go through and reclaim herself as a child to live a better life in the future and in the present.
Your previous films have all been in America and Canada - how was coming to London to film?
I cannot wait to come back to shoot in London! Big budget movies are shooting here all the time, but low budgets are too afraid because they think it's too expensive. But it's an amazing place to shoot low budget. The crew were amazing, and the level of acting was brillant, and London looks fantastic. Everywhere you point the camera you have a brilliant shot.
You start with a shot of the London Eye but from then on, it doesn't feel like London at all. And it looks very cinematic.
Absolutely. It was on purpose, because of the time travel – we wanted to keep the location a bit esoteric and not quite recognisable. I even had reservations about including the London Eye at the beginning.
And you also create a brilliantly seedy atmosphere in Ludwig's bar...
That was in Notting Hill. It was actually a pub that had closed down, which we did up to look like Ludwig's club. We were originally hoping for somewhere like Ronnie Scott's, but that's obviously very expensive…  
Earlier on, you said you identified with the screenplay. Have you had a romance in the past you've tried to escape?
Yes, I think so. I think we all have Ludwigs in our lives – we all have a love affair that was wrong and we want to get away from.
And could yours play the trumpet?
Er… no. (Laughs.) But I'm married to a drummer! I'm very attached to the music world, and it was important for me and for Dougray to keep it very authentic…
At which point Dougray Scott walked in and stole everyone's attention like he was Dougray Scott or something. How very dare him.
A Thousand Kisses Deep is showing today at 12pm.
Tags: