Star Ratings
| | |
| --- | --- |
| | Amazing |
| | Well good |
| | Fun |
| | Meh |
| | Rubbish |
| | | |
| --- | --- | --- |
| Raindance Review: X: Night of Vengeance | | |
Written by Ivan Radford
Thursday, 06 October 2011 17:45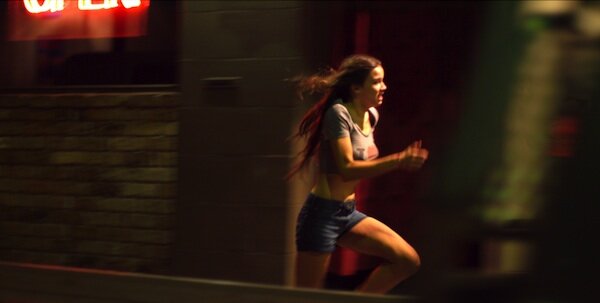 "Ladies and gentlemen. I'd like you to meet Giles. He's quick to learn, eager to please. He doesn't get tired. And he goes off like a firecracker," says Holly. Then she takes off all her clothes and shags him on the living room floor in front of a group of excited housewives.
Welcome to Sydney, world capital of sex and hookers. Apparently. Jon Hewitt's X is a thriller set in the seedy underbelly of the Australian city. And things couldn't be seedier if the movie starred Peter Stringfellow eating a bag of seed covered in linseed oil and planting flowers in the garden.
No wonder veteran prostitute Holly (Viva Bianca) is looking for a way out.
Into this world strays Shay (Hanna Mangan Lawrence), the kind of naïve young girl who gives money to any hungry girl she sees on the streets and doesn't know what to do once she's in a client's car. Of course, everything comes crashing down around her extremely short skirt when she agrees to help Holly out in a threesome with a rich gangster, only to end up witnessing to a murder.
On the run from bent cops and not very nice drug dealers, Shay and Holly fight to survive on the streets. It's like Some Like It Hot, but without the feel-good banter or humourous cross-dressing. And it's about prostitutes. And it's set in Australia.
This is about as bleak a portrayal of the sex industry as you could imagine – a good thing, because Hewitt tries not to glamorise the lifestyle and to avoid leery exploitation. This is grim, gritty and (presumably) realistic. At one point Shay eats a McDonalds. Could things get any worse?
Things continue in this uncomfortable vein for almost 90 minutes – and once the running kicks in halfway through, the handheld cameras, neon landscapes and solid performances from both Bianca and Lawrence keep the low-key violence raw. It's a shame, then, that X takes so long to get moving, but doesn't build a stronger emotional bond with its characters.
Still, if you can handle some of the graphic scenes and brutal tone, X is a curiously gripping little film. But if you almost stopped reading at the end of the first paragraph, you'll find it more awkward than the time I was propositioned by a lady of the night in Wardour Street. At two o'clock. On a Saturday afternoon. In front of children.

Tags:
australia
jon hewitt
shannon magnan lawrence
viva bianca
x