Blog
| | | |
| --- | --- | --- |
| Gravity survival guide | | |
Written by Ivan Radford
Tuesday, 12 November 2013 08:10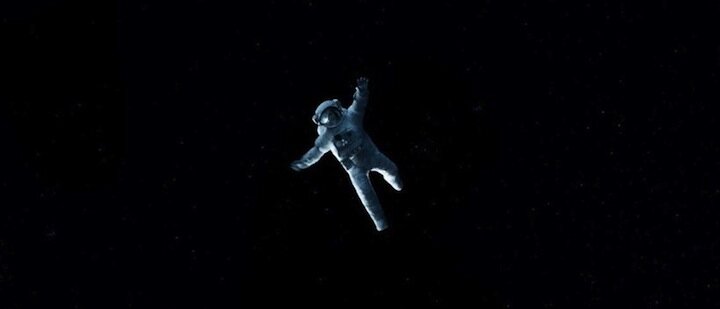 Gravity is out now in UK cinemas and you should all go and see it (here's a five star review to prove it). Unless, of course, you're allergic to any of the following things:
1. Not breathing
2. Extreme levels of tension
3. Gripping your armrest so hard it hurts
4. Crying
5. Thoughts of your own mortality when confronted with the void of space
6. Any of the above - while also not breathing
In which case you should still go and see Gravity - but read this survival guide first.
Read more...
| | | |
| --- | --- | --- |
| Danny Elfman singing The Nightmare Before Christmas live. You're welcome. | | |
Written by Ivan Radford
Thursday, 31 October 2013 20:26
How can The Nightmare Before Christmas possibly be made better? By getting Danny Elfman to perform it live at the Royal Albert Hall. A fantastic evening, full of wonky theremins, offbeat flutes and freaky artwork on a big screen, the concert last month reminded me what I love about Danny Elfman's best work - that feeling that, even when you can see a conductor standing in front of an orchestra, things could spiral out of control any minute.
The concert culminated in Tim Burton's composer of choice stepping out in front of the audience in a stylish jacket and snappy glasses - and doing this:
Just as everyone recovered from how good (and colourful) his voice (still) is, Danny followed that with a hyperactive rendition of What's This? accompanied by footage from the film. The man didn't. Miss. A. Beat.
Read more...
 
 






 






 
 
| | | |
| --- | --- | --- |
| Top 20 films to see at 2013 Raindance Film Festival | | |
Written by Ivan Radford
Wednesday, 18 September 2013 21:08

It's just under a week to go until Raindance and already people are talking about the London Film Festival. The capital's flagship film event is very much Raindance's bigger brother - this year, in more ways than one. Because while Alfonso Cuaron and George Clooney show Gravity to crowds in Leicester Square, just a few hundred metres away, his younger brother Carlos is premiering his own film, Sugar Kisses.
That's just one of many surprises at this year's festival. If you 've been following the media coverage, the biggest of all is the appointment of Julian Assange to the Raindance jury. But whether you applaud that decision or think it's a dreadful mistake, put that aside: this is a film festival. It's not about jurors. It's about films. And there are loads of them here in what has grown to become Europe's largest showcase for indie filmmakers. Directors, writers and actors who tell their tales with the minimum of money outside of the studio system. This year, that includes people such as Danny Huston, Bernard Rose, Bernard Hill, Sienna Miller and Billy Zane. Yes, The Phantom himself. How's that for a surprise?
Some of these people will have mortgaged their homes to get their story on the big screen - and whether you're Alfonso Cuaron's brother or not, that ambition and creativity is worth celebrating.
A few of these films will be lucky enough to get a distribution deal in the UK. For many, the next couple of weeks will be the only chance you get to see them in your life.So, rather than get caught up in the Wikileaks furore, let's focus on the films. After scouring through the 2013 Raindance lineup, here are out top 20 recommendations for things to see:
Read more...
| | | |
| --- | --- | --- |
| Things that are not film journalism (or, What the hell is wrong with the Internet?) | | |
Written by Ivan Radford
Tuesday, 17 September 2013 22:03
My week usually goes something like this: pitch something to a publication, get told they don't have the money to pay for it, rinse and repeat. Every now and then, a piece is approved, honed and, after lots of tea and biscuits, eventually filed.
That article is then edited. Then sub-edited. Then published. Then paid for.
At every stage of this process, someone has to approve it and say: "Yes, this is a good idea that will satisfy our readers, has been written well and, according to its original brief, is worth paying for without tarnishing our publication in any way."
Which begs the question: how does this get published?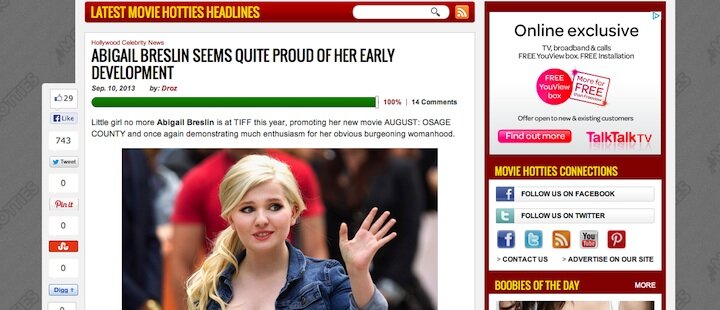 Then, while you're still pondering the perviness of that one, ask how the hell this monstrosity happened:

I'm not one for witch hunts chasing down individuals on the Internet and lynching them, but seriously. What the fuck?
Read more...
| | | |
| --- | --- | --- |
| About Time, negativity and warm feelings inside | | |
Written by Ivan Radford
Monday, 16 September 2013 12:46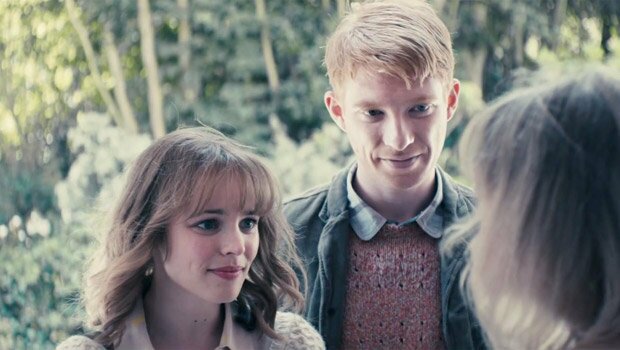 When it comes to cinema, I'm increasingly of the opinion that emotions are what matter the most. As bad as a film's script or editing might be, if a movie moves you - elicits a genuine emotional response - that means it's doing something right.
Richard Curtis' About Time was met with much derision when it was released earlier this month. The story, for a time travel tale, went beyond mere paradox to simply bring illogical - only men could travel back, we were told, minutes before a woman hopped along for a ride. But while the timey wimey was more than a bit wibbly wobbly, the film's exploration of loss, parenthood and fate were properly, genuinely moving.
It's about Bill Nighy and Domnhall Gleeson more than it's about time or romance or anything else - when `Bill and his boy play ping pong with each other near the end, I welled up. Properly, genuinely welled up. You could argue that it's because the movie is a cynical button pusher but in this case, I think that says more about the person with the buttons.
Read more...
| | | |
| --- | --- | --- |
| Farewell Hayao Miyazaki: A career in GIFs | | |
Written by Ivan Radford
Monday, 02 September 2013 10:49
Hayao Miyazaki surprised everyone when his retirement was announced by Studio Ghibli president Koju Hoshino at the Venice Film Festival following the premiere of his final film, The Wind Rises. A storyteller with a keen eye, a huge imagination and an even bigger heart, old Hayao's been responsible for some of the world's most moving - and dazzling - animations. It's sad to think that after The Wind Rises, we won't get to see another new film by the master. Luckily, he's left behind a career-load of greats we can watch over and over.
So, while I sort out this bit of grit that's just got in my eye, let's take a look back at them. From his obsession with planes to his love of food, here are some magical Miyazaki GIFs. No, YOU'RE crying.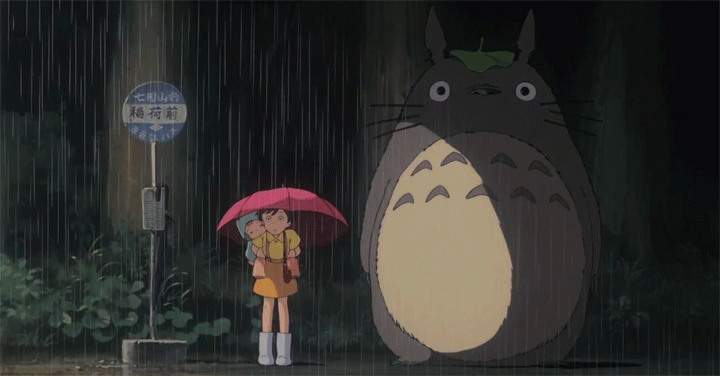 Read more...
| | | |
| --- | --- | --- |
| FrightFest 2013: Six bloody lessons | | |
Written by Chris Blohm
Thursday, 29 August 2013 06:30
"It is only when a man feels himself face to face with such horrors that he can understand their true import."
- Bram Stoker, Dracula
"Chucky, I'm scared."
"You fuckin' should be."
- Curse of Chucky
Have you ever danced with the Devil in the bright neon light? The satanic majesty of Frightfest has been rocking the West End for the past 13 years now, which makes it as much a part of the capital's cultural landscape as the Notting Hill Carnival or Meltdown at the Royal Festival Hall. Here's a secret: it's cooler than both. It could well be the best bloody film event in the country.
Why? Well, for starters, it's the kind of shebang where you can bump into Terry Gilliam and Bobcat Goldthwait chin-wagging in the lobby, or chew the fat with your favourite slasher director while queuing for the gents. More than that, it's the only place in the world to see the very best in contemporary horror with the greatest, nerdiest, most loveable band of fearless freaks around. It's less a festival, more a symposium for the damned.
The first ever event, held at the Prince Charles Cinema way back in 2000, was a modest affair. Titles included Ed Gein, Ringu 2 and Dario Argento's spin on The Phantom of the Opera. Nowadays, it's something of a behemoth, having taken up residency at the cavernous Empire Leicester Square in 2009.
Over the years, the festival has adapted, upgraded and generally moved with the times. And now they're getting set to do it again. On Monday evening, shortly before the UK premiere of Israeli revenge thriller Big Bad Wolves, Frightfest guru and esteemed film journalist Alan Jones took to the stage and announced the imminent demolition of the Empire's legendary Screen 1.
Infamous sound system wobbles aside, it's a beautiful place to watch a film. A grand old movie palace, a shrine of faded red felt and shabby glamour. The management at the Empire plan on converting this glorious theatre into two smaller, glitz-free auditoria. Brilliant. Maybe they can do something about the mice in screen 2 while they're at it?
Not that a little bit of construction work will put the scuppers on the biggest, baddest, most terrifying film event around. With the karmic inevitability of Alex Zane at a red carpet premiere, Frightfest will be back in 2014, fighting fit, and ready to take on all challengers.
For now, however, it's time to share a few lessons from this year's festivities.
(Quick note: The festival really isn't possible without the tireless efforts of Greg Day, Alan Jones, Paul McEvoy and Ian Rattray aka the Four Horsemen of Frightfest. We will never understand the true nature of their sacrifice. Cheers, lads. And fangs for the memories.)
Read more...
More Articles...
Jurassic Park Drinking Game
Exclusive: Leaked notes from secret film critic meeting
Size matters - big films, blockbuster fatigue and why I love the little people
<< Start < Prev 1 2

3

4 5 6 7 8 9 10 Next > End >>


Page 3 of 50