Blog
| | | |
| --- | --- | --- |
| 1 reason why I don't go back to Slashfilm every day | | |
Written by Ivan Radford
Monday, 07 July 2014 13:38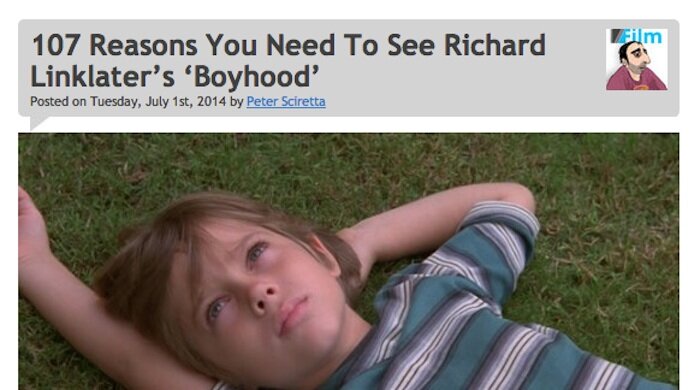 Last week, Slashfilm published an article called "107 reasons you need to see Richard Linklater's Boyhood". It looked to be an interesting exercise in subverting a Buzzfeed-style article to promote a small, indie film. Until you clicked on the link and saw this message: "Seriously, fuck you."
The article is a middle finger stuck right up at its readers - and that single digit is the one reason why I don't read Slashfilm.
"You really need me to list 107 reasons to see this incredible film?" the post continued. "You went and paid $15 bucks to see Transformers: Age os Extinction in 3D even though you hated the other Transformers films and saw all the bad reviews in your twitter stream… but you can't just take our word on this epic indie film?
"You've already heard us rave about this film many times over the past six months… But you haven't bought ticket yet…"
The article raises all sorts of questions, not least those of grammar and snobbery. (For an excellent takedown of that, see The Shiznit, who continue to write essentially what I think in a more eloquent way than I can manage.)
But it also shows an astonishing lack of self-awareness on the part of a website that has written roughly 8 times as many articles about Michael Bay's blockbuster as it has Boyhood.
Why? The same old reason: traffic. Click bait like "107 reasons you need to see Richard Linklater's Boyhood" is exactly the kind of thing you expect to find cluttering up Slashfilm's endless cycle of blog posts about anything and everything, including - yes - 40 Things I Learned On The Set Of Transformers: Age Of Extinction.
If you're going to run a website and make that decision to become a marketing machine, fair enough. But to shovel adverts for the latest Transformers sequel onto your readers' monitors and then tell them off for not paying attention to a tiny film you've (relatively) barely featured is absurd. Scratch that, it's insulting.
"Fun fact; you can make a healthy living from the ad-fees garnered from running a website solely about films like Boyhood," tweeted Adam Batty, the chap who runs the always-impressive Hope Lies.
It's true - you can. But what helps sites like Hope Lies isn't their coverage of Boyhood, but that (in my opinion) they have the thing Slashfilm does not: integrity. And without self-awareness, it's hard to come by.
Slashfilm could well defend their slew of Transformers content as a response to their readers wanting to read it. It wouldn't be a dissimilar argument to that used by UK site What Culture when they posted a spoiler-filled article about Iron Man 3 before the movie was even released. While both sites arguably show a lack of respect for their readers with such pieces, Slashfilm's post shows a lack of respect for themselves - or, to put it another way, a misunderstanding of what their site is.
Every time an article is published by a website, it sends a message: this is what we are about. Choose to cover something, choose not to cover something; every decision positions you and confirms your identity. Recently, I started a video on-demand magazine called VODzilla.co, devoted to all things digital video. Does it cover cinema releases? No, of course not. That wouldn't fit in with the site's remit.
For Slashfilm, before publishing such an article, the question is simple: Is it a website about Boyhood or Transformers? If the answer is Boyhood, why publish the article at all? People reading the site are more likely to see it over Transformers anyway. If the answer is Transformers, why swear at the people they have been promoting Michael Bay's blockbuster to? If the answer is both, and that the website welcomes all kinds of films and film fans, why be hostile at all?
Now stop me if I'm getting carried away here, but that lack of self-awareness and integrity is something that seems to be a problem in media today.
With print publications struggling, media's in a bit of a bewildered state. Sites are desperate to do anything to keep their audiences up: traffic, the assumption goes, is the most important thing.
And so articles spread across multiple webpages to garner more clicks is a common practice, while every little event - be it a tweet or a leaked set photo - is pounced upon by film sites and speedily reported, re-reported and then, hours later, corrected. If it gets changed later, who cares? That just means people will click on it again, right?
That willingness to readily publish rumours, "exclusive" photos, teasers for trailers, etc, seems to be spreading to subject matter too.
Empire Magazine, a film publication, has dedicated lots of coverage to the small screen for some time - something that its editor, Mark Dinning, admitted was controversial in an interview with the Guardian. Nonetheless, despite that awareness, the website's title still promises "Movie News and Interviews" with no mention of TV; their coverage is good, but it's a confused brand statement to say the least. Other movie blogs have followed suit. A number of film sites cover not just TV but plays without question as to whether it fits within their remit - a fact helped, perhaps, by the fact that a film PR company has expanded their very efficient and effective work into the theatre realm.
(Away from film, just look at the Metro, where Buzzfeed-style lists now regularly crop up in an attempt to emulate the popular site. Does it have anything to do with news? Of course not. Or The Daily Mail's side bar of shame and regular publication of 'controversial' columns to drive up rage traffic from angry users.)
It's telling that in the last year, a number of new websites have sprung up to counter the trend; a backlash of principle. Verite Magazine has found success in its monthly digital format, offering coverage of off-beat, independent and foreign language cinema. Film Divider has also launched since then with a similar, equally admirable, intention - although, despite their name, they also cover TV. VODzilla.co, meanwhile, has gone from strength to strength thanks to its unique scope of coverage.
What they have in common is not just a niche focus, but an awareness of what their sites are about. This is, of course, still possible with bigger, broader websites - and, indeed, is achieved by many, both within film criticism and outside of it. Den of Geek has established itself as not just a hub of all things nerdy, but one with a strong moral (as well as editorial) stance that never ceases to impress. The same is true of TheShiznit.co.uk, who are not afraid to call a spade a spade. If by spade, you mean something that isn't a spade. As I mentioned earlier, they often seem to write what I think in a more eloquent way than I can manage - and that's important. If I visit there, I know what to expect. Well, that and Photoshopped movie posters. These websites don't just have identities, but integrity.
If you want to run a website that covers Transformers in extensive detail, great. The internet is a wide open place with space for any and all opinions. But if you're going to do that, don't blame your readers for reading your content. Well, don't do it and expect me to have any respect for you.
But hey, what do I know? Look at the comments on Slashfilm's article: "Hahahaha, that's awesome!" said one. "Best post ever, probably it pretty much explains why I keep on coming back to /film every day," said another. Meanwhile, The Daily Mail enjoys nearly 11.8 million visitors a day. And the Metro recently hit 1 million unique daily hits.
Maybe this really is what people want. But if that requires a website to start telling its loyal readers to go fuck themselves, you wonder if something's gone wrong somewhere.
| | | |
| --- | --- | --- |
| RIP Gordon Willis | | |
Written by Ivan Radford
Monday, 19 May 2014 09:26
The Godfather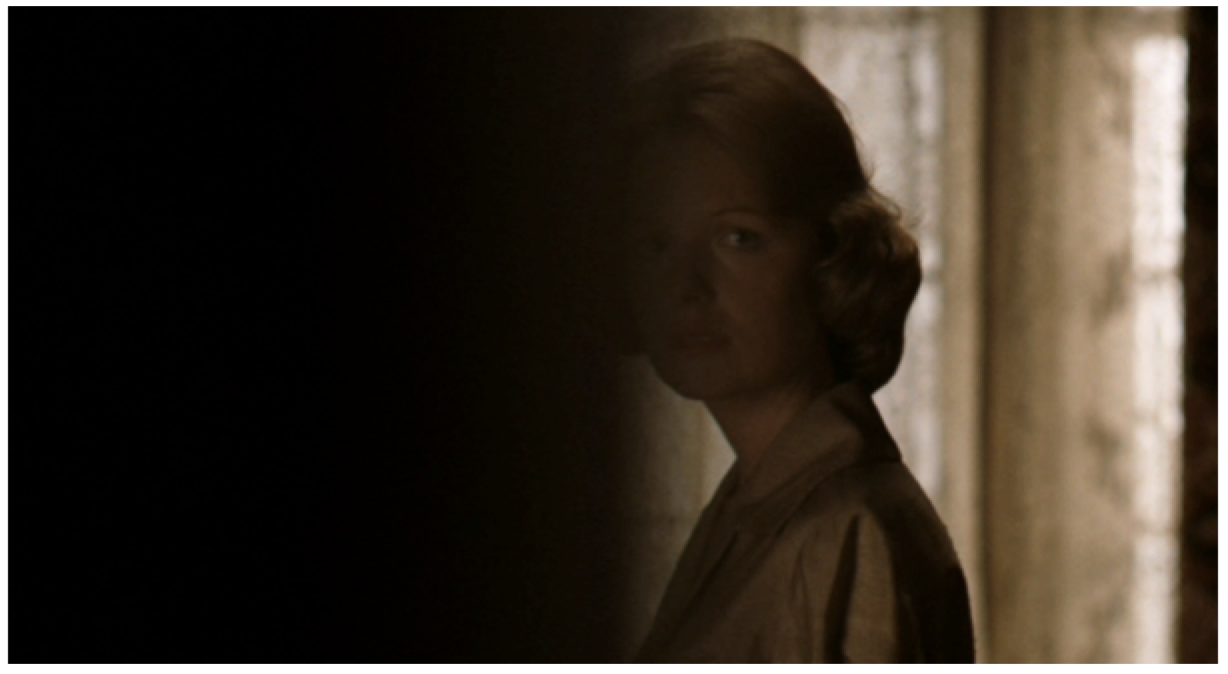 All the President's Men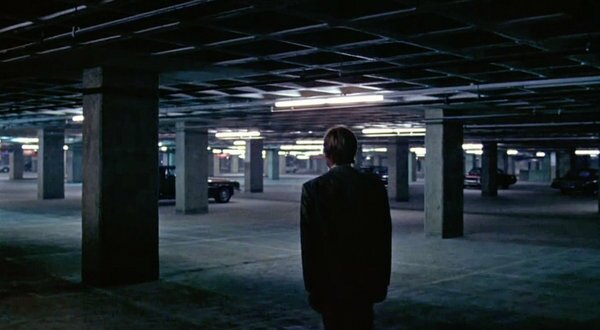 Broadway Danny Rose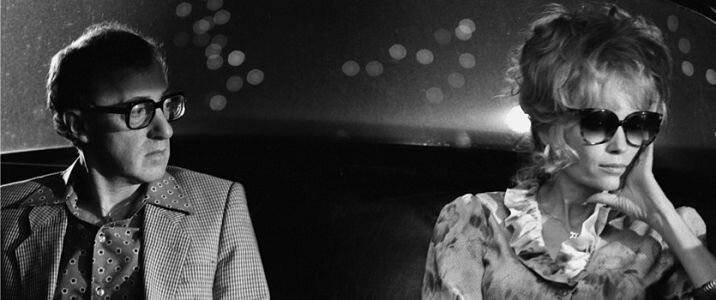 Zelig
Manhattan

There's a Twitter account called @OnePerfectShot, which tweets perfect shots from different films every single day. You could set one up that just tweeted perfect images from Gordon Willis' films. It would run for years. From glittering rain in the background of a showbiz failure to the closing of a door, he was, quite simply, a genius.
| | | |
| --- | --- | --- |
| Star Wars: Episode VII - The Search for the Missing Women | | |
Written by Ivan Radford
Sunday, 04 May 2014 17:26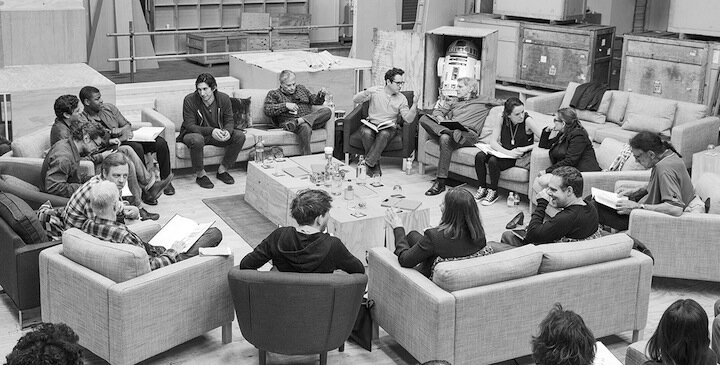 A long time ago in a galaxy far, far away... George Lucas created a sci-fi film about a male boy who was trained up by his male mentor to become a male Jedi like his male dad. Along the way, he met a male friend who helped him defeat a male Emperor while flying a spaceship in a fleet of male men. He also fell in love with - and helped to rescue - a princess. She was a woman.
Not a very long time ago in Pinewood Studios - last Tuesday, approximately 26 miles away from where I am - J.J. Abrams continued George Lucas' saga with the reveal of a new cast including all the old familiar faces, plus John Boyega, Adam Driver, Oscar Isaac, Andy Serkis, Domhnall Gleeson and Max von Sydow. He also revealed another member of the cast: Daisy Ridley. She was a woman.
Let's be honest. Almost 40 years on, it doesn't look great. The reaction to the cast has been pretty vocal from those wondering why the new film looks set to be Star Wars Episode VII: Sausage Fest.
The original trilogy was already heavy on the pork, with only one major female character. And even her they trussed up in a gold bikini and chains as Jabba's slave - because that's obviously the look preferred by an employer who's a non-human giant space slug. Princess Leia, of course, became an active lead figure in the rebellion. The notion that it's therefore OK in 2014 to have only one major female character, though, is as dated as the broadsword-style Lightsaber fights that took place between Obi-wan and Darth Vader on the Death Star. We've come light years in the FX department since then. In the SEX department? The force isn't so strong.
Some would argue that it's fine to keep up the tradition of the saga's casting, or that this is all a hugely pre-emptive overreaction.
The latter is certainly a good point; we haven't seen a script yet. The seating arrangement at the Pinewood read-through, positioning Daisy between Harrison Ford and Carrie Fisher, might suggest she's their daughter. Hell, she might even be the lead character. But that's still a gender ratio of 6:1, not including the old guard. Pre-emptive? Sure. Overreaction? Well, maybe a little too. But not by much.
The important thing, if you want to be diplomatic about the whole debate, is that the Daisy is given a good - or, grit your teeth, "strong" - female character. After all, what would be the point in casting females in rubbish secondary roles that do nothing to further gender equality?
But that's part of the problem. Why wouldn't you cast them?
Yes, you want good characters in every part of the script, but a good female character isn't defined by the fact that she's female; a good female character is defined by her character. People are people, regardless of gender. The cast that Episode 7 has, from Adam Driver to Oscar Isaac, is full of great talent, but did they just not audition any women for those parts? Or did they decide that fans wouldn't welcome women in those roles?
You get the sense that Hollywood still considers sci-fi and action to be a boy's genre - and that boys off-screen can only identify with boys on-screen. Which is bollocks. Look at Buffy the Vampire Slayer, which has as many male fans as it does female. Or The Hunger Games, Frozen and Gravity, which dominated the UK box office in December last year. Yet we live in an age where Doctor Who has had no women writers. Where female leads in action films are made a big deal about because they're female (cf. Gina Carano in Haywire). Even in something as knowing as The Expendables, women are only seriously considered by studios if they're put in their own separate box: The Expendabelles.
Does it have to be a 50/50 split in the Star Wars cast between men and women? No. I don't want art to be produced in a world of by-the-numbers equality. I want gender to no longer be something worth debating. Where women actors are considered for roles as much as men because they're just as awesome. Imagine Sally Hawkins as a Sith. Lupita Nyong'o as a fighter pilot. Or Olivia Colman as a Jedi. I would pay to see all three.
Of course, this is made worse by the fact that it comes off the back of That Alice Eve scene in Abrams' last film, Star Trek Into Darkness. At the end of the day, we won't know the full picture until the film's released and we've seen the characters and plot for ourselves. Perhaps J.J. and co. really did audition women for all of those Star Wars roles. Perhaps they genuinely felt all of the men were better suited. (After Attack the Block, it's certainly great to see John Boyega get some recognition.) Or perhaps Star Wars: Episode VII will take place in a strange, sexist future where a gang of Jedis team up together to search for all the missing women in the universe. If that is the case, they should've started the search a long time ago - in 2014.
| | | |
| --- | --- | --- |
| Sundance London line-up includes free events for first time | | |
Written by Ivan Radford
Tuesday, 22 April 2014 06:37
This weekend, Sundance London returns to The O2 in London - a venue that, in its third year, still feels like both a jarring mismatch and a perfect fit.
A giant branded context within which to celebrate the tiny success of indie film? Sundance London has always seemed like a festival defined by juxtaposition: a showcase to introduce small movies to a wider audience, with ticket prices that can potentially exclude many.
This year, that dichotomy seems to have gotten worse: Sundance London will include a fantastic total of 40 films (22 features and 18 shorts), but ticket prices are more expensive, with a booking fee of £1.25 and a whopping £3.50 charge for box office collection taking the overall ticket price to £17.25 per film. The result is an event that can sometimes feel more populated by press and industry people than regular cinemagoers. The selling of merchandise only makes it appear more like a commercial exercise. Mugs? £10. T-shirts? £15. Hoodies? £35. Booking fees not included.
But after two years of rising entry costs, Sundance London is taking a different turn: 2014's line-up will include, for the first time, a string of free events from Friday 25th to Sunday 27th April.
The events will take place in the Festival Hub in The O2's Brooklyn Bowl, which is open to the public all weekend. Events include a panel on indie comedy with Arrested Development's David Cross (whose film Hits plays at the festival) and filmmaker David Wain (They Came Together, Role Models, Wanderlust) and another debate, Truly Independent Visions, which will tackle what is takes to create an independent film today and include unconfirmed festival guests and programmer David Courier.
Sundance London continues to focus on both music and film, so the Brooklyn Bowl's free programme will also feature live music performances from Brit singer-songwriter Scott Matthews, The Soho Hobo (aka. Tim Arnold) and pop group Goldheart Assembly. Dele Sosimi and his Afrobeat Orchestra will also perform following the film screening of Finding Fela.
There will be another free event for students interested in a career in film: The Film Appreciation Event, which will take place on Friday 25th April from 3.30pm to 5pm. There's a free quiz on Sunday too.
On top of all that, there will be a screening on Sunday afternoon of 5 Projects from the Sundance Institute Short Film Challenge, which invited entries from filmmakers around the world to compete for five $10,000 prizes - and a trip to 2015 Sundance Film Festival in the US, where the winners' work will be screened.
It's a big step for the festival, which will hopefully make it more accessible to a more varied crowd. Hell, with all the money saved from attending a free panel or performance, you could probably afford a film ticket. Or a mug.
5 films to see at Sundance London
Frank (UK premiere)

The Trip to Italy (European premiere)
Hits (International premiere)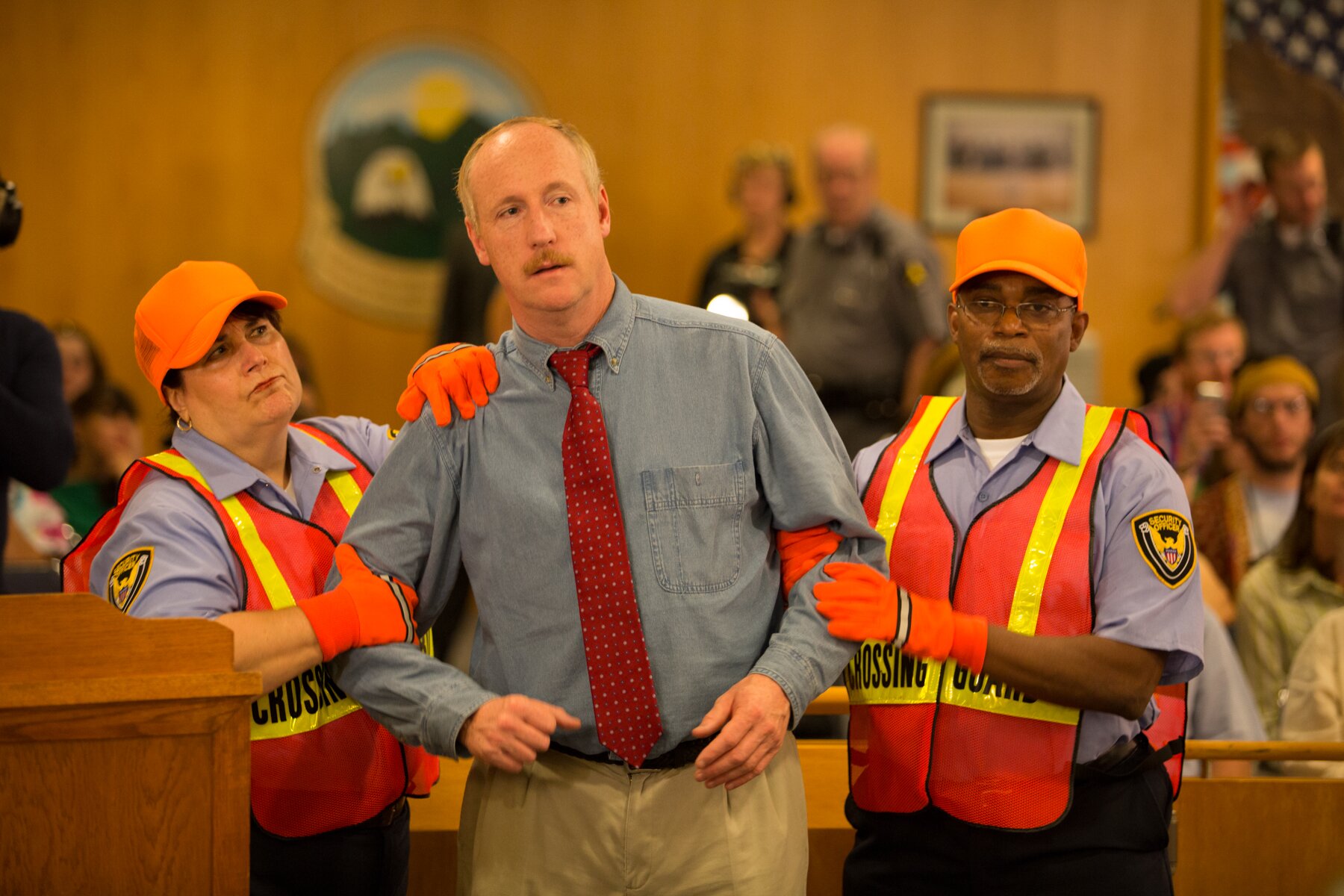 The Voices (International premiere)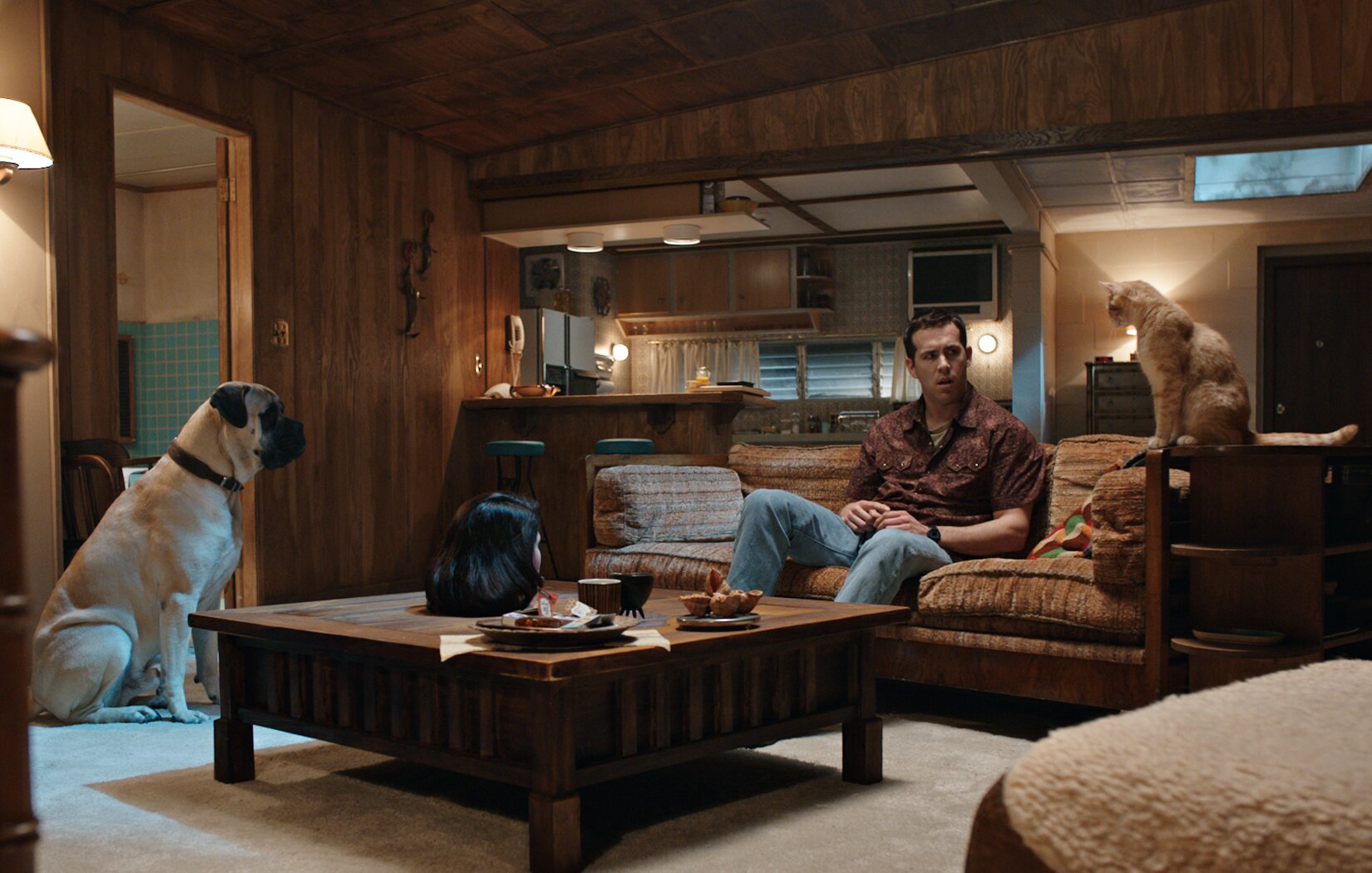 The One I Love (International premiere)
| | | |
| --- | --- | --- |
| Spot The Invisible Woman | | |
Written by Ivan Radford
Friday, 21 February 2014 08:18
The Invisible Woman expands across more UK cinemas today. The film stars Felicity Jones as the titular Invisible Woman, but sadly isn't the sci-fi thriller you were hoping for. Instead, it's a moving romantic drama about Charles Dickens (Ralph Fiennes), mistresses and society's restrictive attitudes towards the female sex during the Victorian era.
At the heart of it all, Felicity Jones is so good that she basically steals every scene in the film - even the ones she's not in... or is she? Here's a quick game of Spot The Invisible Woman to prove it:
Read more...
| | | |
| --- | --- | --- |
| The Oscar Nomnomnom Challenge 2014: The Nom Is On | | |
Written by Ivan Radford
Sunday, 16 February 2014 08:58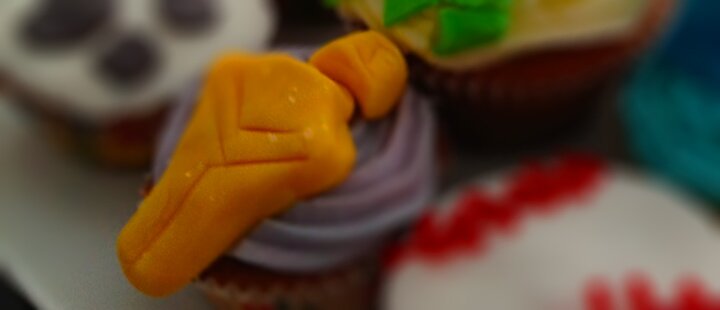 Tonight, it's the BAFTAs, which seems like the perfect time to launch this year's Oscar Nomnomnom Challenge. The aim of the game? Predict who will win the Academy Awards. The prize for getting the most right? Cupcakes. In short, submit your Oscar Nomnomnoms and get Oscar Nomnomnoms. Simple.
The rules are few: all you have to do is write down your guesses for all Oscar categories and send them to me by 23:59 on Saturday 1st March. You can tweet photographic proof of your written list using the official hashtag #OscarNomnomnom, or email the list to [email protected].
Why announce it now? Why not something related to the British Academy of Film and TV Awards? Well, for one, it's too short notice - even with the two-hour delay on the ceremony because (for some reason) they don't show the awards live. For another, we've already thought of a hashtag. And for third, it's not easy just to think up a cake-related awards pun. What are we going to call it, a BAFTA Bake-Off? And have people compete to create British award-themed baked goods? And give out edible marzipan masks for the best? I'm drifting.
Anyway, Oscars. Noms. Get involved.
To give you a taste of what your tummy could win, here are last year's homemade nomtastic prizes, ranging from Baffleck's beard to Django's chains:
The Oscar Nomnomnom Challenge 2014. The Nom Is On.
| | | |
| --- | --- | --- |
| Top 13 films of 2013 | | |
Written by Ivan Radford
Wednesday, 01 January 2014 13:31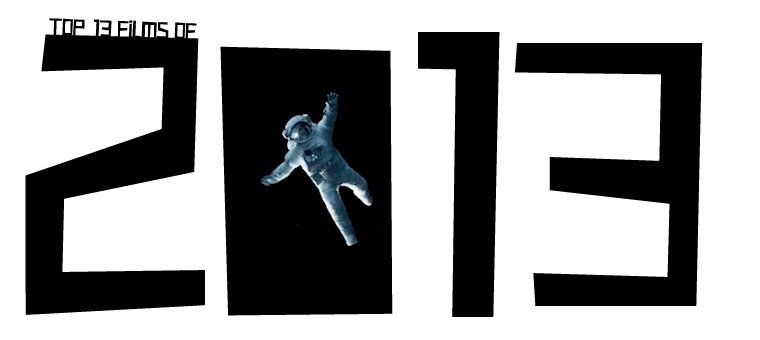 2013 was one hell of a year for movies. To try and pick 10 of the best films of 2013, then, is an impossible task. So I took the much easier route of picking 13. Before discovering that was still ruddy difficult.
Read more...
| | | |
| --- | --- | --- |
| 5 reasons to see All is Lost on Boxing Day | | |
Written by Ivan Radford
Thursday, 26 December 2013 18:22

All Is Lost is out in UK cinemas today. The story of a man fighting to stay alive at sea, 70 year old Robert Redford throws himself into it like a masochistic pensioner. The result is a brutal 90 minute display of resilience that amazes as much as it hurts.
An hour and a half of a brutal fight for survival? It may not sound like something worth seeing when you want to sleep off your Christmas dinner, but in here are five reasons to see All is Lost on Boxing Day:
Read more...
More Articles...
Gravity survival guide
Danny Elfman singing The Nightmare Before Christmas live. You're welcome.
The BFI 57th London Film Festival
Start Prev 1

2

3 4 5 6 7 8 9 10 Next > End >>


Page 2 of 50