| | | |
| --- | --- | --- |
| Gnomeo and Juliet's Box Office Keeps King's Speech in Second | | |
Written by Ivan Radford
Tuesday, 15 February 2011 09:17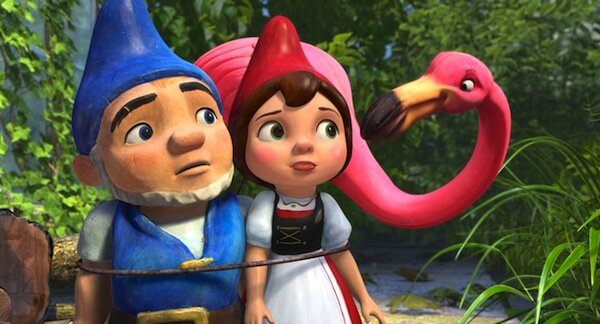 Gnomeo and Juliet stole the UK box office crown this week, keeping The King's Speech in a solid second place with £1.98m following its BAFTA victory.

It's a convincing win for Gnomeo and Juliet, which sits pretty at the top with a £2.95m debut. Not bad, given The King's Speech is still holding the most screens in the UK (543), but impressive with two other 3D animated kids movies out in force.

Yogi Bear put £1.82m into its pic-a-nic basket of soul-destroying naffness - again, a strong start given the competition, placing it in fifth place, £120k below Tangled. Disney's fairytale has the fewest screens out of the three CGI contenders, but has now amassed a three-week total of just over £13m.

Fourth place went to True Grit, the Coens' remake, which performed astonishingly well in the US. It managed £1.82m from 372182000 screens, putting it shoulder to shoulder with Yogi Bear but without the 3D uplift. An average of over £4,000 per screen is pretty good for Paramount's Western, especially given the awards love going round to everyone else at the moment.

Black Swan and The Fighter also both posted takings of over £1m, lining up at number seven and eight respectively. That's eight out of the UK Top Ten all taking over £1m at the box office. Eight. This never happens. Literally - it's never happened before. The BAFTAs are to blame for this box office silliness. As people flock to see the major nominees, money is flying into cinema cash registers.

It's sad to see The Fighter drop 50% to take £1.2m - compared to Black Swan's more typical 38% dip - but with so many movies out this week and the existing releases performing so well, there are only so many screens to go round. Black Swan's been out twice as long as The Fighter, but its £12m total gross is triple that of the boxing drama, which says a lot for its wider appeal. It's also showing in 100 more screens.

Perhaps the week's most intriguing release was Never Let Me Go - demonstrating what happens during awards season if you don't get the nominations you wanted. It took just £625k from 265 screens.

A good comparison is last month's Conviction, which also had no BAFTA nominations. That took £279k from a similar spread of cinema screens, so it's not a terrible result given the heavyweight box office rivals. But a lack of nominations (and a low marketing push compared to Fox Searchlight's other movie, Black Swan) has left Mark Romanek's brilliant romance at the wrong end of the release schedule. Here's hoping Keira Knightley staring at people on the London Underground will help it stay afloat for one more week.

Just like the BAFTAs, the box office spotlight is still shining firmly on Colin Firth. £1.98m is less than we're used to seeing for Tom Hooper's drama, but it's been out for six weeks now. Six. By rights, it shouldn't be anywhere near the £2m mark. It's running total is now up to £33.7m, which makes it the 44th highest grossing movie in the UK of all time. And that's before it gets a kick from its Best Film triumph on Sunday - we're way past Slumdog Millionaire now, but that increased by £300k immediately following its BAFTA for Best Film, reversing a 32% drop from the previous week.

Paul tries to jump the royal shark by hopping into cinemas on Monday this week, so it should secure a top spot at the box office next week after 4 days of previews. But expect The King's Speech to stick around - just below Justin Bieber and Big Momma, who are both bringing their booty into play. And as half-term approaches, prepare for Yogi, Gnomeo and Rapunzel to squabble among themselves to see who can attract the most children. 
Tags: