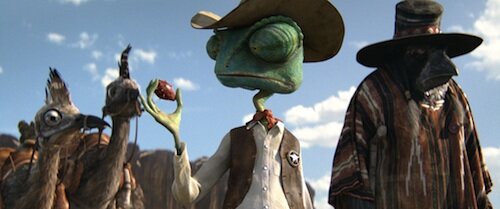 Rango has wrangled the UK Box Office ahead of The Adjustment Bureau, with an opening of £1.64m. Phillip K. Dick's sci-fi story came in second with £1.36m.

It's a solid start for Gore Verbinski's Western, which risked opening at the end of half-term after achieving the highest opening of 2011 so far in the US ($38m). It was a hard sell, too, given the adult-friendly nature of the gun-toting cartoon, but Paramount will be pleased to walk off with CGI stetson held high.

The timing of Rango's release was key. If it did open a week earlier, it would have faced tough competition from Yogi Bear, Gnomeo & Juliet and Tangled - all of which saw drops close to 70% as kids headed away from the multiplexes and back to school. As a result, Rango is now the animated film with the most screens in the UK (suck on that, Disney's Tangled, down in 12th place).