| | | |
| --- | --- | --- |
| The Social Network Sweeps Golden Globes | | |
Written by Ivan Radford
Monday, 17 January 2011 11:11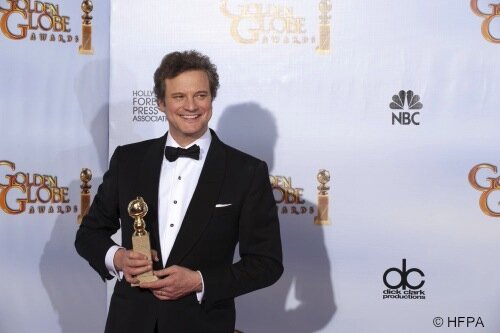 Well, we all wanted The Tourist to win, but the Hollywood Foreign Press Association stuck to the predictable choices for most of the Golden Globes last night: The Social Network won the big ones, Christian Bale and Natalie Portman picked up something each and, of course, Colin Firth got his gong for Best Actor.

Putting The King's Speech on solid ground for an Oscar win, The Firthmeister accepted the award with all the British charm he could muster - which is a lot. Less charming for some was host Ricky Gervais, who started off risky and ended up a tamed beast who stuck to reading off cards.

His opening monologue accused The Tourist of bribing people, and also covered Charlie Sheen and Mel Gibson. Gasps and frowns went round the room, and Gervais promptly disappeared for an hour before reappearing with a more serious face. Still, he did better than Andrew Garfield, who stuttered his way through trying to say the word "inspiring" and failing miserably. But hey, he looked good while doing it, so it's fine.

The very minor surprises of the night came from Trent Reznor and Atticus Ross beating safe bet Alexandre Desplat to Best Score for The Social Network. Yes, that's right: Nine Inch Nails have now won a Golden Globe. Paul Giamatti also unexpectedly won Best Comedy Actor for Barney's Version, an award I thought would go to double-nominee Johnny Depp. The only other non-shock? In a Better World winning Best Foreign Language Film, proving that the Hollywood Foreign Press Association don't always just vote for Iñárritu by default.

But the best moment of the evening? The bit when Robert De Niro made a joke about Little Fockers. And 3D. And private schools. And immigration. It was a long acceptance speech for his Cecil B. DeMille Award, but The De Niro Stand-Up Hour won the Meet the Parents and Machete star back a lot of his credibility.

That was only rivalled by Lee Unkrich bashing down Justin Bieber, who presented him with the Best Animated Film award: "Were you even born when the original Toy Story was released?" Unkrich quipped. Sadly, he was.

Read on for the complete list of winners. And to see Ricky Gervais' opening monologue.
 

Best Picture (Drama)

The Social Network

Inception

Black Swan

The Fighter

The King's Speech

 

 

Best Actress (Drama)

Halle Berry - Frankie and Alice

Nicole Kidman - Rabbit Hole

Jennifer Lawrence - Winter's Bone

Natalie Portman - Black Swan

Michelle Williams - Blue Valentine

 

 

Best Actor (Drama)

Jessie Eisenberg - The Social Network

James Franco - 127 Hours

Colin Firth - The King's Speech

Ryan Gosling - Blue Valentine

Mark Wahlberg - The Fighter

 

Best Picture (Musical or Comedy)


Alice in Wonderland

Burlesque

The Kids Are All Right

Red

The Tourist

 

 

Best Actress (Musical or Comedy)

Annette Bening - The Kids Are All Right

Julianne Moore - The Kids Are All Right

Anne Hathaway - Love and Other Drugs

Angelina Jolie - The Tourist

Emma Stone - Easy A

 

Best Actor (Musical or Comedy)

Johnny Depp - Alice in Wonderland

Johnny Depp - The Tourist

Paul Giamatti - Barney's Vision

Jake Gyllenhaal - Love and Other Drugs

Kevin Spacey - Casino Jack

 

 

 

 

Best Animated Feature

How to Train Your Dragon

The Illusionist

Tangled

Toy Story 3

Despicable Me

 

 

 

 

Best Supporting Actor

Christian Bale - The Fighter

Michael Douglas - Wall Street Money Never Sleeps

Andrew Garfield - The Social Network

Jeremy Renner - The Town

Geoffrey Rush - The King's Speech

 

 
Best Supporting Actress

Amy Adams - The Fighter

Helena Bonham Carter - The King's Speech

Mila Kunis - Black Swan

Melissa Leo - The Fighter

Jacki Weaver - Animal Kingdom

 

 

 

Best Screenplay

127 Hours - Danny Boyle & Simon Beaufoy

The Kids Are All Right - Lisa Chodolenko & Stuart Blumberg

Inception - Christopher Nolan

The King's Speech - David Seidler

The Social Network - Aaron Sorkin

Best Foreign Language Film

The Concert

The Edge

Biutiful

I Am Love

In a Better World


Best Director

Darren Aronofsky - Black Swan

David Fincher - The Social Network

Tom Hooper - The King's Speech

Christopher Nolan - Inception

David O Russell - The Fighter

 

Best Original Score

The King's Speech - Alexandre Desplat

Alice in Wonderland - Danny Elfman

127 Hours - A.R. Rahman

The Social Network - Trent Reznor & Atticus Ross

 

 

 

Best Original Song

I See the Light, Tangled

You Haven't Seen the Last of Me Yet, Burlesque

Bound to You, Burlesque

There's a Place for Us, The Chronicles of Narnia: The Voyage of the Dawn Treader

Coming Home, Country Strong

 
Ricky Gervais - Opening Monologue
Tags:
colin firth
golden globes
little fockers
ricky gervais
robert de niro
the social network