| | | |
| --- | --- | --- |
| New Harry Potter Trailer - Now With Added Flashbacks | | |
Written by Ivan Radford
Monday, 01 November 2010 07:22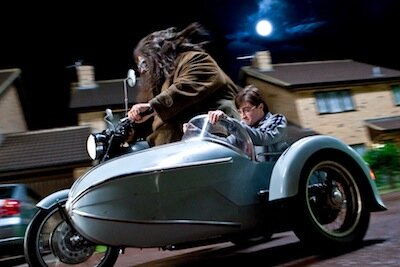 It's always a lovely way to end a week - with a new Harry Potter trailer. Especially one with lots of cute videos of ickle Danny Radcliffe back when he was a tiny wee moppet.

Good job that's what we got then, just before Halloween hit: an all-new trailer for Deathly Hallows Part One, complete with flashbacks across the whole series of JK Rowling's adventures. Yes, it's bowl cuts and spectacles galore with this fluffy look back at The Boy Who Lived when he was barely The Boy Who Stopped Wetting The Bed.

There's also a few tidbits from producer David Heyman and the rest of the cast (Emma Watson and Rupert Grint are amazingly not sick of their characters yet), and a nice load of clips from the upcoming finale, including Bill Nighy and Hagrid's sidecar-sporting motorbike. 

Now to be released in spectacular jaw-dropping 2D, trailers for Harry Potter and the Deathly Hallows Part One just keep on apparating online, but with only a few weeks left before we can finally see it, that sense of climax is actually starting to kick in. Either that, or I'm feeling ultra-soppy at the sight of ickle Danny wielding an owl that's twice the size of his head.

Harry Potter and the Deathly Hallows Part One magics into cinemas in a matter of days. Check out more Harry Potter trailers. Or read on for the full new video. Accio Friday 19th November!
Tags:
boy who lived
dumbledore
emma watson
jk rowling
part one
rupert grint