| | | |
| --- | --- | --- |
| More New Harry Potter Stills! | | |
Written by Ivan Radford
Wednesday, 22 September 2010 11:10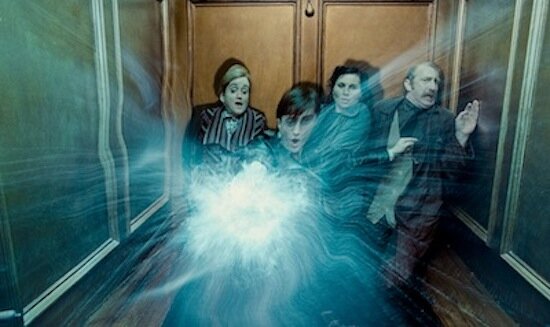 Just when you thought your muggle life couldn't any more exciting, up pop a veritable flood of new photos from Harry Potter and the Deathly Hallows. In honour of the new trailer, which is arriving online imminently, Warner Bros have magicked up a load of stills from the video to get your wands sparking.

Following the last run of images, which showed us not just Rhys Ifans but also a motorbike-plus-sidecar, this batch includes a gravestone, a Dobby and a gigantic Ministry of Magic statue bearing the motto "Magic is Might" (that one comes with a free Dolores Umbridge). You even get ickle Danny Radcliffe having his own Binary Sun moment too.

Fans of Professor Snape (aren't we all?) will also be content with a shot of him wearing black, sitting on a black chair, around a black table, surrounded by Death Eaters (in black) and talking to Voldemort, who's wearing orange. Oh wait, no, it's black.

With only 58 days to go until Harry Potter and the Deathly Hallows Part One is released, there's a new giveaway of premiere tickets going on too. If you recall, the official Harry Potter Facebook Page has some poor person standing in the corner, counting the days down from 100 and handing out 100 tickets to match. 

Harry Potter and the Deathly Hallows: Part One swoops into cinemas on Friday 19th November. The trailer's over here, but what you really want is the brand new stills. All 20 of them. Yes, there are 20. You didn't expecto patronum that, did you?
Tags:
alan rickman
bill nighy
emma watson
jk rowling
michael gambon
robbie coltrane