| | | |
| --- | --- | --- |
| New Harry Potter Stills Online! | | |
Written by Ivan Radford
Monday, 13 September 2010 15:11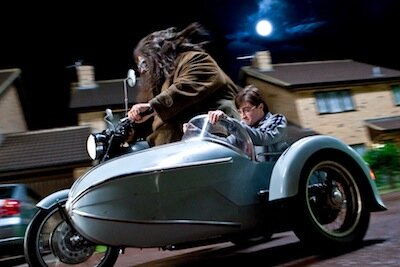 Somewhere deep inside all of us is an unhinged Harry Potter fan screaming to see more of the frankly impressive-looking finale to the long-running series. That small, shrieking, hysterical part of you can now be silenced thanks to these sexy new stills from Harry Potter and the Deathly Hallows, which apparated into our inbox.

Owls! Kissing! Sidecars! Rhys Ifans! What's not to like in such a well-rounded package? You even get to see Hermione Granger get blood all over her muggle-born hands, in case Xenophilius Lovegood doesn't do it for you. Part One of the epic climax certainly continues to impress. 

Directed by David Yates, the concluding two-parter is set to become darker than the previous franchise entries (screw you, Chris Columbus). In keeping with that, Warner Bros have also produced a brand new (and quite detailed) synopsis. It runs something like this:

Part 1 begins as Harry (Daniel Radcliffe), Ron (Rupert Grint) and Hermione (Emma Watson) set out on their perilous mission to track down and destroy the secret to Voldemort's immortality and destruction—the Horcruxes. On their own, without the guidance of their professors or the protection of Professor Dumbledore, the three friends must now rely on one another more than ever. But there are Dark Forces in their midst that threaten to tear them apart. (That's "tear them apart", in case you missed that rather graphic wording.)

Meanwhile, the wizarding world has become a dangerous place for all enemies of the Dark Lord. The long-feared war has begun and Voldemort's Death Eaters seize control of the Ministry of Magic and even Hogwarts, terrorizing and arresting anyone who might oppose them. But the one prize they still seek is the one most valuable to Voldemort: Harry Potter. The Chosen One has become the hunted one as the Death Eaters search for Harry with orders to bring him to Voldemort… alive. (Get a load of that ellipsis - they almost wrote "dead"! Can you feel the tension?)

Harry's only hope is to find the Horcruxes before Voldemort finds him. But as he searches for clues, he uncovers an old and almost forgotten tale—the legend of the Deathly Hallows. And if the legend turns out to be true, it could give Voldemort the ultimate power he seeks. Little does Harry know that his future has already been decided by his past when, on that fateful day, he became "the Boy Who Lived". No longer just a boy, Harry Potter is drawing ever closer to the task for which he has been preparing since the day he first stepped into Hogwarts: the ultimate battle with Voldemort.

Harry Potter and the Death Hallows: Part One hits UK cinemas on Friday 19th November. To help you prepare for this self-proclaimed ultimate showdown of ultimate destiny, check out the wonderful trailer. But first read on for the sexy new stills. Phwoar. Sidecars. And Rhys Ifans.
Tags:
emma watson
finale
images
part one
rupert grint
state of play