Star Ratings
| | |
| --- | --- |
| | Amazing |
| | Well good |
| | Fun |
| | Meh |
| | Rubbish |
| | | |
| --- | --- | --- |
| Review: Midnight in Paris | | |
Written by Ivan Radford
Wednesday, 05 October 2011 11:10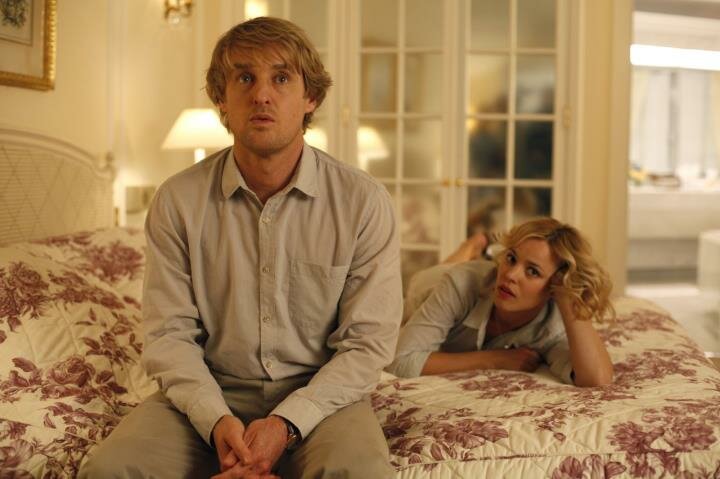 Director: Woody Allen
Cast: Owen Wilson, Rachel McAdams, Michael Sheen, Marion Cotillard
Certificate: 12A 
Trailer
"I'd love to live in a flat in Paris in the 1920s," says Gill Pender (Wilson) wistfully. Gill is in thrall to the French capital, and dreams of escaping his unfinished book and unsympathetic fiancée, Inez (McAdams), to a time when the town was at its best. The cafés, the writers, the rain... "The only thing missing is the tuberculosis," shoots back Inez's friend Paul (Sheen). Midnight in Paris is a charming piece full of nostalgia, wit and – most importantly – laughs.
Of course, it feels apt that Woody Allen should make a film about looking back at bygone heydays. Off the boil more than on, Allen's flirted with brilliance over recent years and often walked away with her mediocre best friend who speaks really bad dialogue. But Midnight in Paris is less a return to form for the director, and more a revisiting of it.
Opening with a montage of Paris as darkness falls, it echoes Manhattan's iconic intro, but shares the tourist's perspective of Vicky Cristina Barcelona. Chocolate box shots litter the film, but Gill's love of Paris is the naïve adoration of the unknown. Is Allen sending up that most American of affections? Perhaps, but that fish out of water scenario is where his neurotic humour sits best. And Allen brings it out by removing Gill one step further.
Lolloping around the streets alone, he quickly finds himself lost in side streets. Then, as the clock strikes midnight, a vintage car draws up. He gets in, lured by glamorous strangers and the offer of free champagne, and is promptly driven down the street and around the corner – and straight into the 1920s.
Darting back in time during the wee small hours of the morning, Gill is soon living his dream, drinking with famous writers and artists. Hemingway (Corey Stoll) pops up and talks in terse, repetitive prose, swiftly followed by F. Scott Fitzgerald (an excellent Tom Hiddleston) and even Cole Porter. Then the beautiful Adrianna (Cotillard) appears. "How long have you been dating Picasso?" asks Gill, adding: "Did I really just say that?"
After decades of casting himself in incongruous historical periods, Woody Allen turns that unspoken device into an explicit plot point. The result is something that recaptures the absurdist comedy of his best work. "I'm trapped between two periods," laments Owen Wilson, all edgy and perfect comic timing. "That makes perfect sense," nods Luis Buñuel. Gill wrings his hands. "Well, of course, you're a surrealist…"
Gill loves the 1920s and adores the idea of running away with Marion Cotillard's period beau. You can't blame him – he has barely anything in common with Rachel McAdams other than a fondness of pitta bread. But Adrianna, all doe eyes and natural sex appeal, is baffled. Surely the best time to live in Paris was the 1900s? As they both pine for the city's elusive former glory, Adrien Brody runs around pretending to be Salvador Dali, shouting his own name every few seconds and talking about the rhinoceros.
It's silly, hysterical stuff that heavily recalls Purple Rose of Cairo. And with a cast that's on top form (Sheen's bearded pseudo-intellectual is spot-on - even Carla Bruni blends in), Midnight in Paris zips along without a care in the world. By the end, the cute music and period detail give everything the yellowy haze of comforting nostalgia, but Allen makes it clear that he's happy to stay in the present. And as a personal ode to the past, Midnight in Paris feels as timeless as anything he's done.
VERDICT
Yes. Yes. Yes. This is what a Woody Allen film should feel like. Hilarious, magical, and superb.

What did you think?
( 1 Vote )
Tags:
cambridge film festival reviews
carla bruni
corey stoll
manhattan
michael sheen
midnight in paris
owen wilson
purple rose of cairo
tom hiddleston
woody allen