Star Ratings
| | |
| --- | --- |
| | Amazing |
| | Well good |
| | Fun |
| | Meh |
| | Rubbish |
| | | |
| --- | --- | --- |
| Review: Tinker, Tailor, Soldier, Spy | | |
Written by Ivan Radford
Monday, 12 September 2011 08:11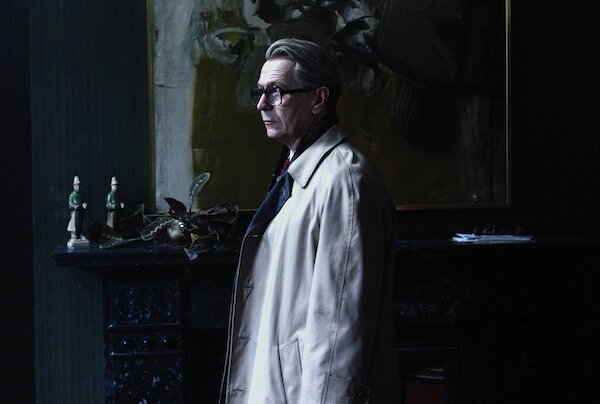 Director: Tomas Alfredson
Cast: Gary Oldman, John Hurt, Colin Firth, Benedict Cumberbatch, Mark Strong, Toby Jones
Certificate: 15
"I'm retired." Those are the first words spoken by George Smiley (Oldman), and they don't occur until 15 minutes in. But even before then we've spent enough time with Tinker, Tailor's hero to know what he's about. We see him forced out of MI5 ("The Circus") alongside the paranoid chief, Control (Hurt), and follow him home during the muted opening credits. Throughout, Smiley says nothing.
It's a hugely effective sequence that sees allegiances change, powers shift, and paperwork go up and down in a lift. Welcome to Tomas Alfredson's take on John le Carré's world. It's a quiet, tense, and stylish place to be betrayed. How British.
Smiley, now officially out of the service, is swiftly hired back by concerned minister Lacon (the excellent Simon McBurney) to investigate suspicions of a mole, right at the tippy top. Is it Percy (Jones)? He's small and Scottish. You can't trust Scottish people. Could it be Bill (Firth)? He's a suave man with a fancy taste in clothes. You can't trust a man who wears clothes. What about Roy (Ciarán Hinds)? He's brooding, withdrawn and has big eyebrows. Eyebrows are always a giveaway. Or perhaps it's Toby (David Dencik)? He's quietly running around between them all. No-one likes the quiet one.
To be frank, if you've read the book or seen the TV series, Peter Straughan and Bridget O'Connor's script doesn't always do a great job of hiding the mole's identity. But it does distill a complex narrative into 127 minutes, which is no mean feat in itself. Of course, there are casualties. The first act is a bit jumpy, almost too afraid of the talky source material to stay in one location for more than a minute without someone crossing the street or getting out of a car. But once it settles, this is an impeccable piece of work.
Like Anton Corbijn and Joe Wright, Alfredson's eye for composition is excellent, always picking out small details like diverging train tracks and parallel stairwells. Even the violence of a gunshot is achingly beautiful, perhaps more so in such a tight-lipped setting. And when the stoic Smiley finally comes out of his shell for a lengthy monologue about Russia's Keyser Soze, Karla, it's electric stuff.
Watching those around him with his giant glasses and pale face, Oldman's weary performance is subtle but immense (hello, Oscars). He remains detached - even as he visits his estranged wife, we wait politely by the stairs - but his presence is infectious, absorbing each plot twist as his world unravels.
The rest of the cast deserve awards too. Amid the double-crosses, Kathy Burke's nostalgic Basil Exposition and Mark Strong's haunted schoolteacher offer a nice portion of pathos. But prizes must go to Tom Hardy and Benedict Cumberbatch. Hardy's rogue agent, Ricki Tarr, delivers a romantic subplot with a jaw-smacking tenderness, while Cumberbatch almost steals the film from under Oldman's nose with a superb heist scene. Benedict's charming, sexy turn holds the film together as much as Alberto Iglesias's versatile, threatening score - the composer's second brilliant soundtrack this year.
Like the slow-burn BBC version, Tinker, Tailor, Soldier, Spy's only problem is accessibility. With its demanding plot and wide cast of characters, Tinker, Tailor asks for our unwavering attention. And it gets it. Aside from the slightly bitty opening, it's nice to see an intelligent thriller that isn't afraid to confuse. It may not be a better adaptation than the TV series, but it's a better watch. If this is what John le Carré's dingy 70s world looks like now, Tomas Alfredson better take us back to see Smiley's People pretty sharpish.
VERDICT
The characters may not win your heart, but the craftmanship will dazzle your brain. Tinker, Tailor, Blooming, Marvellous.

What did you think?
( 5 Votes )
Tags:
alberto iglesias
benedict cumberbatch
cambridge film festival reviews
ciaran hinds
colin firth
david dencik
john hurt
john le carre
kathy burke
mark strong
simon mcburney