| | | |
| --- | --- | --- |
| BlogalongaBond: The Man with the Golden Gun (1974) | | |
Written by Ivan Radford
Saturday, 24 September 2011 12:20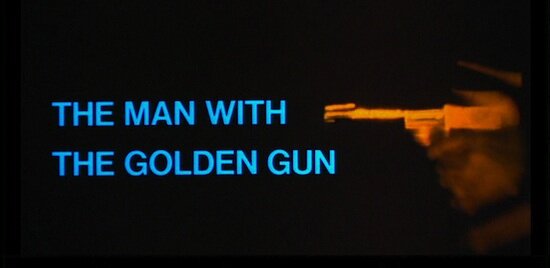 BlogalongaBond. One Bond film a month until Bond 23 turns up next year.
It's 1974. Moonraker doesn't exist yet. But Guy Hamilton doesn't let that stop his own attempt at making the worst Bond movie of all time. And he's astonishingly successful, producing a solid gold piece of turdy cackwaffle. Ladies and gentlemen, I present to you The Man with the Golden Gun - The Moonraker of 1974.
The worst part of watching the film? Knowing that they had a great book to base the whole thing on. Adaptations don't have to stick to the words on the page, but when a novel is ready-made for a film treatment, why create something inferior from scratch?
Published posthumously in 1965, Ian Fleming's thriller was a proper old-school spy yarn. It saw an old, out-of-shape Bond return from his MIA status after You Only Live Twice's failed mission. Dazed, confused, and convinced he was a Japanese fisherman, Bond was swiftly taken in by the KGB, brainwashed and sent back to London to assassinate M.
Whether Fleming finished it before dying or not, it's a corker of an opening that begs to be made into a film - why Richard Maibaum and Tom Mankiewicz chose to leave it out of the script is a source of constant bafflement. His brain unscrambled, Bond is assigned to track down Francisco Paco "Pistols" Scaramanga, last seen somewhere in the Caribbean. Not because Scaramanga sent a bullet to MI6 (NONSENSE NONSENSE NONSENSE) but because M reckons he's the right-sized kind of target for 007 to get his mojo back.
What follows is 150 pages of 007 sitting around a half-finished hotel, working his way into Scaramanga's inner circle and waiting for the chance to shoot him. With this ridiculously brilliant source material in mind (perhaps my favourite of Fleming's Bond books), I was unsurprised to find this informative pamphlet addressed to Albert R. Broccoli in my DVD case...
How to Ruin a Really Good Bond Book
1. Use the same title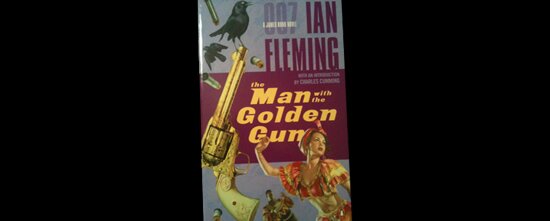 This is the cruel part - using the title of Ian Fleming's novel will trick everyone into thinking that your film will bear any kind of resemblance to the original text. Whereas if it were called something made-up, like Die Another Day or Quantum of Solace, people would be able to tell it was crap before paying to see it.
2. Change the opening
A brainwashed Bond conditioned by the KGB to shoot poison in M's face? No, that's a rubbish idea. Instead of that, why not give Scaramanga a fun house full of moving dummies and clockwork mirrors? It'll be like Pat Sharp's Fun House, but with a waxwork of Roger Moore instead of annoying children in go-karts. Put in some flashing lights and loud noises and everyone will be too amazed to realise it's total baloney. Or they'll think they're watching The Avengers, which basically amounts to the same thing.
Of course, changing the opening of the story means that you remove the first two acts of Fleming's novel, leaving just the third act (the showdown between an unmasked Bond and Scaramanga). But that doesn't matter: you can insert any old rubbish to pad out a one-act story for 125 minutes.
3. Hire a good actor... and waste them completely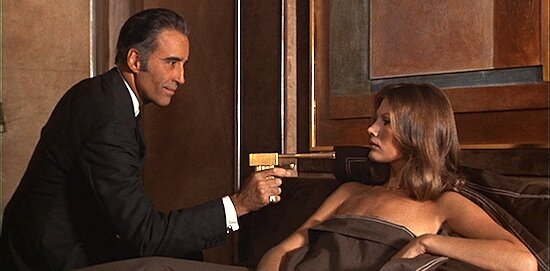 Menacing, cold-hearted, handsome - there's no doubt that Christopher Lee is the perfect foil for the patriotic 007. But while Dracula will add danger to your film, make sure he doesn't overshadow Bond. The easiest solution? Get him to fawn over Bond's reputation every five seconds. "A duel between titans... my golden gun against your Walther PPK," he can gush on screen, a long way from the arrogant "I eat secret agents for breakfast" of the book's truly menacing bastard.
And, just to annoy Fleming fans, ensure M's intriguing dossier on the villain is divulged verbatim by Roger Moore in under one minute, and dismissed by Bernard Lee with a laugh. Turning a fascinating back story into a one-liner? That's about the speed of it.
4. Add a midget (or other stupid characters)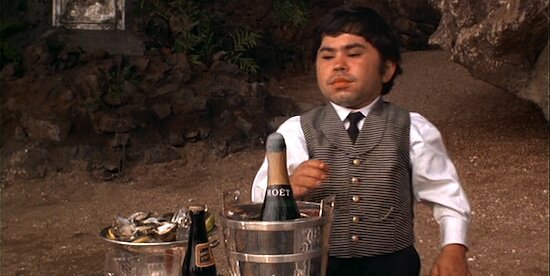 Midgets are funny. French people are funny. Combine the two in Herve Villechaise's French midget henchman and your film will be remembered forever. Trying to save Scaramanga's life one minute and trying to kill him the next? Who needs threatening sidekicks like the novel's Mr. Hendricks (or fun cameos from a one-armed Felix Leiter) when you have a dwarf with a silly accent?
5. Change the location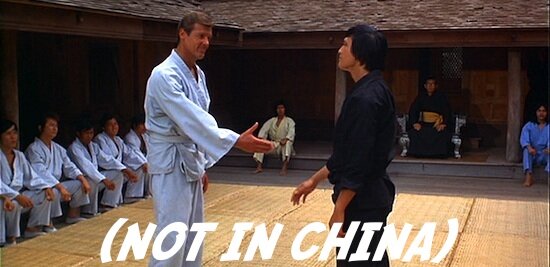 A one-on-one battle of careful wits and bugged rooms in a run-down Jamaican hotel? That would be dull. And no-one wants to see a shootout on a train in the middle of a swamp, followed by a giant bridge blowing up. Instead, take the audience on a trot round the globe. Visit a Hong Kong casino for no reason, then find an excuse to board the wreck of the RMS Queen Elizabeth. Finally, go to Bangkok and have a karate tournament. Because Thailand sounds a bit like China if you say it really quickly. And you're an idiot. 
6. Write the entire script around one-liners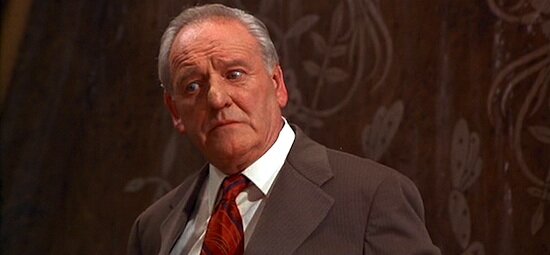 "Scaramanga's tall, slim and dark." "So's my aunt." Ba-dum tish! Make sure your writing is concise, relevant and develops the characters at all times. Alternatively, shoehorn in every single innuendo you can think of (at least you'll give Bernard Lee a chance to work his deadpan magic). You could even create two Chinese characters called Hai Fat and Chew Mee while you're at it. Hilarious.
7. Come up with some bollocks about solar power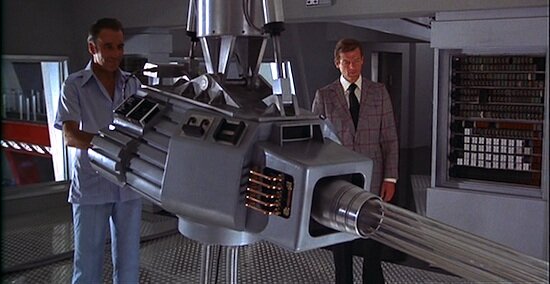 A KGB/Mafia/Cuban cartel plotting to control the prices of sugar crane and make millions while annoying the Americans and Russians? Yeah, no-one wants to watch that. So invent a story about solar power. It doesn't have to make sense or even be remotely interesting. Just make sure it includes GIANT LASERS. (Insert joke about Scaramanga's cock here.)
8. Make the Bond girl a retard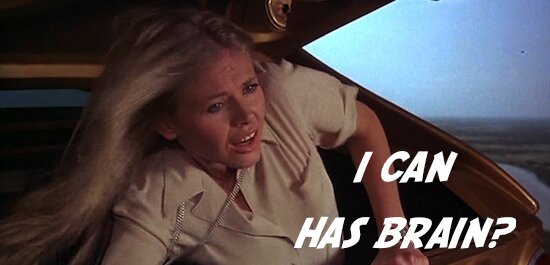 "Oh no! I got stuck in the boot of a car! I'm such a retard and a woman!" Dialogue along those lines will do just fine.
9. Hire Roger Moore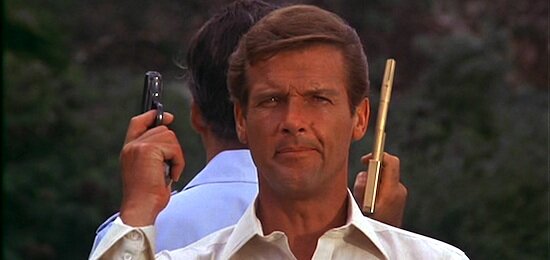 You need someone old, ruthless yet likeable. Roger Moore has the old part sorted, so he might pull it off. If you're worried he's not bad-ass enough, introduce Maud Adams for five minutes so 007 can slap her about. Or get him to visit a bullet manufacturer, so Bond can threaten to shoot him in the balls. The kind of thing that would work if Sean Connery were still around. Afterwards, get Roger to raise his eyebrows and say something funny. That way the tone will be consistent.
10. Remove all dramatic tension and replace it with: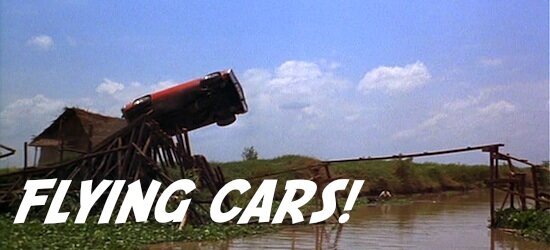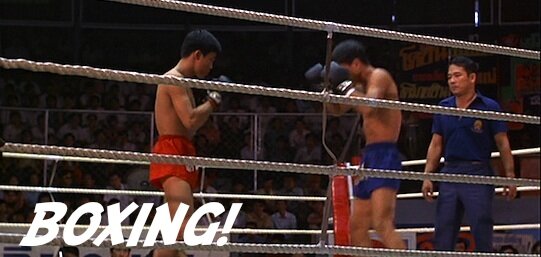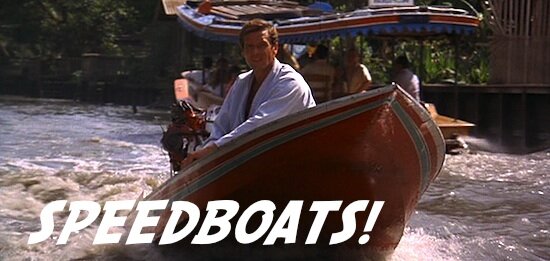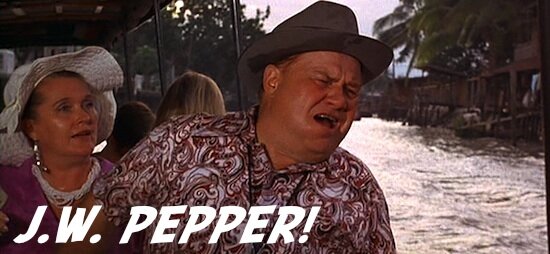 Follow these easy steps and you'll be butchering the best Bond novels for years to come. Sorted.
BlogalongaBond will return next month in The Spy Who Loved Me. For more BlongalongaBondness, head this way.
Tags:
bernard lee
maud adams
scaramanga