Star Ratings
| | |
| --- | --- |
| | Amazing |
| | Well good |
| | Fun |
| | Meh |
| | Rubbish |
| | | |
| --- | --- | --- |
| Review: Warrior | | |
Written by Ivan Radford
Tuesday, 20 September 2011 08:51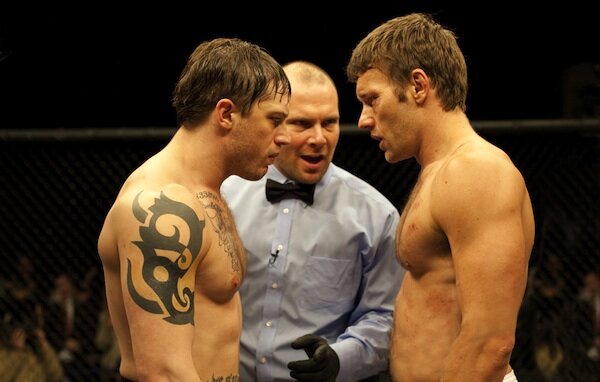 Director: Gavin O'Connor
Cast: Tom Hardy, Joel Edgerton, Nick Nolte
Certificate: 15
Trailer / Clips
There's nothing as intense as two male men beating each other to a bloody pulp. And Warrior makes sure it's as intense as possible. First, it hires Tom Hardy to play damaged male man Tommy. Then it gets him to face off against Brendan (Edgerton), who is - shock, horror - his brother. And to make things more intense, the whole thing goes on for over two hours. It's overkill, definitely, but it's worth the slog.
Things start off predictable enough, with Hardy all slurry drunken accent and dark tortured past. Brendan, meanwhile, is suitably earnest as a physics teacher struggling to meet his mortgage. The answer for both? Enter a winner-takes-all MMA tournament, of course. Because the only thing better than a fighting film about one underdog is a fighting film about two underdogs.
Luckily, the pair have Nick Nolte's abusive father to help them. He spends half his time seeking redemption and the other half sounding like a sleep-deprived Columbo. But in between the growling voices and dramatic music, Gavin O'Connor's film finds some solid emotional weight. It then proceeds to batter you over the head with it.
When it's in the ring, Warrior is as brutal as you'd expect. Shoving you in the fray with a bruised (but steady) camera, O'Connor makes every punch smack with authenticity. It would be unpleasant to watch, if you didn't care about the two characters.
Quiet and brooding, Hardy almost looks like he's doing nothing for the whole film. Then you remember his turns in Bronson and Tinker, Tailor and appreciate just how versatile he can be. But while the plaudits will inevitably fall on Tom's butch, tattooed lap, Edgerton is equally impressive, providing the likeable foil for Hardy's muscular presence.
Inevitably, the brothers end up fighting each other (the trailer tells you that much). It would be contrived if it wasn't for the fact that any old underdog seems to be eligible for this ultimate showdown of Ultimate Fighting Championship destiny. You could throw a banana in Tommy's face and get a last-minute pass to the finals. 
But before the emotional climax, each of them have their own grudge matches to complete. It's an overblown flurry of punches and kicks that goes on for 30 minutes - long enough that it feels like a separate movie. You stay engaged all the way to the end, but Warrior never fully blends the out-of-ring conflict with the inner-ring violence. (It says a lot that the most moving scene is watching Brendan's wife waiting at home to hear the result of Brendan's latest punch-up.) Still, at least the split-screen training montage is good. 
VERDICT
A heavyweight drama, Warrior is obvious, but undeniably moving. It's a hard slog, but it's worth it.

What did you think?
( 1 Vote )
Tags:
joel edgerton
nick nolte
tom hardy
warrior