| | | |
| --- | --- | --- |
| Interview: Roger Allers and Bob Minkoff (The Lion King 3D) | | |
Written by Ivan Radford
Friday, 07 October 2011 06:55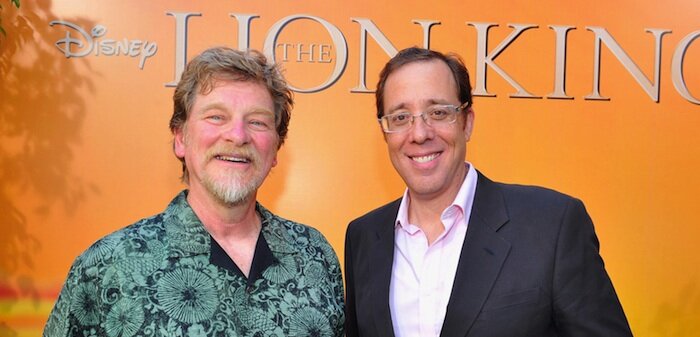 There's nowt like getting up at 10 in the morning to go to a roundtable interview with the directors of the greatest Disney movie ever made. That's 10am US Pacific Time, by the way. So yes, I made a special effort and got out of bed at 6pm to make a long journey all the way to the interview. That's a virtual interview, by the way.
After getting up before 6pm, walking across the room to the computer and shouting a few things in South African in the Rafiki style, I was ready to go. All that because The Lion King is out in cinemas again today? I wouldn't have made all that effort for something stupid like Cars, you know.
So anyway, here's what Roger Allers and Bob Minkoff had to say (or type, whatever) about Hamlet, Elton John and post-converting the Disney classic into three dimensions as we threw virtual questions at them through the circle of WiFi (ahem).
When you were doing The Lion King, could you ever imagine that it would have become such a classic Disney film?
Rob Minkoff: When we started working on The Lion King we were fourth in a succession of modern Disney animated classics. First it was Little Mermaid, then Beauty & The Beast, and finally Aladdin. They were all tough acts to follow. We only hoped we would be compared favorably and not disappoint the Disney fans that had been growing with each new hit. It wasn't until we finished 'Circle of Life' and put it into theaters as a trailer that we knew we had something special. But we were never overly confident.
Do you think 3D adds something to The Lion King?
Roger Allers: Sure. I think it adds a more visceral experience to the film. It's been fun to see how "3-Dimensionally" we'd been thinking when we originally made it in 2D.
Rob Minkoff: I must confess that I am a fan of 3D when it's done properly. Avatar was amazing on screen. There have been a number of films released in 3D which haven't really delivered on its potential. But I think The Lion King 3D does. It adds a dimension to the world of our characters that makes the experience of the film more immersive. And it doesn't take anything away from the 2D version either. It was a worthwhile endeavour in my opinion.
How involved were you in the actual 3D transfer?
Rob Minkoff: Don Hahn, Roger and I came in to meet with Robert Neuman and his team to launch them on the conversion. We watched the picture in 2D and conveyed our thoughts on things we'd like to see (and not see) in our 3D version. And then we met regularly to check the work in progress.
Roger Allers: Throughout the process, we reviewed each scene to offer input to Robert and his crew. I also oversaw the color correction of the final version.
What's your favorite scene from the 3D version?
Rob Minkoff: I think for me, the Circle of Life works amazing well. It's a great way to open the experience of watching the film. It always had a power and impact but now really jumps off the screen.
Were you tempted to do a George Lucas and improve parts for the new release?
Roger Allers: No, I think we knew to leave well enough alone! Did some color correcting though on a few scenes that I was never happy with.
One previous change you've made was introducing Zazu's song The Morning Report on DVD, but leaving it out of the cinema version. Why?
Roger Allers: It was only included for the IMAX & first DVD release as a fun bonus feature. The song was originally written for the stage musical. We wanted this current version to be true to the original release.
How surprised were you when you saw the US box office figures for The Lion King 3D opening weekend?
Rob Minkoff: I couldn't believe it! I originally heard they were estimating something in the range of 12 million. When it topped 30 million I was shocked and amazed but also very pleased. It's nice that audiences still love the movie!
What about the film do you feel makes it a classic?
Rob Minkoff: I think it's a combination of classic coming of age story with an incredible musical score by Elton.
Roger Allers: It's the balance of humor and drama and the resonance of its themes. The issues of life and death, and loss. The responsibilities of leadership and finding one's place in life.
Are you surprised are you that you're still doing interviews about it after all these years?
Rob Minkoff: It's odd because so much time has passed and yet it feels like only a short while ago that we made the film!
Many people have noticed similarities to Hamlet in the story of The Lion King. Was that something you were conscious of?
Rob Minkoff: Because The Lion King was considered an original story there was always the need to anchor it with something familiar. When we first pitched the revised outline of the movie to Michael Eisner, Jeffrey Katzenberg, Peter Schneider and Tom Schumacher, someone in the room announced that Hamlet was similar in its themes and relationships. Everyone responded favorably to the idea that we were doing something Shakespearean and so we continued to look for ways to model our film on that all time classic.
How did the original idea for the film come about?
Rob Minkoff: Originally it was thought of as Bambi in Africa. More true life adventure than mythical epic.
Roger Allers: We wanted to do an animal picture based in a more natural setting. A story that dealt with the issue of taking on the responsibility of adulthood.
Was there any concern that the movie might be too scary or adult for children?
Rob Minkoff: We found ourselves constantly re-balancing the film to make sure there were enough comic elements to lighten the mood after the tragedy of Mufasa's death. Timon and Pumbaa really came along at the right time to give the film a lift and make it a more satisfying whole.
Scar is a great Disney villain. How much of that is down to Jeremy Irons?
Roger Allers: I think I'd put Jeremy's performance up on the top of all-time best vocal performances. He's a gentleman and a brilliant actor. He always gave us extra interpretations of lines which were fantastic.
And then, of course, there's James Earl Jones...
Roger Allers: The very first time we had James in to record, before doing his first lines he proceeded to clear his throat. The strength and resonance of his "harrrunfs" practically blew us off our chairs in the recording booth! That man IS a lion!
Rob Minkoff: James Earl Jones has one of the most incredible voices in the history of film. Perhaps Orson Welles is his only real rival in that regard. Getting to work with him, especially being such a big fan of Star Wars, was an amazing experience. Watching him warming up his voice before a session was remarkable.
Another great character is Rafiki - how difficult was it to get the tone of his role right?
Rob Minkoff: I remember the big breakthrough came when I asked Robert Guillaume to laugh. His laugh was so amazing and really brought out the character of Rafiki as a crazy shaman witch-doctor. We kept asking him to laugh before every line!
The music is a massive part of The Lion King's legacy. At the time, Hans Zimmer was more used to scoring live action movies. How did you get along with him?
Rob Minkoff: Hans really brought the movie to life via the music. It was his ability to combine authentic African flavor that really made the film come to life musically. Mark Mancina was working for Hans at the time and also contributed greatly to the feeling of the movie.As for his experience as a live-action composer, I think there is very little difference in how a composer works on animation and live-action. Although typically an animated score is more closely married to the images. It was a terrific collaboration.
And how did the contributions of Elton John and Tim Rice fit in?
Roger Allers: Elton and Tim's songs help tell the story with humor and heart, while Hans' brilliant score and arrangements (along with Lebo M's choral work) gave it its scale, drama, and placed it in Africa. Mark Mancina's arrangements of "I Just Can't Wait to Be King" and "Hakuna Matata" gave the film its moments of playfulness.
How much of a challenge was it to make the film?
Rob Minkoff: The Lion King was originally called King of the Jungle and was not well regarded around the studio. So when Jeffery Katzenberg announced that the studio would be split in two to make two films simultaneously, many of the top animators wanted to work on Pocahontas instead of The Lion King. Jefferey had deemed Pocahontas "the home run" and The Lion King "the risk". That gave a lot of newer animators a chance to step up to leadership roles.
Roger Allers: Some really deserving young animators got their chance to lead a character. Tony Bancroft (Pumbaa), Mike Surrey (Timon), James Baxter (Rafiki) are all brilliant guys - we lucked out!
How did you split the work between you both?
Roger Allers: I took all the best parts and gave Rob the rest!
Rob Minkoff: After working on the story together, we divided up the sequences so that each one had either Roger or me leading the way. For example, Roger did "I Just Can't Wait To Be King" and I did "Circle of Life."
What do you prefer, classic 2D or computer animation?
Rob Minkoff: I think computer animation has vastly improved over the years and has achieved a similar quality to traditionally hand drawn animation. That said, nothing can replace the look and feel of human drawings. So I think there is room in the world for both, each with its own unique strengths and weaknesses.
What do you think is the future of animation?
Rob Minkoff: When I got started back in the early 80's it seemed that animation was on its way out. But today there are more animated features, TV shows, commercials, and animated content of all kinds being produced. So I'm very bullish on animation. I think, eventually, more films will be made with more diverse content to reach audiences of all ages, and that animation finally achieves a level of respect that equals any other kind of filmmaking.
Roger Allers: I think the field will continue to open up in terms of technique and subject matter. The line between animated and live action has already become so blurred, the entire distinction may disappear. The increase in diversity is really welcome, but I hope that traditional hand-drawn animation keeps being produced. It's an art form that's dear to my heart and one that I don't think has still been fully explored.
Rob, do you have any plans to return to animation?
Rob Minkoff: I am actually working on a new animated movie right now. It's based on the classic characters Mr. Peabody & Sherman who originally appeared on the Rocky & Bullwinkle show. We have Robert Downey Jr. on board playing the genius dog who adopts a red-headed human boy...
And finally, do you have Lion King items lying around your home?
Roger Allers: To my wife's dismay, I have a life-sized Simba plush! And in my office I have some framed cels and a couple of character maquettes, which are sculptural reference models. I also have the original theatrical poster signed by the cast and crew - that's my favourite.
Tags: