| | | |
| --- | --- | --- |
| Valkyrie | | |
Written by Ivan Radford
Friday, 23 January 2009 09:34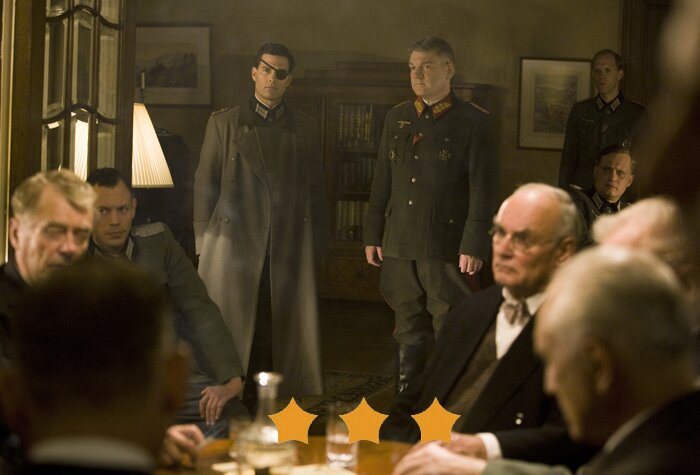 Director: Bryan Singer
Cast: Tom Cruise, Bill Nighy, Tom Wilkinson, Kenneth Branagh, Christian Berkel
Certificate: 12A
Ok, let's get this straight. Tom Cruise is not German. He does not look German. He does not sound German. He does, in fact, look and sound like Tom Cruise. So when Tom Cruise puts on his Nazi uniform (complete with eye patch and missing limb), the end result is this: Tom Cruise. In a Nazi uniform.
For convenience sake, though, let's not call him Tom Cruise. Let's call him Colonel von Stauffenberg.
Last Updated on Sunday, 25 January 2009 16:56
Read more...
| | | |
| --- | --- | --- |
| Oscar Nominations Announced | | |
Written by Ivan Radford
Thursday, 22 January 2009 13:41
Here we go! The 2009 Academy Award Nominations were announced on Thursday 22nd January by Forest Whitaker at 5.30am PT (1.30pm for us in old Blighty) in the Academy's Samuel Goldwyn Theatre.

Annoyingly, Benjamin Button's Curious Case aroused the Academy's interest the most, with 13 nominations. Right behind it is Slumdog Millionaire (well done the Brits) with 10. The Dark Knight got 8, the same as Milk, but (perhaps unsurprisingly) Batman is up for neither Film or Director. Technical noms ahoy - along with Heath's obligatory nod. At the bottom of the pool sits Frost/Nixon, The Reader, WALL-E and Doubt. They all have 5.

Any surprises? Well, Melissa Leo is up for Best Actress in indie film Frozen River, which did nicely at last year's LFF. Frozen River also skates into the screenplay arena, where it faces off with WALL-E and (in a lovely turn) the wonderful In Bruges. Brilliant to see Robert Downey Jr. up for Tropic Thunder (an acting award? For Robert? In a comedy role? It's about time!) and Brolin down for the twinkie-guzzler Dan in Milk. The only real surprise is Richard Jenkins for Lead Actor in The Visitor - the second feature from The Station Agent's director, Thomas McCarthy. The Winslet twins are now separated, however, leaving Anne Hathaway, Meryl and oh my god WHO'S THE OTHER ONE with slightly better odds...

Here's what we got:
Read more...
| | | |
| --- | --- | --- |
| Frost/Nixon | | |
Written by Ivan Radford
Tuesday, 20 January 2009 13:58
Director: Ron Howard
Cast: Michael Sheen, Frank Langella, Matthew MacFayden, Rebecca Hall, Toby Jones, Sam Rockwell, Kevin Bacon
Certificate: 15
Adapted by Peter Morgan from his own stage play, Frost/Nixon is a cinematic retelling of the television interviews between David Frost (Sheen) and ex-President Richard Nixon (Langella). The juxtaposition of mediums at first seems absurd; why not leave what is essentially a two-hander in the theatre, where its terse encounters can have the greatest impact?
Last Updated on Saturday, 24 January 2009 12:54
Read more...
| | | |
| --- | --- | --- |
| Milk | | |
Written by Laura Hanlon
Sunday, 18 January 2009 13:41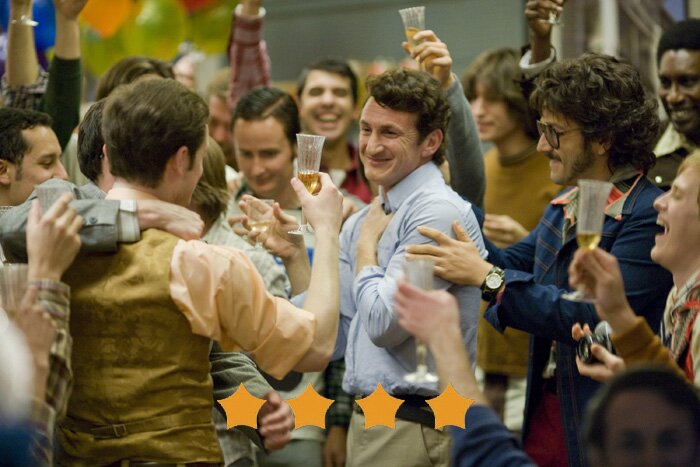 Director: Gus Van Sant
Cast: Sean Penn, Josh Brolin, James Franco, and Emile Hirsch
Cert: 15
Fresh from the Hollywood cow comes this creamy cinematic delight. It's not whole fat (that'd be overdoing it); and it isn't that horrible red-top that is so diluted it really doesn't resemble milk. No, Milk is a semi-skimmed glass of goodness that doesn't compromise on taste or your waist line. Which is great because I already scoff too many snacks at the cinema.
Last Updated on Friday, 20 February 2009 16:57
Read more...
| | | |
| --- | --- | --- |
| The Wrestler | | |
Written by Ameen Hojabr
Friday, 16 January 2009 00:00
Director: Darren Aronofsky
Cast: Mickey Rourke, Marisa Tomei, Evan Rachel Wood
Certificate: 12A
Remember that day when you were ten years old and you found out wrestling was fake? A spandex-fuelled sham? Well, Darren Aronofsky is about to hit your inner 10-year-old over the head with a chair; more than anything else, The Wrestler is definitely one thing: authentic.
Last Updated on Tuesday, 15 September 2009 12:16
Read more...
| | | |
| --- | --- | --- |
| BAFTA Nominations Announced | | |
Written by Ivan Radford
Thursday, 15 January 2009 08:48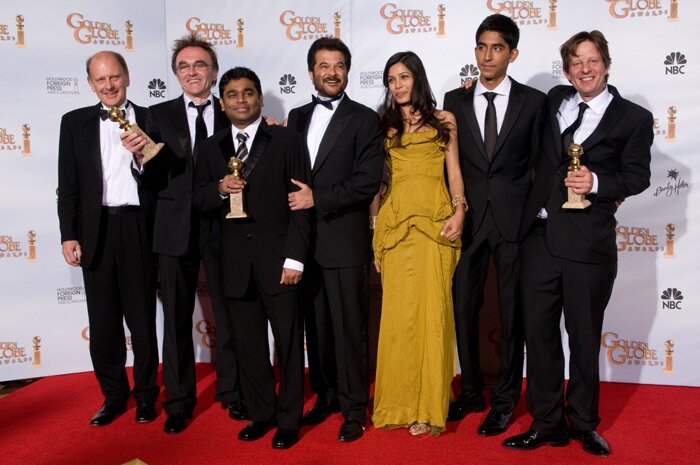 Here we go again, but this time on home soil, and Danny Boyle has done it a second time: with a total of 11 nominations, Slumdog Millionaire is all over the shop. In fact, the only other film with that many nods is The Curious Case of Benjamin Button - it grabbed nowt at the Globes, so it's not an odds-on favourite.

Then it's The Dark Knight in third (9, none for Nolan's direction or script), just leading Changeling (8) and Frost/Nixon (6). The Reader nabs 5 noms (including the Winslet twins again) and, in last place, not just Milk and Revolutionary Road, but also In Bruges, all with 4.
Last Updated on Thursday, 22 January 2009 14:42
Read more...
| | | |
| --- | --- | --- |
| Rewind: Winslet's Golden Globe gaffs | | |
Written by Ivan Radford
Monday, 12 January 2009 11:05
"Oh my God - who was the other one?"
Just in case you missed them. Both of them...
Last Updated on Tuesday, 13 January 2009 11:12
Read more...
| | | |
| --- | --- | --- |
| Golden Globes - The Winners | | |
Written by Ivan Radford
Monday, 12 January 2009 08:37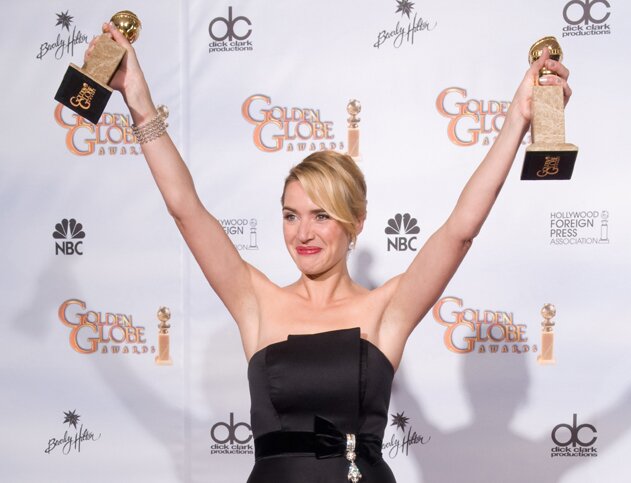 Well, Kate did it for the Foreign Press Association. Old SS Winslet beat Ange to the Best Serious Actress award - not for The Reader (where her performance was a far more understated form of Oscar-baiting, with no screaming or wailing) but for Revolutionary Road. What is surprising, though, is that she got the Best Supporting Serious Actress for The Reader as well.

In other categories, Danny Boyle did as I predicted and swept Clint Eastwood clean away with his vibrant, sassy and overall British, direction. Nice one, Danny. And Slumdog naturally picked up screenplay and soundtrack awards - is there any other score that could compete? Hardly Changeling's melodramatic slush. Slumdog is so full of crack-a-lacking components, in fact, that it won Best Serious Film too. Well done the Brits!

Speaking of which, Sally Hawkins got her recognition (as I did indeed pray for), trumping Penelope Cruz for her winning, winsome and whimsical portrayal of Happy-Go-Lucky teacher Polly. If you're up there, Morgan Freeman, thank you. And whilst on the topic, congratulations to Heath Ledger. Was there ever any doubt?

Anyway, enough of that. Here are the winners:

Last Updated on Thursday, 22 January 2009 14:43
Read more...
| | | |
| --- | --- | --- |
| The Reader | | |
Written by Ivan Radford
Friday, 09 January 2009 11:35
Director: Stephen Daldry
Cast: Kate Winslet, Raiph Fiennes, David Kross
Certificate: 15
Trailer
"If you do a film about the Holocaust, you're guaranteed an Oscar." Winslet's own words in Extras. After years of gong-less persistence, now she's taken her own advice, playing the part of Hanna Smitz. One day, she crosses paths with a young boy, Michael Berg (Kross), who is suffering from scarlet fever. She helps him. Once better, Michael seeks her out to say thank you. Naturally, one thing leads to another and pretty soon they're both naked and getting jiggy with it.

Last Updated on Friday, 16 January 2009 11:41
Read more...
| | | |
| --- | --- | --- |
| Defiance | | |
Written by Ivan Radford
Friday, 09 January 2009 11:20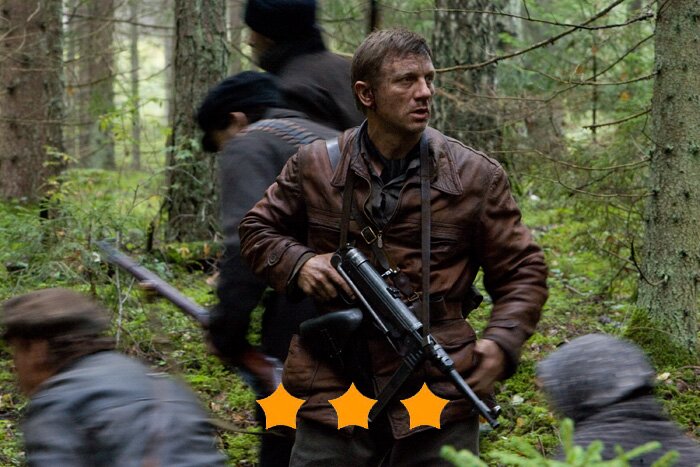 Director: Edward Zwick
Cast: Daniel Craig, Live Schreiber, Jamie Bell
Certificate: 15
Trailer
He proved it in Munich, now he's doing the same in the Belarussian woods: Daniel Craig can do a token foreign accent. Doing that Hollywood thing of playing another nationality whilst still speaking English, he is Tuvia Bielski, eldest of the Bielski clan. Leading his brothers Zus (Schreiber – the angry one) and Asael (Bell – the quiet one) into the forest, they seek a way to survive the German slaughter of WWII.
Last Updated on Friday, 16 January 2009 11:42
Read more...
| | | |
| --- | --- | --- |
| BAFTA Rising Star Shortlist Revealed | | |
Written by Ivan Radford
Thursday, 08 January 2009 13:07
And the winner of the 2009 Orange British Academy Film Award for Rising Star is...

Last year, Shia LeBeouf's star was deemed to have risen the highest (no surprises there, given that he was in Transformers, Disturbia, voiced the lead in Surf's Up and had finished filming Indiana Jones Conquers the Martians.)

Then, come to think of it, the Rising Star Award often seems to go to someone who is already doing their bit to brighten Hollywood's glittery night sky. Eva Green got her kit off for Bernardo Bertolucci in The Dreamers yonks before being crowned queen of 2007, which came on the back of her jaw-dropping performance in
Casino Royale (hottest. Bond Girl. Ever.) Oh, and Kingdom of Heaven, of course. Not anyone's greatest moment, but a high-profile flop if ever there was one. But this is not to mention James McAvoy (swoon), the first winner of the award, who was famous from Shameless but not much else, and picked up the plaudit after his turn as child-friendly Mr Tumnus - from that point on, his star didn't rise. It soared.

Why such a mixed bag of known unknowns? Well, Rummy, it's all down to the audience. This is their award. So get ready to click in the name of cinema and cast your vote for 2009...
Last Updated on Thursday, 08 January 2009 13:12
Read more...
| | | |
| --- | --- | --- |
| Slumdog Millionaire | | |
Written by Ivan Radford
Tuesday, 06 January 2009 10:38
Director: Danny Boyle
Cast: Dev Patel, Madhur Mittal, Freida Pinto
Certificate: 12A
Trailer
Who wants to be a millionaire? Pretty much everyone in the slums of Mumbai. Everyone, that is, except for Jamal (Patel). But it's this impoverished Indian answering the infamous fifteen questions. One away from the jackpot, he is arrested for fraud and savagely interrogated. How does someone like him know the answers?
Last Updated on Friday, 16 January 2009 11:44
Read more...
<< Start < Prev 141 142 143 144 145 146

147

148 Next > End >>


Page 147 of 148