| | | |
| --- | --- | --- |
| Rango Wrangles UK Box Office Ahead of Adjustment Bureau | | |
Written by Ivan Radford
Tuesday, 08 March 2011 08:48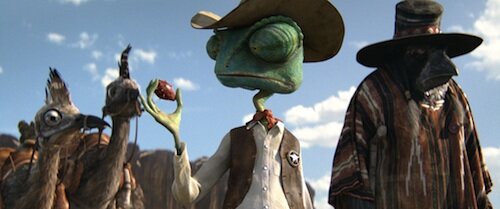 Rango has wrangled the UK Box Office ahead of The Adjustment Bureau, with an opening of £1.64m. Phillip K. Dick's sci-fi story came in second with £1.36m.

It's a solid start for Gore Verbinski's Western, which risked opening at the end of half-term after achieving the highest opening of 2011 so far in the US ($38m). It was a hard sell, too, given the adult-friendly nature of the gun-toting cartoon, but Paramount will be pleased to walk off with CGI stetson held high.

The timing of Rango's release was key. If it did open a week earlier, it would have faced tough competition from Yogi Bear, Gnomeo & Juliet and Tangled - all of which saw drops close to 70% as kids headed away from the multiplexes and back to school. As a result, Rango is now the animated film with the most screens in the UK (suck on that, Disney's Tangled, down in 12th place).

The Adjustment Bureau, meanwhile, was only £300k behind Johnny Depp's lizard, despite having roughly 30 fewer screens; Total Film's "Bourne Meets Inception" poster quote no doubt worked wonders, with Matt Damon and Emily Blunt combining to overpower Liam Neeson's Unknown - but only just. In third place, "Bourne Meets Taken" opened with £1.36m, £40k behind Adjustment and again boasting fewer screens. If anything, Unknown won the battle of per-screen averages (over £4,000), while Rango won the battle of audience-friendly distribution. 

Overall, it's a far less busy week at the cinema. Paul held well with £1.1m in fourth, but the bottom half of the table is headed up by Gnomeo, which took £842k to bring its impressive running total to £14m (Tangled's run has ended on £19.7m). I Am Number Four is number seven, dropping a similar 70% to rack up £499k - teenage girls are now doing homework instead of drooling over Alex Pettyfer. As well they should be.

Compare this all to last week, where The Rite and Drive Angry failed to enter the UK Top Ten with takings of just over £600k. Even better, look at West Is West, which dropped 40% but actually rose one position to number nine. Again, it's all about the release dates.

In indie land, Archipelago debuted with £60k from a mere 18 cinemas - a respectable £3,311 average. On a more floppy note, Ironclad opened with £52k from 100 odd screens. Maybe a civil war siege doesn't sit with people's pro-King's Speech stance. Perhaps James Purefoy isn't as hot as he used to be. Or maybe people just don't tend to flock to see bloody, violent historical movies. All are sadly true - except for the second one. James Purefoy can clad my iron any day. Phwoar.

The nation was cheered, of course, by Colin Firth's triumph at the Oscars. When Slumdog won Best Picture, it got a weekly boost from £1.56m to £1.67m. The King's Speech didn't manage that, but did only lose 10.9% from last week. Tom Hooper's drama is now on a flabbergasting total of £41.93m (it will have hit £42m by the time you read this).

It's now squaring off against fellow Oscar-winner Alice in Wonderland to see who will be the 25th all-time UK box office grossing film. It will obviously win, because Alice is only just above £42m, but can Colin climb any higher? I stand by £45 million as the limit, which would earn it one spot higher, beating The Lion, The Witch and The Wardrobe.

Still, top 25? Hands up everyone who saw that coming back in January. All of you are liars.
Tags:
alice in wonderland
archipelago
colin firth
drive angry
gore verbinski
i am number four
ironclad
johnny depp
slumdog millionaire