| | | |
| --- | --- | --- |
| Tangled Stops The King's Speech Box Office Reign | | |
Written by Ivan Radford
Tuesday, 01 February 2011 08:05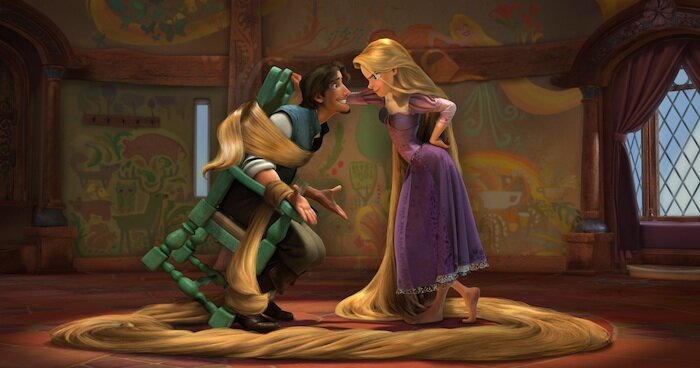 Tangled has toppled The King's Speech from the number one spot at the UK Box Office with an opening of £5.1 million.

As predicted last week, Disney's 50th animation took a strong portion of the weekend's profits, pushing The King's Speech down to £3.63m in second place.

Tangled is boosted by 3D uplifts and a wider family appeal than old sweary King Bertie, but while kids buy up the concessions stand, Tom Hooper's Oscar favourite is still in a commanding position. 

Let's not forget that over £3m is ridiculous for a period biopic's fourth week. A good quarter of a movie's takings can come from the pre-awards nominee stage, but winning the Best Picture Oscar (and, indeed, BAFTA) would push its popularity on even further. It has a total of £24.9m right now (over halfway to £40m) and it's still got another eight odd weeks to go.

A quick glance at screen counts is a good indicator of the market share and expectations. Tangled has grabbed 440 screens, with The King's Speech on 533 - that's up 40 again from last week, so it's clearly not peaked yet. Of course, Tangled will steal screens from other 3D movies, so expect Gulliver's Travels (now in eighth spot) to drop out of the UK Top Ten by Saturday.

Black Swan, meanwhile is still outperforming the rest of the new releases, with £2.5m from its second week. That's a wonderfully minuscule drop of £206k, or 7.5%. Natalie Portman will be pirouetting for some time to come if Fox Searchlight have a say in the matter; after last week's record opening for the studio, this could fast become their biggest ever success. No wonder they've upped their screens by 70 to 428.

It just goes to prove that a little awards love and a lot of marketing can go a long way. Take a look at Hereafter (don't look for too long - your eyes will die of boredom). It opened on £601k, not bad perhaps for a hard sell, but Matt Damon and Clint Eastwood are big names for certain shares of the audience - of course, the same people would rather see Geoffrey Rush in a bow tie than Matt Damon talking to the dead. Understandably so.

Hereafter will disappear sharpish, along with How Do You Know, which opened in tenth place with £374k. No question marks surrounding that figure (ho ho ho). A quick mention should also go to Javier Bardem's Biutiful, which got £156k from 47 cinemas. You can chalk that average of £3,320 per screen down to Bardem' raw sex appeal. Que fuego. Or something.

Jason Statham was the strongest non-Disney opener, with £921k to its name, benefiting from the counter-programming and filling in the hole where The Green Hornet used to be. While action fans head to The Stath, die hard cinephiles will be ticking off their list of awards nominees. The Fighter will, in theory, do well from that this weekend, although The King's Speech still has a lot of Momentum behind it (get it? Momentum?) so the studio will be trailing one in front of the other.

The next two weeks will be a strong test of Colin Firth's longevity, with True Grit rocking up to the party. Who knows? The King's Speech may well outlast Disney's heroine, no matter how long her hair is.
Tags:
biutiful
hereafter
the mechanic
uk top ten