| | | |
| --- | --- | --- |
| Paul Invades UK Box Office While Justin Bieber Hits Bottom | | |
Written by Ivan Radford
Tuesday, 22 February 2011 08:39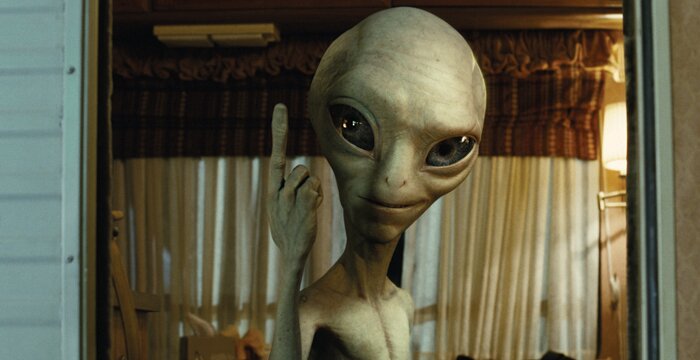 Paul invaded the UK box office this weekend with £5.52m, the highest opening of 2011 to date. But the surprise of the week was Justin Bieber hitting rock bottom: Never Say Never 3D took just £820,592. The Beliebers won't be able to, erm, Belieb it.

Simon Pegg and Nick Frost taking top spot was expected, of course, given that the film landed in cinemas on Monday. While £5.52m is technically a record-breaking figure, it had four days of previews to rack up that total.

Compare it to, say, the superior Hot Fuzz, which got £5.92m on its opening weekend with just Wednesday and Thursday previews and you get a better picture. Paul took around £3.2m over the weekend alone - a way behind Tangled's debut of £5.11m in three days. But with a lot of negative reviews (and without Edgar Wright or 3D), Universal will be pleased to label their sci-fi a smash hit.

In second place was, inevitably, Gnomeo & Juliet, which followed its £2.9m debut with takings of £2.2m. Animated rival Yogi Bear matched its 24% drop, taking an equally strong £1.37m in its second week. Tangled, meanwhile, lost 34% to fall just below Yogi on £1.3m, but after four weeks it's sitting high on £15.3m and still has the majority of the UK's 3D screens. The half-term battle continues.

The strong stalwarts this week are True Grit in fourth and The King's Speech in third. The Coens' Western gathered together £1.47m, a drop of only 19%. The King's Speech, meanwhile, is still riding the BAFTA wave of success and went down from £1.99m to £1.69m, which barely amounts to 15%. It's on a total of £37.13m now, which places it at 37th in the UK all-time box office - smack bang in the middle of Independence Day and Love Actually. Awkward.

The box office insanity continues, led by King Colin, with seven out of the UK Top Ten hitting the £1m mark. That almost rivals last week's ridiculous audience turnout. The one that didn't make the mark, bizarrely, is Never Say Never (it's ACTUALLY GOOD), which couldn't even hit £900k. Justin Bieber should have clocked in at around £2.9m, but it seems that the initial rush of Bieber fans wore off after Friday and Saturday, perhaps proving that he's got more followers in America. Half-term will at least give kids the chance to reconsider, so don't say never just yet.

In a terrifying turn of events, Bieber was actually overshadowed by Big Momma. Like Father, Like Son took £1.43m in fifth spot. It's great to see Black Swan clinging on to 444 screens (it's in tenth place now, with a total gross of £14.3m) but it's bye bye ballet and hello black cross-dressing. At least Natalie Portman will hit £15m before she bows out.

The Fighter's not done so well, dropping outside the Top Ten after losing almost 50% of last week's takings, but it's not in bad company: Never Let Me Go is still hanging on with £336k in 12th place. It's average of £1,300 per screen may keep it going to the £2m mark, which is only a fraction of what it deserves.

The most impressive film of the week, though, was Inside Job, which was only showing in 22 screens. It notched up a humble £70,375, giving it an average of £3,199 per screen. Who knew Matt Damon's voice (MATT DAMON) could attract so many people?

With the Oscars coming this Sunday, The King's Speech won't be finished for some time (the £40m is already within reach), but things are about to get shaken up with 8 fairly big new releases all chomping at screen space. Colin can't really compete with Ashton Kutcher and 3D Nic Cage, but Oscar's number one may manage to beat I Am Number Four...
Tags:
big momma
hot fuzz
justin bieber
never say never
nick frost