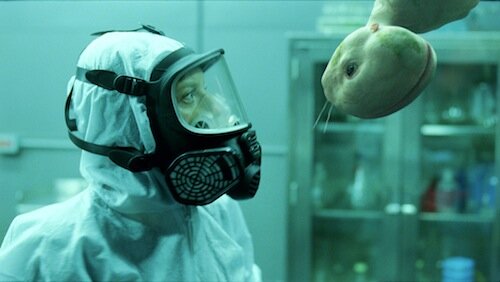 Have you ever wondered what a spliced organism eats for dinner? Well, with Splice out this Friday, you won't have to wonder for much longer.

Vincenzo Natali's engaging sci-fi horror introduces the world to Dren, a creature bred from a mix of DNA, including human. But with wings, a tail and a disturbing appetite, it's no wonder she loves to attack people now and then. And you can see her do exactly that with a horrible new clip from the film.

Exec-produced by Guillermo Del Toro, Splice is a freaky and unique beast (review over here), which sees Adrien Brody and Sarah Polley push scientific boundaries way into messed up territory. But if science fiction's your thing and you rather like monsters, head over to the Newstead Pharmaceuticals website, where you can send novelty emails to your friends and claim they've been spliced.
Alternatively, check out the trailers in our video section, or just read on for the brand new clip.